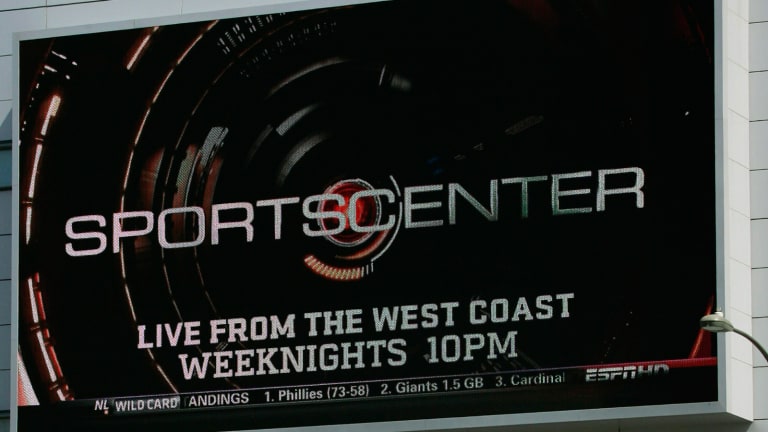 ESPN Is Struggling to Deal With How, or If, to Go Over the Top
With the advancement of streaming services, especially those like Sling TV, ESPN appears to be caught between a rock and a hard place, with little way out for now.
Updated from 10:19 a.m. to reflect statement from ESPN in the sixth paragraph.
NEW YORK (TheStreet) -- For years, Walt Disney (DIS) - Get Walt Disney Company Report enjoyed incredible success with its cash-cow sports network, ESPN. With its 100 million cable subscribers and little competition in quality sports programming, ESPN was the toast of the town.
Now, the network appears to be caught between a rock and a hard place. The growth of over-the-top streaming services -- especially those such as Dish (DISH) - Get DISH Network Corporation Class A Report owned Sling TV, Netflix (NFLX) - Get Netflix, Inc. ReportTime Warner's (TWX) HBO Now and others -- has left ESPN struggling to compete while still holding on to its lucrative cable franchise.
For a good percentage of ESPN's 92.7 million subscribers, the hook is the appeal of live sports such as baseball, Monday Night Football, basketball and the channel's flagship program, SportsCenter.
But now that more sports programming is being streamed over the Internet at a lower cost for consumers, the network is losing subscribers. It has been difficult for ESPN to move into streaming itself without jeopardizing its very profitable relationship with the cable providers, who see streaming as a direct threat.
Meanwhile, ESPN's costs just keep rising.
Due to the rising popularity of sports in this country, ESPN took the unprecedented route several years ago of having SportsCenter air live every hour from 6 a.m. to 3 p.m. That boosted the company's costs considerably, thanks to talent salaries and increased production. But ESPN and its owner, Disney, recognized that live sports content was important to many Americans. TV shows, including comedies and dramas, were no longer "must-see TV." But sports still has that allure.
Yet, as sports remains one of the few programs (along with breaking news) that needs to be broadcast live, content costs have risen exponentially, crimping ESPN's profitability.
"ESPN has led the sports and media industries for more than 35 years by making smart, strategic investments and constantly innovating - which the company will continue to do moving forward," an ESPN spokesman said via email. "ESPN has transformed the way millions of fans experience sports; it is a key component of The Walt Disney Company's diverse portfolio and will remain a consistent driver of shareholder value."
In Disney's most recent quarter, its media-networks division generated $5.8 billion in revenue, with $2.1 billion in operating profit. Digging deeper inside the company's media networks division is cable (chief among them ESPN), which had a 9% loss in operating earnings year over year to $1.8 billion.The decline was blamed on the SEC Network launch and an added NFL playoff game in early January.
Aside from the SEC Network and the NFL, ESPN -- as well as Time Warner's TNT and TBS -- recently renewed their rights to air NBA games for an additional nine years, starting in the 2016-2017 season. The costs rose dramatically, with the rights costing at least $1 billion a year, more than double what the outlets paid in the prior contract.

Understanding this helps explain why star players such as LeBron James are keen to sign short-term contracts, going so low as one-year with a player option -- they know the salary cap will rise markedly starting next year.
To keep up the divisions' profitability amid a loss in subscribers over the past several years, costs have to be trimmed, chief among them, talent. One of ESPN's brightest personalities, Bill Simmons, did not have his contract renewed recently, setting off speculation where Simmons would wind up next. Simmons was making a reported $5 million a year as editor-in-chief of Grantland.com (following a successful stint writing for ESPN.com) as well as a producer of the 30 For 30 series of documentaries, among other jobs, including regular appearances on television.
The company also recently notified Keith Olberman that he and his staff of the Olberman-hosted show Olberman, would not have their contracts renewed when they were up later this year.
There have been other reports of cost-related moves, including moving the Mike & Mike radio show from ESPN's Bristol, Conn.-headquarters to New York.
Without the prospects of rising subscribers, who are the most profitable in cable television (ESPN generates more than $6 per subscriber in fees from cable companies who carry the network) and rising content costs, ESPN has only one avenue with which to reign in profitability -- keep costs down.
Disney CEO Bob Iger has so far been resistant to move ESPN entirely into a delivery method that is becoming increasingly appealing to a number of Americans, a practice known as going over the top, or delivering it straight to consumers.
On a May earnings call, Iger noted that ESPN, ABC, Disney and other Disney-owned properties including Star Wars and Marvel could come directly to the consumer, but it isn't as simple as flipping a switch -- the company still has to work with television distributors.
I don't know that there is an absolute answer in terms of timing. In terms of ability, we have said that with these channels and these brands -- ESPN, ABC, Disney, maybe even down the road something related to Star Wars and Marvel -- we do have an ability as a company to take product, specifically filmed entertainment, television, movies, directly to consumers. And we've got some development underway to do just that.

That said, the distributors, whether it's cable or satellite or even some of the new platforms, create real value for us, too. They already are in the customer acquisition business. They've already spent significant amount of money in capital to create their platforms. And they manage the relationship with the consumer, whether it's billing or technology or whatever fairly effectively.

And so they create value for us and they also help us market. So I think there's a balance here. And I think what I'm saying is that as long as the current distribution ecosystem or the one that seems to be emerging continues to create value for us, then we'll rely on it to distribute our product.

When we believe that our opportunity to distribute directly is bigger than or better than the opportunity for others to distribute, then we'll go into that business more aggressively. And I don't think any other company is positioned as well as we're to do that because of the strength of those brands.
ESPN currently has a deal with the Sling to have several of its ESPN channels on the core $20-a-month package, but reportedly has an opt-out clause if the number of Sling subscribers crosses a certain threshold.
In a recent interview, Dish CEO Roger Lynch would not confirm the opt-out clause, going only so far as to say that every programmer it worked with was keen to see Sling succeed. "[E]very programmer that we're working with -- now around 50 channels on Sling -- everyone is interested in having us grow faster and get more subs," Lynch said in an April interview.
It's expected that the pay-TV business will continue to decline over the next few years, leaving ESPN in a tough spot until the over-the-top market becomes large enough for Disney and ESPN to make a dent and go straight to the consumer.
Until that happens, don't be surprised to see even more cost-cutting moves from ESPN.