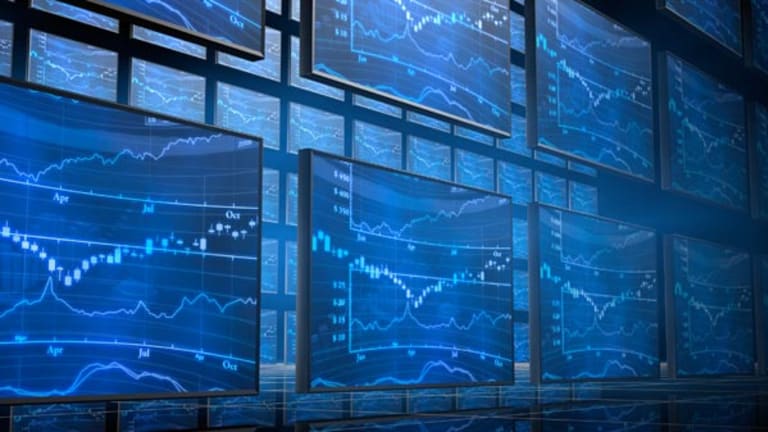 Ericsson CEO: the Networked Society Is Near
Ericsson CEO Hans Vestberg predicted a brave new world where society is completely transformed by next-generation high-speed networks.
ORLANDO , Fla. (
) --
Ericsson
(ERIC) - Get Report
CEO Hans Vestberg predicted a brave new world where society is transformed by high-speed networking during his keynote at the
wireless show Tuesday.
"We believe, that by 2020, there will be 50 billion connected devices on the network -- that will change a lot of industries," he said, explaining that over the next five years, two-thirds of all electronics will have some connectivity in them. This trend, he added, will encompass a range of products from washing machines to automobiles.
Ericsson CEO Hans Vestberg speaks about the "networked society" during his CTIA Wireless keynote speech.
Ericsson, which provides
to telecom industry heavyweights such as
AT&T
(T) - Get Report
and
Verizon
(VZ) - Get Report
, used CTIA to outline its vision of this "networked society," which it characterizes as the next major area of technology growth.
"The Networked Society
is where anything that benefits from being connected will be connected," said Vestberg. "In five years, 90% of the world's population will have wireless connectivity."
The CEO explained that sectors such as education will be revolutionized with the digitization of learning materials, and also predicted that emergency services will improve dramatically thanks to next-generation networks.
Firefighters, according to Vestberg, will be able to use LTE technology to send images and other relevant data back to their command center, which will in turn access building floor plans to better tackle fires.
In the automotive sector, the CEO predicted that vehicles will become increasingly network aware, enabling authorities to better manage traffic flow. "Just think about collecting the most essential data from the cars to give a holistic view of the road system," he said.
In terms of implementing major change, Ericsson sees the biggest opportunities in health care. Vestberg was joined on stage via satellite link by Patrick Soon-Shiong, CEO of the Institute for Advanced Health, who outlined a number of ways in which networking technology can improve healthcare. This included the "smart medical home," where a patient's biometric data can be sent securely into a cloud-based system for remote monitoring by medical staff.
The Institute for Advanced Health also demonstrated an optical recognition smartphone app for the visually impaired, which can recognize the value of different dollar bills and states how much they are worth.
--Written by James Rogers in Orlando.
>To follow the writer on Twitter, go to
http://twitter.com/jamesjrogers
.
>To submit a news tip, send an email to:
.