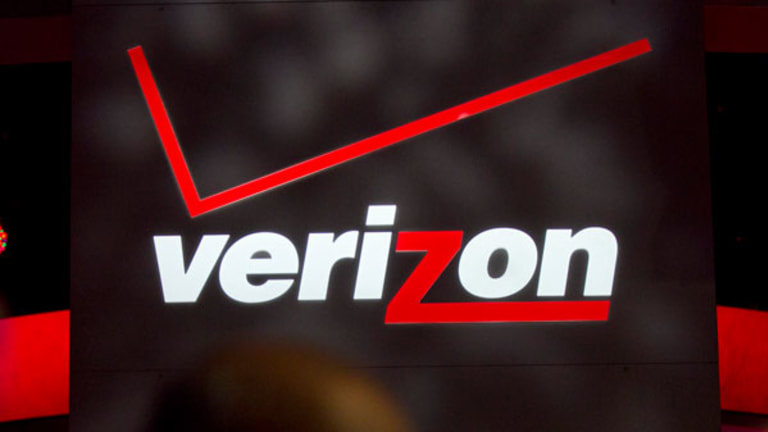 Empowering Verizon's Cloud
Verizon's costly bid to fully control Verizon Wireless may help unleash the power of the cloud as an anti-churn mechanism.
NEW YORK (
) --
Verizon Communications
(VZ) - Get Verizon Communications Inc. Report
has essentially married itself to the U.S. mobile market by acquiring full control of Verizon Wireless. While the move has been met with skepticism by investors worried about U.S. mobile market saturation, Verizon has expressed confidence that the expensive deal is justified by evidence that consumer and corporate wireless demand in the country remains insatiable.
Read: 4 Tech Stocks Under $10 Triggering Breakout Trades
Verizon Communications has amassed a substantial amount of debt to take full control of its wireless assets, earlier this month pricing the biggest corporate debt offering ever at $49 billion in order to finance the $130 billion deal. But the bets appear to be well hedged given that the U.S. wireless market appears poised for more growth. Even though the majority of households in the U.S. already own mobile devices, a host of other home devices also carry the potential for wireless connectivity. The growing appetite for data sharing plans and perpetual desire for higher-speed networks is also fuelling the activity in the wireless market. Furthermore, Verizon will be able to significantly strengthen the integration of its wireline and wireless businesses as all Verizon Wireless assets come under Verizon Communications' full purview. This would allow the company to better leverage the anti-churn potential of a less publicized area of its overall business: enterprise cloud.
The company has said in filings that it considers the cloud as a growth promoter for Verizon Communications. In 2011, Verizon paid $1.4 billion to buy IT infrastructure and cloud services company
Terremark
, which is now grouped into the company's enterprise solutions division within its wireline group. Verizon said in its fiscal second-quarter earnings filing that during both the three and six months ended June 30, its cloud business exposure was one of the factors that helped offset decreases in overall global enterprise revenues. Verizon's enterprise cloud operates data centers in North America, Latin America, Europe and the Asia-Pacific and services both government and enterprise executives.
"For Verizon to offer services in that area, makes sense," said Randy Warren, chief investment officer of Warren Financial Service. "They certainly have the knowledge, the communications, the network, the backup facilities, all of the things that you need to guarantee cloud communications, cloud technology." Warren said this view also applies to
AT&T
, which also has its hand in the cloud.
With total control of the wireless group, Verizon Communications may now have the increased opportunity to bundle its Verizon Terremark offerings from the wireline division with wireless services, potentially adding an important lock-in component that further disincentivizes retail postpaid customers from defecting to a competitor. Even though Verizon's monthly churn rate remains at impressively low levels, the company can't afford to become complacent on working hard to keep every one of its customers loyal given that raising prices in the oligopoly type structure of the U.S. telecom world hasn't really been an option. Retail postpaid customers make up a majority of Verizon Wireless' customer base and include corporate accounts.
The firm has not been disclosing any specific revenue numbers for its cloud business, but in some ways the amount may not be as relevant if the business was viewed solely as an anti-churn tool or a loss leader.
Read: Robots and 3D Printing
"Cost controls are paramount given the saturation of the market and the high costs of rolling out new technologies like 4G," said Brian Frank, portfolio manager at Frank Capital. "In a commodity-like business, the company with the lowest costs is at a large advantage. It makes sense they would be happy to spend money on cloud as a loss-leader if it helped lower customer churn."
Despite Verizon consistently being able to keep churn rates at very low levels over the last decade, rates have edged up compared to five years ago. The company's churn rate for retail postpaid customers came in at 0.93% and 0.97% for the three months and six months ended June 30. Five years ago during the same period, the figures were at 0.83% and 0.88%, respectively. The latest wireless churn rate data on other telecom companies show
T-Mobile USA
(TMUS) - Get T-Mobile US, Inc. Report
coming in at 1.6% and 1.8% during those same periods, and AT&T's arriving at 1.02% and 1.03% and almost rivaling Verizon's during those respective time frames. In any case, Verizon still has the chance to prove that it's able to beat its own churn rate lows again in the coming years.
Read: Blackberry Fails at the 'Vision Thing'
"The more difficult it is to switch wireless providers, the lower churn becomes," Frank added. "If a good portion of your data is 'stuck' in the Verizon cloud, you are less likely to switch to AT&T if you cannot access your Verizon cloud to port all your data."
Verizon Wireless has recently also begun offering cloud services specifically to households and individuals. Verizon Wireless began rolling out Verizon Cloud for smartphones and tablets in May, allowing for the transfer of data between Android and iOS devices and 125 gigabytes of storage space with up to 500 megabytes of it for free, which could help reduce churn rates for individual and family plans.
Despite the current benefits, there remains the risk that cloud services could become commoditized in the telecom world as big players such as AT&T also foray into the business. Last November, AT&T said it was launching Project "VIP" or "Velocity IP" where it would invest $14 billion over the next three years into significantly expanding and enhancing its wireless and wireline IP broadband networks to help AT&T pursue multiple new billion-dollar business opportunities in key growth areas that it said includes the cloud. This was followed Wednesday by AT&T's announcement that
Microsoft
(MSFT) - Get Microsoft Corporation Report
will be pairing its Windows Azure cloud platform with AT&T's virtual private networking technologies to become available to customers by the middle of next year. But customers can only benefit from the commoditization as the telecom giants turn to options such as increasing free storage space and adding more security features to increase the competitiveness of their cloud offerings to help tide these corporations over until their next big breakthrough in building out the next generation of high-speed wireless networks.
-- Written by Andrea Tse in New York
>To contact the writer of this article, click here:
Andrea Tse
.>