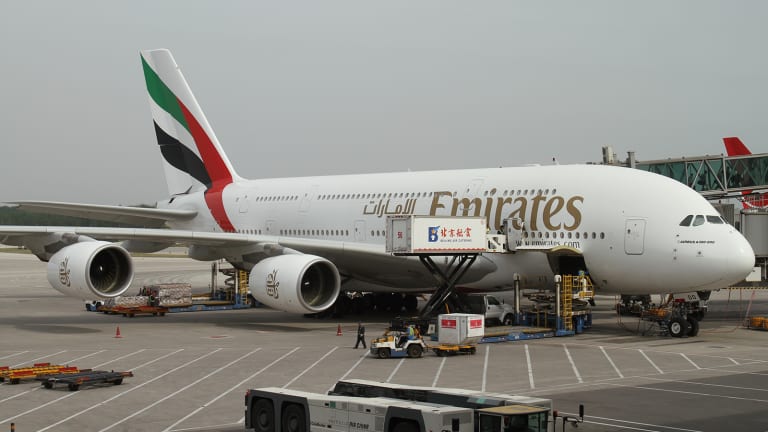 Publish date:
Emirates Plans to Remove Windows on Planes to Fly Faster
Your already cramped airplane seat is about to feel a whole lot smaller.
Your already cramped airplane seat is about to feel a whole lot smaller.
Your already cramped airplane seat could start feeling a whole lot smaller.
Emirates may soon remove the windows on its planes in an effort to make them fly higher and faster, company president Tim Clark said in a podcast on the airline's website Thursday.
"On the outside there will appear to be no windows, but on the inside there will be a full display of windows," Clark said.
The Dubai-based airline plans to replace traditional plexiglass windows in its fleet of Airbus A380 and Boeing 777 aircraft with virtual windows that will display images "so good, [they're] better than with the natural eye" from fiber-optic cameras atop the plane, Clark said. Although Clark admitted that digital windows won't be popular with all passengers, they did receive rave reviews from Zach Hoing, founder of travel blog The Points Guy, who previewed the high tech windows in December.
Aviation experts have expressed concern that depriving flight crews of a view outside the plane may hamper crew's ability to react to emergency situations, but the Federal Aviation Administration disagrees.
"U.S. regulations don't actually require windows on airplanes," an FAA spokesperson said in a statement to TheStreet, later adding that it does not even require windows in aircraft cockpits. "The only requirement is for a peephole on the exit doors. Foreign air carriers operating into the United States are required to comply with Part 129 of Federal Aviation Regulations. Included in Part 129 are airworthiness provisions, which basically state the aircraft must have an airworthiness certificate from either the country where the plane is registered, or the country of the airline operating the plane."
The luxury airline's president also said that windowless flights may also make travelling more affordable, as the the lighter planes will consume less fuel. For now though, only first class passengers in enclosed suites in the middle aisle of Emirates' new Boeing 777-300ER aircraft will get to experience them.
Emirates isn't the only aerospace company pursuing unusual innovations, however. Boeing  (BA) - Get Report  CEO Dennis Muilenburg told TheStreet that it's developing personal flying taxis and unmanned underwater vehicles. Italian airline seat manufacturer Aviointeriors released its second concept for a stand-up airplane seat in April.