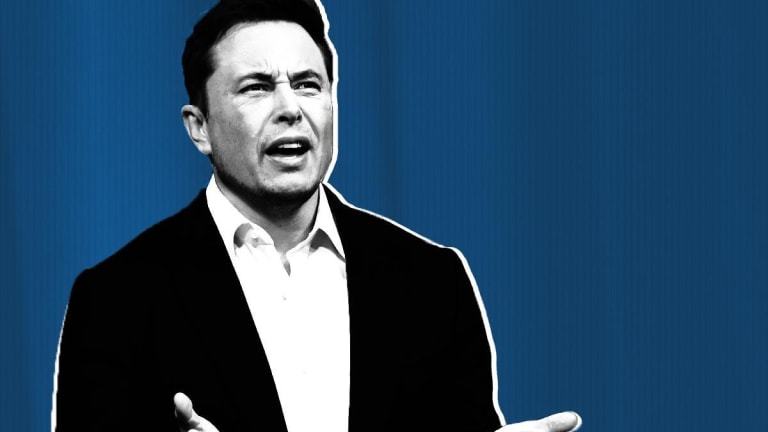 Elon Musk Resorts to Schoolyard Taunts and Worse in War vs. Tesla Short Sellers
Tesla's CEO and his fanboys have used all sorts of aggressive tactics to silence critics as scrutiny of the company escalates.
Tesla (TSLA) - Get Free Report is waging a war against critics, or more of a preschool temper tantrum, depending on whom you ask.
This week, it was CEO Elon Musk calling the wah-mbulance on a blogger who criticized Tesla on Twitter and financial analysis site Seeking Alpha. According to the widely-circulated account, Musk personally contacted the boss of the blogger -- who wrote in his free time under a pseudonym -- and threatened to sue or complain publicly about the posts. Elon Musk's Twitter account has more than 22 million followers, many of whom aggressively leap to his defense when he or the company is criticized. 
Asked about the incident on Twitter, Musk referred to the writer in question as "a girl" and posted a crude photo of the former Disney (DIS) - Get Free Report personality Hannah Montana in a series of now-deleted tweets at 3:51 AM on July 26 (see screenshot below). It's not clear what "grow up" refers to in the context of the tweet. 
The blogger wrote anonymously under the pen name Montana Skeptic, and attracted several thousand followers on Twitter and Seeking Alpha for his detailed critiques of Tesla's finances. This month, a Twitter account -- seemingly created solely for the purpose of spreading personal info about Tesla short-sellers -- posted his employment details. The post had apparently been plotted long in advance, with the account also pointing to a web domain, MontanaSkeptic.com, that was originally registered in February. The site bragged that it was soon to reveal Montana Skeptic's identity.
Tesla didn't clarify to TheStreet how exactly the personal info, which surfaced by way of a dox, made its way to Musk. Nor did Tesla clarify the nature of Musk's complaint, saying in an odd statement that the blogger's boss "became aware" of the posts and that he agreed to stop voluntarily. The latter detail was corroborated by the blogger, whose full account you can read here.  
Seeking Alpha's executive editor, George Moriarty, told TheStreet that the blogger's personal info also circulated on the Seeking Alpha site at one point, which violates its rules. "Anyone that participates in doxxing on this site is blocked," Moriarty wrote of the incident. "The risks to personal safety are too great for there to be exceptions."
Doxxing, for the uninitiated, is defined by the Department of Justice as a form of cyber-harassment that involves broadcasting a person's personal information, thus exposing the target to a mob of harassers both on and offline.
The practice seems to be part of Tesla's corporate playbook now. In its statement to TheStreet, Tesla's spokesperson pointed to the employer's contact information (which was not requested), and added that the employer was "a longtime Tesla supporter and was one of the first to purchase a Model S," the relevance of which was not explained. 
Just another Thursday on Planet Elon.
It also isn't the first time that Tesla's disciples, or Musk himself, have attempted to browbeat critics through a flood of online abuse. 
Martin Tripp, the ex-Tesla technician alleging that Tesla lied about Model 3 production and safety standards in a whistleblower lawsuit filed with the SEC, told TheStreet in a statement this month that he and his family "have had to relocate due to threats and harassment, both online and offline."
In a Michigan court case disputing a law that restricts automakers' ability to sell directly to consumers, a director for the Auto Dealers of Michigan (ADM) testified that members and staff of the trade group were deluged with "harassing, threatening and hateful emails" from Tesla supporters. That case is ongoing.
In 2015, the moderator of a Tesla fan forum on Reddit, Frederic Lambert, was served an injunction for creating numerous false online identities in order to post defamatory comments about the manufacturer Saleen Automotive, a car tuning company that offered modified versions of Tesla cars. That matter was settled on the condition that Lambert remove the posts. Lambert now runs Electrotek, a Tesla fan site frequently retweeted by Musk.
After calling a British diver who helped rescue 12 Thai boys a pedophile in a now-deleted tweet, Musk may face a lawsuit by the diver over the baseless smear.
"[Musk] is spending far too much worrying about retaliating to people who are critical of him instead of focusing on his business," said Tesla short seller Chris Irons, an acquaintance of Montana Skeptic's who was the first person to post about the incident with Musk on Twitter. "You don't make short sellers go away by insulting them or going after them personally. Public scrutiny goes both ways, and [Musk] is learning that the hard way."
Tesla's shares have fallen 11% over the past year as pressure grows on the electric car-maker to meet long-promised production goals and stem its massive cash burn rate, and Musk's erratic behavior on Twitter and elsewhere draws concerns. 
The company reports its second-quarter earnings on Wednesday, August 1, after the close.