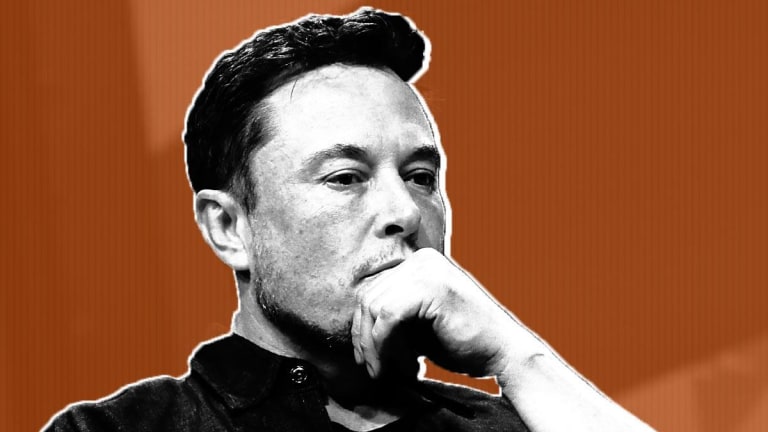 Elon Musk Apologizes His Way Through Tesla Earnings Call
A tired-sounding Tesla CEO mumbles and apologizes his way through Tesla's earnings call, saying sorry to two analysts for his 'bad manners' during Tesla's May conference.
If the bar for Tesla (TSLA) CEO Elon Musk was to make it through an earnings call without calling anyone a "boring bonehead," consider it met.
A subdued Musk muttered his way through Tesla's June quarter earnings call with investors, at one point apologizing for being tired -- "I've been working in the body shop," he said -- and at two other points apologizing to analysts for what he called his "bad manners" on Tesla's May earnings call, also blaming a lack of sleep. 
"I hope you'll accept my apology," he said to Joseph Spak of RBC Capital, the analyst Musk cut off for being too dry before turning to a Tesla cheerleader on YouTube.
The apology was apparently accepted, and the awkward moments brought some color to a call that otherwise meandered from topics including production rates, and plans for funding a Gigafactory in China to Tesla's insistence that it won't need to raise any capital as it continues to spend heavily on Model 3 production. 
Tesla's earnings release was a mixed bag: The carmaker reported slightly more revenue than expected, at $4 billion versus an analyst consensus of $3.9 billion, but higher losses than expected at an adjusted loss of $3.06 per share versus a consensus of $2.92.
Tesla also said that it had hit its goal of producing 5,000 Model 3 cars per week "multiple times" throughout the month of July, and projected that they would produce between 50,000 and 55,000 Model 3 units over the whole of Q3.
The earnings call seemed to serve a dual purpose of elaborating on Tesla's progress and showing a humbled Musk who also made a point of lavishing colleagues with praise for their "mind-blowing" achievements in the past quarter.
Musk reiterated the company's position that it will turn a profit in Q3, and took the forecast further in declaring that Tesla will be profitable for every quarter from there on out. With a few caveats at least: It will be profitable barring events like a recession, or "needing to pay back a loan," Musk said. Tesla has about $1.2 billion in convertible debt obligations maturing later this year and in early 2019.
Asked how Tesla will fund massive projects like a China Gigafactory, he said that it would turn to Chinese banks. "I think our default plan would be to essentially use a loan from the local banks in China and fund the Gigafactory in Shanghai with local debt... we certainly could raise money but I think we do not need to." Musk also denied that a notice from the SEC is preventing Tesla from raising money, per the rumor that a Wells notice is what's keeping the company from fundraising.
"Are we running low on money? The answer is no," Musk added on the call. Tesla reported lower cash burn than expected, forecasting capital expenditures for 2018 of less than $2.5 billion versus prior estimates of less than $3 billion. In the earnings release, Tesla reported a cash pile of $2.2 billion. 
Its Model 3 production numbers and sales are "the most salient issues" for Tesla, said automotive analyst Jeremy Acevedo of Edmunds: "What they're forecasting for Q3 seems fairly aggressive and on pace. It'll be interesting to see if that's sustainable through next quarter," said Acevedo.
Investors took Wednesday's events as good news on the whole, with Tesla's stock up about 9% in after-hours trading.