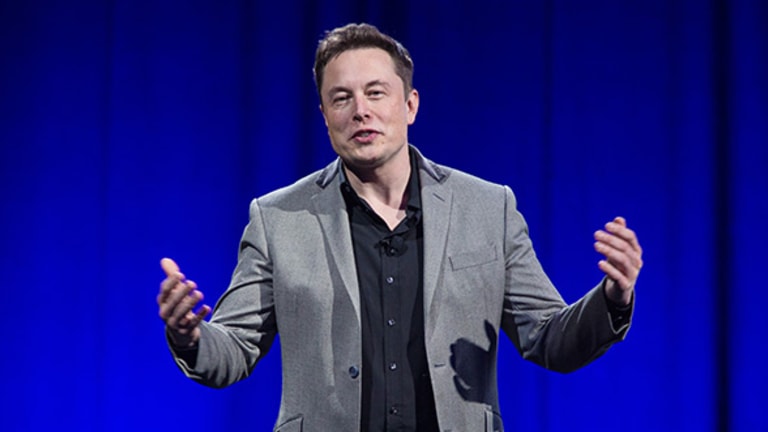 Elon Musk's Tesla Gets Dinged Again on Model X Concerns
As Elon Musk lobs some shots across Silicon Valley on Apple's car efforts, Wall Street is firing right back, on concerns about the Model X.
Updated from 3:07 p.m. to include tweet from Musk.
NEW YORK (TheStreet) -- As Elon Musk lobs some shots across Silicon Valley on Apple's (AAPL) - Get Apple Inc. Report car efforts, Wall Street is firing right back.
For the third time this week, an investment bank has cut its outlook on the Palo Alto, Calif.-based Tesla (TSLA) - Get Tesla Inc Report , with Barclays analyst Brian A. Johnson downgrading shares to underweight, citing significant challenges ahead for the electric vehicle maker. In addition, Johnson cut his price target from $190 to $180.
Johnson cited key factors such as the Model X rollout not being "the technical boost we expected," as well as causing there to be a "reality check on [gross] margins," and the potential for the slow ramp up of Model X sales to miss the already lowered 2015 delivery guidance.
"There are a number of engineering challenges with the Model X; just as these engineering challenges significantly delayed the release of the X (which was originally scheduled to be released in early 2014), they will also prevent X production from adequately ramping, while
also inhibiting margins," Johnson wrote in the note.
Shares were down more than 3% in early trading, following a decline of more than 10% since the Model X was unveiled.
In an interview with German website Handesblatt, Musk said Apple had hired people Tesla had let go. "They have hired people we've fired," Musk said. "We always jokingly call Apple the 'Tesla Graveyard.' If you don't make it at Tesla, you go work at Apple. I'm not kidding."
(UPDATE: Musk took to Twitter to defend his comments made in the interview. "Yo, I don't hate Apple, Musk wrote. "It's a great company with a lot of talented people. I love their products and I'm glad they're doing an EV.")
Tesla delivered the first few Model X's at its event in late September, fully showing off the capabilities and features of the car.
Tesla recently lowered its 2015 delivery guidance to between 50,000 and 55,000 vehicles. As of the third quarter, Tesla had delivered 33,117 vehicles, leaving the company between approximately 17,000 and 22,000 units short of hitting that target.
Much of Tesla's valuation is built on its ability to start delivering the next-generation Model 3 in larger numbers, as noted by hedge fund manager Jim Chanos and others. Yet with the Model X having been pushed back several times because of how hard it is to build, according to Musk, the timeline on the Model 3 is being called into question.
"The Model X just doesn't cut it right now," said TheStreet's Jim Cramer. "The cult is fraying at the seams."
"The X was unveiled in LA in February 2012 -- and we don't expect a full production ramp until at least early/mid 2016, 4 years later," Johnson penned in the note. "So with the Gen 3 prototype expected to be unveiled next March, we now generously see a 2018 ramp for Gen 3."
Musk and his team have previously said that production of the Model 3 will start in the second half of 2017, with the car being unveiled in March 2016. The Model 3 is largely dependent on the Gigafactory coming online. In an interview with TheStreet earlier this year, Tesla Director of Communications Ricardo Reyes said the factory, which is being built in Reno, Nev., is "ahead of schedule."
On the company's fourth-quarter conference call, Musk was steadfast about Tesla's ability to keep the Model 3 on schedule, fully acknowledging the problems the Model X had:
"With respect to Model III, we definitely -- we don't want the delays that affected the X to affect the Model III. We are really -- we are being quite contentious about this. There are things that we could do with the Model III platform that are really adventurous, but
with schedule at risk. So what we're going to do is we're going to have something that is going to be an amazing car but it won't be the most adventurous version of the Model III to begin with, but we will have then have the more different version of the Model III on the Model III platform following the initial version, so that we can stay on track for Model III."
Johnson's downgrade follows comments from other research firms. Earlier this week, Morgan Stanley analyst Adam Jonas cut his price target to $450 from $465 on Tesla stock, citing the initial price tag of $132,000 as being too high, forcing Jonas to cut his initial sales delivery estimates on the SUV.
And on Wednesday, Baird analyst Ben Kallo downgraded Tesla's stock rating to neutral, citing limited visibility on positive catalysts before the Model 3 appears. Like Jonas, Kallo also mentioned the higher-than-expected price point on the X, noting "some orders will be canceled (which we have confirmed with X reservation holders), and the higher-than-expected price could reduce the market size."
Despite the negative sentiment on Wall Street, Tesla does have at least one fan.
S&P Capital IQ analyst Efraim Levy upgraded Tesla to hold from sell, noting shares were below the $225 price target. "Recent developments include the release of the Model X electric SUV vehicle, at a price point above some expectations," Levy said. "With the Q3 Model X launch, we expect sales and EPS to surge in '16."