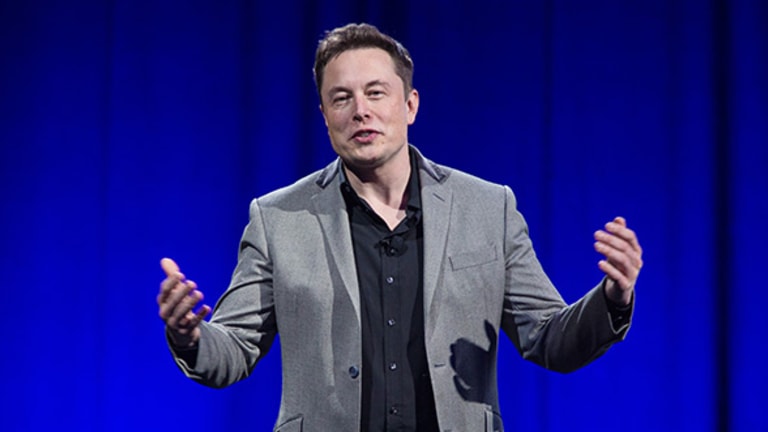 Elon Musk Is Finally Going to Land on 'The Big Bang Theory'
Tesla Motors CEO Elon Musk is slated to appear on an upcoming episode of CBS's No. 1-rated show.
Sheldon Cooper, you've met your match.
Tesla Motors (TSLA) - Get Free Report CEO Elon Musk will play himself in an episode of CBS's (CBS) - Get Free ReportBig Bang Theory slated to air on Thanksgiving.
According to CBS' website, Musk, who co-founded PayPal (PYPL) - Get Free Report, space technology company SpaceX and the aforementioned Tesla, will "be playing himself and is expected to have an interesting interaction with Howard at a local soup kitchen."
Despite this being Musk's first appearance on the show, the enigmatic engineer was the topic of conversation on a previous episode of CBS's No. 1 rated show.
Big Bang has continued to be a huge hit for CBS over its nine seasons, as viewers watch the lives of the aforementioned Cooper, his roommate Leonard Hofstadter, Howard Wolowitz, astrophysicist Raj Koothrappali, Penny, Bernadette Rostenkowski and Amy Farrah Fowler,
The show's most recent episode, which aired Monday Oct. 26, had a 4.4 rating with a 14 share of the key 18-49 demographic, ultimately reaching 16.3 million viewers.
Here is a picture from Musk's personal Instagram account taken while he was filming the episode.
The Big Bang Theory. I love trains.

A photo posted by Elon Musk (@elonmusk) on Oct 28, 2015 at 11:58pm PDT