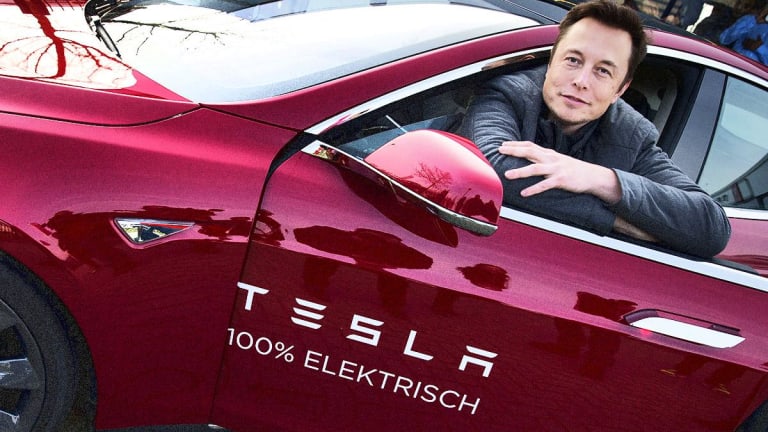 Elon Musk May Shift Down Role at Tesla, Analyst Says
A Jefferies' analyst suggested Elon Musk could step back from his duties as Tesla CEO. It's relatively rare for CEOs to take on a reduced role, but it might be what Tesla needs.
Tesla got a vote of confidence from an analyst on Friday, but the upgrade came with an intriguing suggestion.
Citing a "structurally lower capex profile and improved balance sheet risk," Jefferies' Philippe Houchois upgraded the stock to "buy" from "hold" and placed a price target of $450 on the electric-car company. In its latest earnings, Tesla reported improving Model 3 margins and free cash flow. The company has also reportedly offered to clear some of its debt that matures early next year by repaying it with a mix of cash and stock.
In his analysis, Houchois also suggested that CEO Elon Musk might back away from some of his duties as chief executive. "Elon Musk's erratic behavior makes us wonder if he might be considering reducing his direct involvement in Tesla to focus on product/vision/other ventures," Houchois wrote on Friday. "We think such a move might be better suited to Mr. Musk's talents than driving manufacturing efficiency and would benefit Tesla."
The suggestion that Musk might reduce his role in running Tesla's nuts and bolts is consistent with a recent call by shareholders to change how the company is governed. In early November, a group of shareholders demanded Tesla's board further rein in Musk beyond the conditions placed on Musk and Tesla in a settlement with the SEC over Tesla's go-private fiasco, namely that he step down as chairman, pay a penalty, and submit to internal oversight of his tweets.
Tesla's board appointed Robyn Denholm as chair on Nov. 8, but the shareholders, including CtW Investment Group, said more work is needed to ensure Tesla is run properly. In a letter, the shareholders said Tesla would benefit from board leaders "whose skill sets match the company's strategy and current challenges," including issues in manufacturing, regulation and human capital management.
It's hardly the first time someone has suggested Tesla change up its leadership in order to tackle the company's challenges, which range from ramping up manufacturing and consistently turning a profit to navigating a criminal inquiry into whether Tesla misled investors about Model 3 production.
Still, it's relatively unusual for CEOs to take on a reduced role, said Peer Fiss, a professor of management at University of Southern California. "Most CEOs have very big egos and take it very hard if their duties are significantly reduced," he said.
Granted, as the past year has plainly shown, Musk isn't exactly a typical CEO. And observers of the company have have often tried to weigh the promotional value Musk brings to Tesla against the erratic behavior that has damaged it.
"With [Musk] the choice might be accept it or get out altogether," Fiss added.