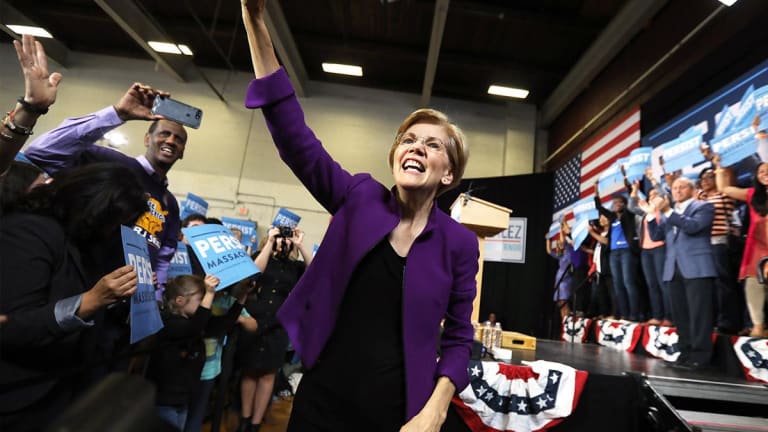 Elizabeth Warren Proposes Plan to Break Up Big Firms Like Amazon and Facebook
The Democratic presidential candidate outlined a plan to break up several of the big tech giants. An antitrust expert weighs in on her proposal.
Presidential hopeful Sen. Elizabeth Warren is taking aim at Big Tech with an ambitious new proposal.
But what exactly would that entail, and who would be affected under Warren's proposal?
In a blog post published on Friday, the Massachusetts Senator outlined a regulatory plan that she says would benefit consumers and startup investors, and increase competition in the tech industry. Warren's multi-pronged proposal would establish stricter oversight of mergers and require that companies that run marketplaces, such as Amazon (AMZN) - Get Free Report , not also sell their own products on those marketplaces. Amazon's stock was down 1.3% on Friday afternoon on an overall weak day for the market that saw the Nasdaq falling 0.7% and the S&P 500 dropping 0.8%. 
Warren called out a few major mergers that her plan would have the authority to unwind, writing that doing so "will promote healthy competition in the market  --  which will put pressure on big tech companies to be more responsive to user concerns, including about privacy." Those include:
Amazon's acquisitions of Whole Foods and Zappos
Facebook's (FB) - Get Free Report acquisitions of WhatsApp and Instagram
Alphabet's (GOOGL) - Get Free Report acquisitions of Waze, Nest and DoubleClick
Facebook shares fell 0.7%, while Alphabet was trading down 0.9% on Friday.
As debates about privacy and competition come to the fore, Democratic lawmakers and attorneys general -- and even President Trump -- have shown an interest in stricter antitrust oversight of Big Tech. Other Democratic presidential hopefuls, such as Senators Amy Klobuchar and Bernie Sanders, have also been critical of large tech companies. Whether Warren's plan is feasible, or how it would be applied, is another question. 
Andrea Murino, a partner at Goodwin and co-chair of the firm's antitrust practice, pointed out that while the government can unwind mergers, convincing a court that doing so is the right approach would be a very heavy lift.   
"The government has the authority to unwind transactions, but to do so requires meeting a substantial evidentiary burden," Murino said. "[Arguing that] by unscrambling the eggs, you're going to end up restoring lost competition is incredibly challenging to do." 
Facebook, Amazon and Alphabet are holdings in Jim Cramer's Action Alerts PLUS member club. Want to be alerted before Jim Cramer buys or sells these stocks? Learn more now.
A Special Invitation:Do you want to learn more about planning for and living retirement from the nation's top experts, including Ed Slott and Robert Powell, the editor of TheStreet's Retirement Daily? Want to learn how to create tax-efficient income in retirement and how to manage and mitigate all the risks you'll face in retirement? Then sign up to attend TheStreet's Retirement Strategies Symposium on April 6 in New York City. For a limited time, you can attend this extraordinary symposium for $149 - a cost savings of $50 off the general admission price of $199.
You can see the full day's agenda, learn about the guest speakers and sign up HERE for this special event.