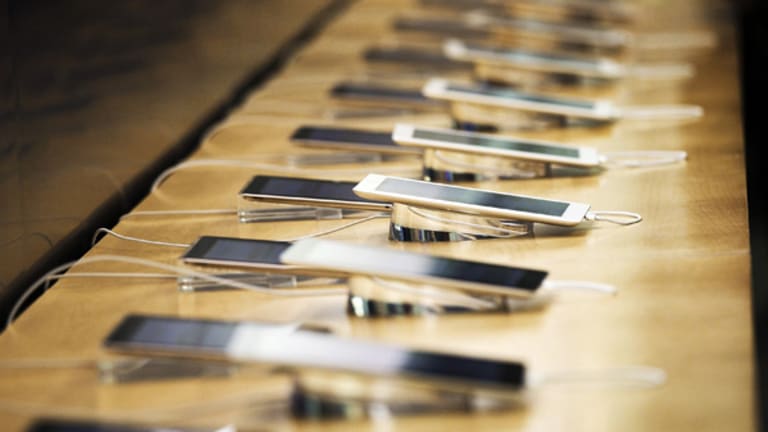 Electronic Arts Has Fab New Title: Best in Class
Electronic Arts has a potential blockbuster in <I>The Beatles: Rock Band</I>. Some analysts see 30% upside for the game-maker.
Electronic Arts has a potential blockbuster in <I>The Beatles: Rock Band</I>. Some analysts see 30% upside for the game-maker.
NEW YORK (
) -- If you're buying a video-game console for the first time, chances are you'll also be purchasing one of the latest titles from
Electronic Arts
(ERTS)
.
Similarly, if you're an investor looking to enter the video-game sector for the first time, you might consider picking up some EA shares, as some analysts envision 30% or more upside for the stock.
When the economic recession first took hold, video-game stocks looked poised to weather the storm. However, late last year, shares of EA and rivals
Activision Blizzard
(ATVI) - Get Report
,
Take-Two Interactive
(TTWO) - Get Report
and
THQ
(THQI)
lost their momentum, proving that the sector was not as recession-proof as many once thought.
While My Video Stock Gently Weeps
var config = new Array(); config<BRACKET>"videoId"</BRACKET> = 34594529001; config<BRACKET>"playerTag"</BRACKET> = "TSCM Embedded Video Player"; config<BRACKET>"autoStart"</BRACKET> = false; config<BRACKET>"preloadBackColor"</BRACKET> = "#FFFFFF"; config<BRACKET>"useOverlayMenu"</BRACKET> = "false"; config<BRACKET>"width"</BRACKET> = 265; config<BRACKET>"height"</BRACKET> = 255; config<BRACKET>"playerId"</BRACKET> = 1243645856; createExperience(config, 8);
Recent data from sales and market-research firm
NPD Group
aren't signaling much relief for game publishers, as sales dropped nearly 30% in July from a year ago. But year-over-year comparisons are difficult, as 2008 brought several strong titles like
Grand Theft Auto IV
,
Super Smash Bros. Brawl
,
Gears of War 2
and
Guitar Hero World Tour
, while 2009 has suffered from a drought of big-name launches.
Several catalysts should give a near-term lift to all game-makers. For one, the upcoming holiday shopping season typically brings a strong fourth quarter for game publishers. Additionally, the recent price cut for
Sony's
(SNE) - Get Report
PlayStation 3
and a rumored price cut for
Microsoft's
(MSFT) - Get Report
Xbox 360 could be a boon for software makers.
And, of course, there's that big turnaround in consumer spending that bullish investors insist is coming, which will no doubt prop up video-game sales once it finally arrives.
EA, though, has a strong leg up on the competition, thanks to a strong mix of sequels, sports-licensed games, original intellectual properties and mobile gaming titles in its pipeline. As other game-makers delay title releases until the first quarter of 2010 (most notably Take-Two's highly-anticipated
BioShock 2
and
Mafia II
), EA is set to distribute its blockbuster title
The Beatles: Rock Band
on time in September, with many analysts expecting it to be a top seller this holiday season.
The company's titles have also performed well during a difficult time for other game makers. According to Bank of America-Merrill Lynch analyst Justin Post, EA held four spots on
Amazon.com's
(AMZN) - Get Report
top 10-selling titles for the week of Aug. 17, up from three the week before. EA also took three of the top 10 spots on
Wal-Mart's
(WMT) - Get Report
Web site. Additionally, NPD Group said that combined sales of EA's
NCAA Football 10
made it the top software item for July.
But it hasn't always been easy for EA. The company once lacked credibility with gamers, as it churned out assorted iterations of movie-licensed games, including
James Bond
and
Harry Potter
, while neglecting to build up original franchises. Making matters worse, it seemed like new versions of sports games from the
Madden NFL
,
NBA Live
, and
NHL
franchises were released every year with no significant improvements.
Lately, EA has proven it can deliver more than rehashed titles each year. It has cultivated several strong game lines, most notably the racing series
Need for Speed
, virtual life games in
The Sims
line and the first-person war shooter games in the
Battlefield
collection.
EA has also recently published several compelling IP games, including the survival-horror game
Dead Space
, the visually stunning action game
Mirror's Edge
, the forthcoming heavy-metal adventure game
Brutal Legend
and the
Nintendo
Wii-specific
Boom Blox
, a puzzle/party game developed by Steven Spielberg.
EA has shown a commitment to developing better gaming experiences for the Wii, releasing hits like
EA Sports Active
and
Tiger Woods PGA Tour 10
, while rivals still struggle with development for the platform. EA has also found a foothold in mobile gaming, bringing games like
Monopoly
and
Tetris
to the
Apple
(AAPL) - Get Report
iPhone and iPod touch.
The quality of its games has improved as well, according to game reviewers. The
Madden NFL
series of games has started to see the biggest improvement year over year, earning stronger ratings for each sequential release on the Xbox 360 and PS3 since 2007, according to Gamerankings.com.
"One of EA's recent problems is that better quality has not translated into sales, but we think eventually consumers will take notice," BofA-Merrill's Post wrote in a recent research note. Post has maintained a buy rating on EA's stock since late June with a stock price target of $26, although he acknowledges the volatility risk is high.
EA has also locked up an exclusive licensing deal with the NFL through at least 2012, a wise move considering the
Madden
series has sold 61.7 million units in the U.S. from its creation through July, according to NPD Group.
The game publisher also distributes the
Rock Band
series of games, which have sold more than 7.5 million units in the U.S. through last month. That number should surge after
The Beatles: Rock Band
is released on Sept. 9, as the title has the potential to outsell
Guitar Hero 5
,
DJ Hero
,
Band Hero
and
Guitar Hero: Van Halen
, all of which are on rival Activision's release schedule for the next few months.
While expected to be a smashing success,
The Beatles: Rock Band
should lead to a higher mix of distribution revenue and a lower mix of owned IP titles, which troubles Gabelli & Co. analyst Robert Haley. He argues that gross margin, which expanded in the previous quarter to 51%, should fall in the September quarter.
Although he maintains a sell rating on EA shares, Haley acknowledges that he is "incrementally more positive" on the company and that aggressive hardware price cuts "could provide unexpected industry upside, while flexibility in managing its cost structure could help offset top line challenges."
In February, Chief Executive Officer John Riccitiello announced that the company would cut 1,100 jobs, or 11% of its workforce. The leaner company is focused on fewer titles, which EA hopes will help improve its stable of games. It also helped
in the fiscal first quarter, even as sales slumped.
Jeffrey Thomison, research analyst with Hilliard Lyons, says that EA's management remains highly focused on growth initiatives and profit margins and that recent cost reduction efforts "led to substantial savings and should result in considerable operating leverage during high-volume periods such as the next few quarters." He maintains a long-term buy on the stock and notes that EA is "financially sound, with over $2 billion in cash and no long-term debt.
In terms of valuation, rival Activision does have an edge over EA with a more attractive forward price-to-earnings ratios. Activision also has an advantage with
Call of Duty: Modern Warfare 2
, due for release in November.
GameStop's
(GME) - Get Report
CEO has said he already expects the title to be the biggest-selling game of all time.
However, with a strong product pipeline, more games tailored to the Nintendo Wii and cost cuts in the rearview mirror, EA's turnaround story should be a profitable one for investors.