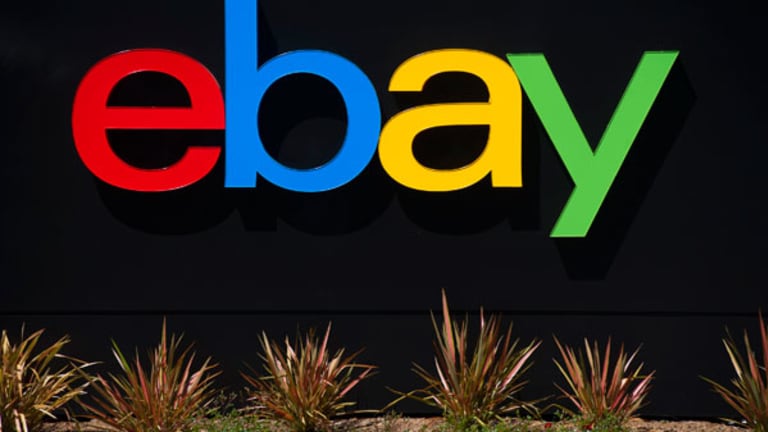 PayPal's Dilemma: Why It Needs eBay and Vice Versa
Russia may be the type of risk PayPal is able to take under its ownership by eBay.
Updated from 11:01 a.m. to include information from UBS analyst in the eleventh paragraph.
NEW YORK (TheStreet) - EBay's (EBAY) - Get eBay Inc. Report push into Russia may underscore how the e-commerce giant will look to expand its Marketplace business and its faster-growing PayPal payments division, which currently is the focus of a scorched-Earth activist campaign being run by billionaire Carl Icahn.
On Wednesday, eBay CFO Robert H. Swan sought to explain why PayPal benefits from being held within the larger e-commerce giant, and highlighted the company's push into emerging markets like Russia. Swan's argument boiled down to a simple point: As PayPal expands, it benefits from having eBay's boots on the ground.
"When we enter a market, as a company, we lead with eBay and we pull PayPal through," CFO Swan said at a Morgan Stanley technology conference in San Francisco on Wednesday afternoon.
That strategy means eBay's Marketplace business can build scale in a new market before the company invests heavily, trying to extend PayPal's reach to the market. Once the scale is there, PayPal is then introduced on Marketplace and the payment's platform is then expected to grow outwards.
EBay's Marketplace business expanded its shipping program to 42 countries in 2013 and doubled its Russian Marketplaces customer base.
Virtual Bank Branch
The best example of this strategy comes from the banking business. When a lender like Wells Fargo (WFC) - Get Wells Fargo & Company Report decides it wants to begin loaning money in new markets, the first thing it is likely to do is begin building a network of bank branches. In theory, those bank branches should draw in local businesses, consumers and the like, while eventually building an understanding of the market that a lender needs to make responsible credit decisions. 
EBay, effectively is PayPal's bank branch network. Marketplace offers relationships and a trove of analytical data that eBay can then utilize when it decides to launch PayPal to a new market. In a best case scenario, the Marketplace relationship creates a PayPal relationship, which then should extend to a customer's other payments activity.
"I think in all the markets we're in, whether they're developed markets like Germany, whether they're emerging markets like Russia, we try to take PayPal innovations, deploy them on those platforms on eBay to drive a relatively efficient consumer acquisition channel and adoption of the products on eBay that we can expand off of eBay," CFO Swan said.
Growth prospects include eBay's extension of credit through Bill Me Later, cross-border trade, and new products like PayPal's Mobile Express Checkout and its various app-based payment mechanisms. PayPal, by the way, is investing heavily in its mobile application channel, underscored by the company's $800 million acquisition of Braintree in September.
Swan called the synergies between eBay and PayPal a "flywheel" and stock analysts would likely call it a customer acquisition channel. EBay will have to prove its "flywheel" is spinning fast enough to warrant PayPal's integration to eBay's Marketplace.
"We continue to believe that the flywheel of new users and addressable market opportunity (especially mobile, and BRIC & International markets) for the entire eBay ecosystem will continue to drive strong revenue growth in the coming years," UBS analyst Eric J. Sheridan wrote in a March 3 note.
In 2014, Russia may prove the perfect laboratory for eBay's flywheel, given its risks and opportunities.
EBay is Similar to General Electric
With the banking industry in mind, there's also an important economic argument for eBay to make when explaining its ownership of PayPal. While PayPal is a leader in tech categories like "mobile," it also is a financial product that needs real money running through the business for support.
EBay and PayPal, in that sense, are similar to General Electric's (GE) - Get General Electric Company Report position in the financial services sector. EBay, according to CFO Swan, funds PayPal with a low cost of capital and allows the company to take credit risks in a sustainable manner.
Through eBay, PayPal "gets access to relatively low cost of capital, a significant user base from eBay, that is a real good foundation for its growth and for its organic growth in credit, because it's funded by eBay Inc.'s cash flows, and by using eBay Inc.'s cash flows to accelerate its growth through inorganic things like the acquisition of Braintree," Swan said on Wednesday.
It's that context, which may help investors appreciate the growth rates that PayPal has achieved under eBay. The company's Payments revenue grew 91% in the fourth quarter to $1.83 billion, while the number of payments conducted on PayPal grew 22% to 846.1 million. Transaction margins were 63.5% in the fourth quarter and 21% of commerce volume was conducted cross border for the quarter.
Tech investors might be unimpressed with those figures and may even be alarmed by signs of slowing growth rates; however, that kind of growth is unheard of in the financial services sector and especially for a company doing so in a responsible manner. 
EBay's heavy investment in PayPal's so-called "flywheel" also comes as margins across the payments sector are expected to fall in coming years. "As competition in the payments sector intensifies, profit margins on all payments systems will likely start trending to zero," Reid Hoffman, a former PayPal executive and the chairman of LinkedIn (LNKD) said on Wednesday.
"As that happens, controlling major commerce platforms will become even more important to payments players, because they'll still be able to create value by building valuable ecosystems on top of them," he added.
EBay's earnings are indicative of Hoffman's point.
The company's so-called 'take rate' on transactions is beginning to fall, given that its fastest growing businesses like PayPal have the lowest take rates versus slower growing businesses like eBay Enterprise. Meanwhile, eBay is investing heavily in getting large merchants to adopt Marketplace and PayPal, in a promotional move aimed at grabbing market share from the likes of Amazon (AMZN) - Get Amazon.com, Inc. Report.

Polling eBay Shareholders
On Wednesday, Bernstein Research analyst Carlos Kirjner published a poll of 178 eBay investors that indicated investors were undecided on whether or not eBay should split its Marketplace and PayPal businesses.
Of those that responded, 51% said a split was not wise, while 43% supported a split. Nearly 30% of shareholders responded that Carl Icahn should get a board seat, while 55% said eBay's board composition should change. Sixty percent of respondents said unlocking PayPal's value was the best reason for a split.
"[We] are in the minority and are not convinced that there is indeed a large value creation opportunity simply from separating the businesses. We think there are multiple cross-subsidies between Marketplaces and PayPal and a cursory valuation of PayPal as a standalone entity often will fail to account for the potential elimination of these cross-subsidies," Kirjner said.
"In other words, the relationship between the pieces would be identical to today's and all we would get (again, in theory) is a valuation bump," the analyst concluded.
Place Bid, Buy It Now
At about the same time Swan took the stage at the Morgan Stanley conference, Reid Hoffman published an extremely supportive letter of eBay's current strategy and accused Icahn of focusing on short-term trading profits over long-term growth. "It's classic market exploitation," Hoffman wrote. 
By Thursday morning, Icahn responded.
"We have not yet begun to fight," the activist wrote on a website he recently created to champion shareholder rights. In late February, Icahn filed a proxy solicitation to split PayPal from eBay and nominate two new directors to eBay's board at the company's annual shareholder meeting later in 2014.
Sometimes, amid the cacophony of an activist campaign and a corporation digging in its heels, the narrative moves to tangential subject matter.
In the eBay case, Icahn has identified two board members, venture capitalist Mark Andreessen and Intuit (INTU) - Get Intuit Inc. Report founder Scott Cook and their perceived conflicts of interest as the flagpole for his campaign.
Icahn has painted both Andreessen and Cook as the Manchurian Candidates of eBay's board, who've used their seats to invest in competitors to PayPal. Icahn also accused Andreessen of self-dealing in eBay's sale of Skype to private equity firm Silver Lake Partners, a deal which his VC firm Andreessen Horowitz had a 3% stake that paid off handsomely when the business was sold 18-months later to Microsoft for $8.5 billion. 
EBay founder and Chairman Pierre M. Omidyar rejected those assertions earlier in March and Andreessen took to his blog to reject Icahn's claims.
On Thursday, Andreessen categorically denied Icahn's allegations surrounding the Skype deal, which it is worth noting, eventually made money for eBay shareholders.
"Mr. Icahn is making up a fake conspiracy theory out of thin air," Andreessen wrote, citing a Wall Street Journal article that said Microsoft passed on Skype when eBay put it up for sale. Seventy percent of the business was sold to Silver Lake for $2.75 billion in 2009. In 2011, Silver Lake flipped Skype to Microsoft for $8.5 billion.
EBay shares were gaining over 1% in Thursday trading at $59.48. Shares have gained over 11% in the past twelve months.
-- Written by Antoine Gara in New York