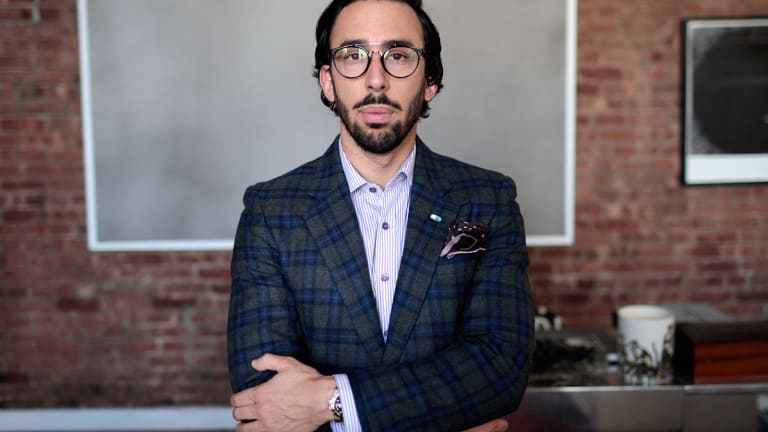 eBay's Michael Moskowitz Envisions a More Experiential E-Commerce Experience
Moskowitz, eBay's chief curator and editorial director, sat down with TheStreet to discuss the e-commerce site's past, present and future.
Moskowitz, eBay's chief curator and editorial director, sat down with TheStreet to discuss the e-commerce site's past, present and future.
Updated from April 30 to reflect Moskowitz's new title.

NEW YORK (TheStreet) -- Two years ago, eBay (EBAY) - Get Report acquired an e-commerce startup known as Bureau of Trade, bringing in its founder Michael Moskowitz to be its chief curator and editorial director. Today eBay is adding some new words to his title making him global chief curator and director of eBay futures, signifying a broader, more encompassing content strategy at the company.
San Jose-based eBay recently surprised analysts with a nice earnings beat, but the company faces a number of challenges as its nears the spinoff of PayPal. And while Moskowitz may not be making the financial decisions for the company, he is spearheading a directional shift that he believes will position eBay as a winner in e-commerce.
Moskowitz sat down with TheStreet to discuss eBay's past, present, and future, envisioning a future where online shopping values experiences and narrative as much as merchandise. He touched on the importance of creating a unique voice, competing against nimble startups, and the challenges ahead. Here is the lightly edited interview.
TheStreet: Since joining eBay two years ago, how have you been working to shift the focus at eBay.com?
Michael Moskowitz: I don't know that I'm so much refocusing what eBay's trying to do as much as revealing what lies uniquely from within. There's only one site on planet Earth where you can find material from outside our own solar system; there's only one site on Earth where you can find treasures from the bottom-most recesses of the ocean, and luxury cars, and the stuffed animal that sadly you lost after your last visit to the Grand Canyon. It's just such an extraordinary place to redevelop or redefine your relationship with and to the material world, it's beyond compare.
TheStreet: How do you make sure eBay stands out from its rivals in e-commerce?
Moskowitz: The fact that we have 800 million unique listings is one of the things that will always undeniably set eBay uniquely apart, but what we haven't had to date is a voice, a recognizable tone, timbre, narrative. So when Devin Wenig, the current president, CEO-to-be, acquired my company, Bureau of Trade, the first task was to figure out what we sound like, and to speak to a broader audience with a recognizable tone for the first time. The next series of asks included: What should the site look like? How should we begin to steward and strengthen an evolution from a site of old to a something that really is a beacon that can rise above the din of distraction that largely characterizes life online today?
TheStreet: What can we expect eBay.com to look like in the years to come?
Moskowitz: There are going to be three pillars on which a lot of this growth and development rests. One is the idea that merchandise isn't alone what people want most, in fact it's the memory that matters more than the material these days and we have to be able to cultivate experiences that really resonate with people. Two, the merchandisable mosaics, what we recognize commonly as curation or hyperselectivity, I think has to evolve into something that more closely resembles how we feel about serendipitous encounters offline and the rest of our lives, because that's really where indelible impact is at, that's where the memories that we consider the most sacred are created. The third is ruthless efficiency. Beauty is one thing that we gravitate towards and we want pleasurable experiences, but we also have to progressively eliminate a lot of the pain, and I can say with unequivocal confidence that under the leadership of Devin Wenig and RJ Pittman who's the new chief product officer, eBay's brightest days are ahead.
TheStreet: What are some of the specific challenges you're facing right now?
Moskowitz: In terms of the discoverability on site, it's been hard to see, find, experience the so-called eBay Today. The vast majority of users either see their page, which is this feed, or if they're unregistered they see an ad, and beneath the ad are all these collections. There have been tech challenges which is why RJ is now here. I think in the future you're going to start to see more evidence of this in outgoing emails which is a powerful channel.
TheStreet: Who do you view as eBay's main competition in e-commerce?
Moskowitz: When I came onboard at eBay, the former big boys of commerce tech -- eBay of course being one of say two or three -- were vulnerable for a couple of years, which is why you saw a mushrooming number of smaller startups -- my own included-- that said we can go after them. What you're beginning to see now, is the big boys have woken up and realized we have to start delivering these kinds of services, these kinds of experiences that people demand, because if we don't do it, somebody else will.
I am always reluctant to characterize this challenge -- at least, the one I inherited-- as having anything to do with some other company based in Seattle. It doesn't. That's not our competition. Our competition is a hundred thousand smaller, nimbler retailers that have voice, and speak to people credibly every single day, and deliver experiences they crave from discovery online to delivery on your doorstep. That's what we really need to focus on.
TheStreet: When do you expect to see real change at eBay?
Moskowitz: It's going to take a while to forcefully evolve a site that was noisy, powerful and successful into some virgin territory, at least, what for eBay is virgin territory. I'm not going to celebrate the distance we've covered, we've got a long way to go, but I'm now increasingly hopeful that there is a culture willing to embrace and champion this cause within these walls, and at the most executive level which is essential. These smarter, nimbler, faster, able-bodied startups are applying -- thankfully -- a great deal of pressure on us to change. It's not just going to occur on the Web; it has to occur on mobile, it has to be a 360 experience that makes people's lives better, not easier, materially better.
TheStreet: Why are you so gung ho about creating a voice for eBay?
Moskowitz: To drive desire to make a purchase, it's not about buying. It's piecing together a life that's representative of yourself, and making intelligent decisions that are good for you and your family. And you need a voice to do that, you need one that's inspirational and efficient.
The world is so full of stuff, we don't need more stuff. In the United States, the self storage industry has swollen to 3.2 billion square feet. That's large enough to accommodate every man, woman, child living in America and more, and that's just the stuff we can't fit in the places we already live. So if we're going to find things that are unique, sacred, worthy of being cherished, I think we have to inculcate the virtue of collecting, or of making these intelligent acquisitions, purposeful purchases.
TheStreet: How can you create such a huge shift in voice in a large corporation like eBay?
Moskowitz: One, you have to have unequivocally clear corporate sponsorship, which I now have in the person of Devin Wenig as CEO. Two, you have to have a vision of your own that other people find intoxicating. An example would be did Johnson really forever change the character of this country by passing civil rights legislation in 1964? Kind of. It still required the passage of the Voting Rights Act of 1965, with the weight of the federal government, the national government to enforce it. Likewise at eBay, what the CEO says is one thing, what I say through him divining his intent is another, and what people do about it is really where change takes place.
Here's the good news: Because of changes that are taking place outside this company, it's applying very real pressure on eBay to do this. The same way that the United States decides to deal with carbon emissions; if China dealt with it tomorrow, suddenly we're dealing with carbon emissions just because China is doing it.