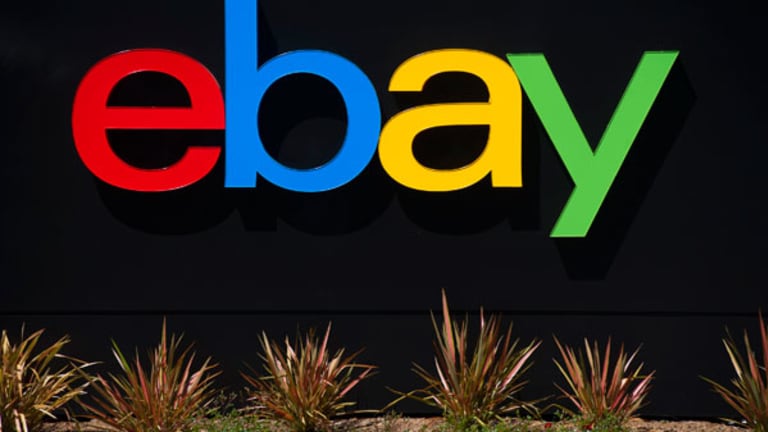 EBay's Earnings: What Wall Street Expects
EBay reports first-quarter earnings after the markets close on Tuesday and investors will finally be able to focus on the numbers as opposed to the e-commerce company's very public two-and-a-half-month battle with billionaire activist investor Carl Icahn.
NEW YORK (TheStreet) - EBay (EBAY) reports first-quarter earnings after the markets close on Tuesday and investors will finally be able to focus on the numbers as opposed to the e-commerce company's very public two-and-a-half-month battle with billionaire activist investor Carl Icahn.
In January, eBay said in January that it expected first-quarter net revenue in the range of $4.15 billion to $4.25 billion. The San Jose-based eBay said it expected GAAP earnings in the range of 51 cents to 53 cents a share and non-GAAP earnings in the range of 65 cents to 67 cents a share, including a 1- to 2-cent dilution for the Braintree acquisition, which it completed in December. The March-ending quarter will be the first full quarter of Braintree incorporated into eBay's results.
Analysts had assumed at the time that the guidance would be easy to beat. According to Thomson Reuters, consensus estimates expect eBay to report earnings of 67 cents a share on revenue of $4.228 billion.
Shares of eBay were rising 0.76% to $54.05 ahead of earnings.
EBay had been under pressure from Icahn to split its payments subsidiary PayPal from its wider e-commerce operation and add two independent directors in its board, but eBay consistently fought back saying the company was better off as one. Icahn accused eBay's management of being asleep, he said the board was conflicted, and he tried to make the case that the company's strategy was failing.
Ahead of its shareholder meeting on May 13, eBay and Icahn jointly announced an agreement, where the activist investor withdrew his proposal to separate the PayPal business.
The company agreed to Icahn's suggestion to appoint David Dorman, founding partner of Centerview Capital Technology and the former chairman at Motorola, as an independent director to its board, expanding the number of independent directors to 10 on the 12-member board, which included founder and Chairman Pierre Omidyar, the company's largest shareholder, and President and CEO John Donahoe.
"As a result of our conversations, it became clear that Carl and I strongly agree on the potential of PayPal and our company," Donahoe said in the April 10 press release announcing the agreement. "I respect Carl's willingness to work together to drive sustainable shareholder value today and into the future. His record shows that he has done this with many other companies in the past.
While Icahn rescinded his PayPal proposal, he still believes it is better off as a separate company. "I continue to believe that eBay would benefit from the separation of PayPal at some point in the near future and intend to continue to press my case through confidential discussions with the company," Icahn said in the release. "While John has made no commitments regarding such a separation, he and I have agreed to meet regularly when he is in New York to discuss strategic alternatives."
So now it's back to business for eBay, and the pressure will likely be rising to prove that PayPal is better in the eBay family and that management can put Icahn's critique to rest for good.
During the quarter, eBay focused on promoting store listings by offering free listings for eBay stores of 2,500 items that expanded to all sellers at the end of March. "We believe more listings create supply attracting incremental demand," JMP Securities analyst Ronald Josey wrote in a note on Monday.
Also TheStreet's Antoine Gara notes to watch for any commentary on eBay's Russian expansion plans giving rising economic sanctions.
The company will hold a conference call starting at 5 p.m. EDT to discuss the results.
Here's what Wall Street analysts are expecting from eBay's earnings tonight:
Youssef Squali, Cantor Fitzgerald (Buy; $65 PT)
We anticipate eBay's 1Q:14 results should be in-line with muted Street expectations. Our checks indicate a pick-up in Y/Y growth for U.S. Marketplaces and U.S. e-commerce in 1Q:14 vs. 4Q:13 levels, which bodes well for 1Q results in general. With pressure from Icahn waning, we believe that talk of a PayPal spinoff will take a backseat to renewed focus on how well eBay does operationally in the next few quarters. We continue to like EBAY as a value play for 2014.
Ronald Josey, JMP Securities (Market Outperform; $60 PT)
After resetting guidance in 4Q, we believe eBay had a strong 1Q as domestic eCommerce trends improved throughout the quarter and listing fee promotions in March may have helped spur demand. The question is whether it will matter, and we believe better results coupled with shares trading at 16x our 2015E EPS of $3.31 suggest the risk/reward remains favorable. During earnings, we'll be watching: 1) Marketplaces domestic growth & international improvement; 2) Any insights into Marketplaces' new Defect Rating; 3) Merchant Services TPV & Payments Take Rate; 4) Progress at eBay Now; and 5) 1Q14 Profitability & Buybacks. We continue to believe eBay is well positioned to take share in eCommerce given its Omni-channel and mobile strategy, local efforts, and we are positive on PayPal overall.
Edward Williams, BMO Capital Markets (Outperform; $64 PT)
We expect eBay to report results in line with the company's guidance. Recent growth trends for the company have been driven by its payments category as well as its non-auction e-commerce category; we expect both trends to remain. We also anticipate that the company continues to benefit from the rise in mobile devices - as consumers increasingly use their smart phones to shop online. We believe eBay will still be able to take advantage of longer-term e-commerce trends that we believe are in its favor.
Justin Post, Bank of America Merrill Lynch (Buy; $68 PT)
Still our top eCommerce stock in a tough market. We think the relative 1Q set-up is favorable due to positiveCA data, conservative 1Q EPS guidance, aggressive share repurchase activity in1Q (28mn shares per eBay prelim. proxy), and likely focus on 1Q execution givenrecent shareholder activism; but we acknowledge eBay is reporting in a toughmarket environment. As we look forward, eBay has easier comps as the yearprogresses, a potentially improving environment in Europe and Korea, and hopefullythe tech team has some product improvements planned after a disappointing 2013.
--Written by Laurie Kulikowski in New York. Antoine Gara contributed to this article.
Disclosure: TheStreet's editorial policy prohibits staff editors, reporters and analysts from holding positions in any individual stocks.