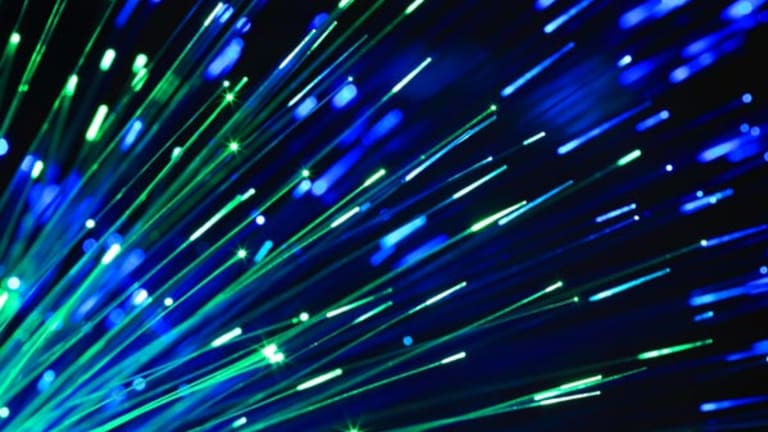 eBay's Best Investment in 2009? A Man Named Yankovich
eBay's head of mobile, Steve Yankovich, is changing the way consumers shop online.
NEW YORK (
) -- Steve Yankovich is an inventor at heart with a passion for building cars. Deconstructing and reconstructing is not only is hobby, but it's a skill he has brought to
eBay
(EBAY) - Get Report
as the head of mobile.
A Silicon Valley veteran of more than 20 years, Yankovich is no stranger to start-ups, which essentially was the state of eBay's mobile division when he took the reins in 2009. At that time, mobile was an afterthought for eBay, merely a pet project for one employee and a contractor.
eBay's vice president of mobile, Steve Yankovich
"There was an eBay app," Yankovich said. "It was because someone at
Apple
(AAPL) - Get Report
talked to someone at eBay and said 'we have this iPhone coming out you should make an app, and people were like, what's an iPhone?' It was done on the side and it didn't do very much, but it was interesting how much traction it actually had with no marketing behind it."
In just one year Yankovich turned mobile into a more than $600 million business for eBay, and this the mobile business, now one of eBay's fastest growing segments, was born.
eBay's Most Powerful Tool: Smartphone Cameras
var config = new Array(); config<BRACKET>"videoId"</BRACKET> = 1250196663001; config<BRACKET>"playerTag"</BRACKET> = "TSCM Embedded Video Player"; config<BRACKET>"autoStart"</BRACKET> = false; config<BRACKET>"preloadBackColor"</BRACKET> = "#FFFFFF"; config<BRACKET>"useOverlayMenu"</BRACKET> = "false"; config<BRACKET>"width"</BRACKET> = 265; config<BRACKET>"height"</BRACKET> = 255; config<BRACKET>"playerId"</BRACKET> = 1243645856; createExperience(config, 8);
Yankovich, a true gadget collector, was prepared for the role even before he discovered a need for the division.
"Every kind of consumer electronic device I had when it came out," Yankovich said. "I used to have phones that looked like Walkie Talkies; I bought a Newton when the Newton came out; I had the first Palm when it was USRobotics; and I had the iPhone right when it came out too. I recognized that this is going to be game-changing, and sure enough, it has been."
Yankovich started his career as a "hardware guy" holding various positions designing circuits inside of CPU mainframes at start-ups like
Triology Systems
, which was founded by Gene Amdahl, the brains behind mainframe computers at
IBM
.
Yankovich eventually moved into software, before ultimately starting his own enterprise software firm,
Movaris
, in 1998. His vision was to create a business process management platform that was easier to use and on which business applications could be quickly built. At Movaris, Yankovich leverage technology inside
Adobe
(ADBE) - Get Report
Acrobat to automate business process on top of a PDF.
After running his own company for a decade, Yankovich sold Movaris to Ireland-based
Trintech
. His history with Adobe, which was a strategic investor in Movaris, brought him to the company in 2007, where he became an entrepreneur in residence. Here he created a seed project, code named "Genesis," that targeted knowledge and information workers. It was an entirely new way for users to manage and consume information, applications and how people use the Internet for work. The project evolved into Adobe LifeCycle Mosaic ES2, for which Yankovich filed three patents.
After about a year at Adobe, eBay's Chief Technology Officer Mark Carges, presented Yankovich with a compelling offer.
"John Donahoe had been CEO for just a short period at that point and the idea was to make technology more front and center and a pivotal part of the company going forward," Yankovich said. "Mark's role was to change the architecture of how the software that runs eBay was built so that it was modular so that the business could be more nimble. I came on not to run mobile, but to do similar things I was doing at Adobe and figure out what could we build on top of the back of this technology and software that run eBay.com."
But within weeks of joining eBay in March 2009, it became obvious to both Yankovich and Carges that mobile would be the next frontier. Yankovich treated mobile like he did any other start-up, by putting together a business plan and asking for a budget and a crew of people.
"There was really no commerce across the board in mobile," Yankovich said. "Nobody at that time had an app where you could pay for anything, complete a transaction fully."
Flash forward two years, and Yankovich predicts eBay mobile will post $4 billion in sales in 2011, double last year.
eBay's apps have been downloaded more than 50 million times, with the Marketplace app alone yielding 20 million downloads. Three purchases are made on eBay via mobile devices every second and sellers list more than 700,000 new items per week on their smartphones.
Yankovich said there isn't a price limit to what people will buy through their smartphones. In fact, each week 2,600 cars are purchased through mobile.
But the biggest advancement in mobile hasn't even happened yet.
The camera inside smartphones is becoming eBay's most powerful tool. Image recognition is the future of mobile, Yankovich said.
By the end of the year, shoppers will be able to take a picture of what is in front of them and get matches to products on eBay or from a local seller.
With this technology, Yankovich is hoping it will get the customer to buy merchandise -- particularly fashion -- they typically wouldn't purchase online through their mobile phones.
"In our fashion app we have an augmented reality experience ... using the live camera view and temporary facial recognition to see sunglasses on your face," Yankovich said. "Here's the opportunity to create experience so you understand a product that you have interest in a new way. If you see the product in your environment in a virtual way, you may actually pull the trigger on product through mobile that you may never normally buy online."
Yankovich is also seeing growth in "situational shopping."
"This is when you aren't at a computer, you are out living your life, and inspiration happens, or maybe the need arises," he explained. "You are in the backyard using a garden tool and it breaks and maybe it is an unusual tool and you are going to buy it online, you can do it right then and there."
eBay is also utilizing push alerts, specifically for auctions. The company sends out push alerts to notify bidders when they get outbid or to alert them to when an auction is ending.
"With auction all the action happens right at the very end in the last five or 10 minutes," Yankovich said. "You used to have to be at the computer to get the item you want no matter what day or time it was. Mobile frees this up .... Some people would watch an item and not make a bid and when they got the push saying auction ending, it brings it right back up to the mental stack. Some people will tell us, 'I forgot all about it and when I got that push I was like yeah, I want to get that.' We got them at the right time. That's huge for us and them."
Analysts project that in 2014 50% of all Internet traffic will be through a smartphone or tablet. And about a month ago 1% of worldwide Internet data went through an iPad, Yankovich said.
"People are shifting their nighttime four hours of Internet use from their laptop to their iPad, that's why," he said. "We are seeing a similar shift of Internet traffic and use to smartphones because when I walk between buildings moving from one meeting to the next, in my commute, I can actually be on the Internet, whether it's entertainment or shopping. We are in the beginning of a major shift as to what screen and device people consume the Internet with. I think mobile is going to get a lot bigger. Part of it is driven by guys like me that are building the content and the experience, and that makes the velocity move."
-
Reported by Jeanine Poggi in New York.
Follow TheStreet.com on
and become a fan on