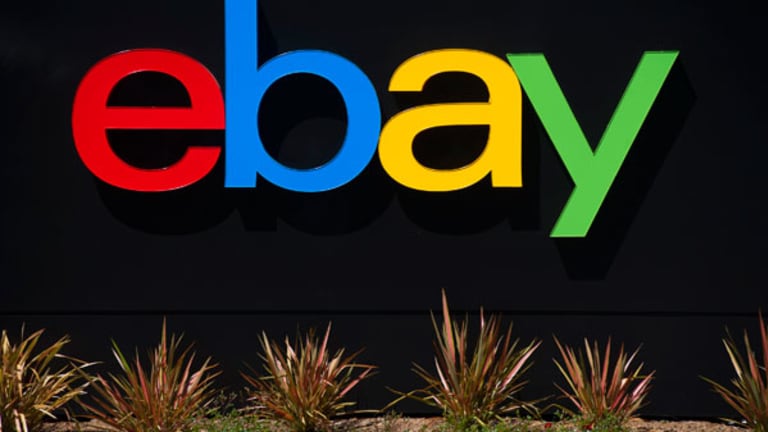 EBay's $3 Billion Tax Charge Clouds Strong Earnings Growth
EBay beat conservative first-quarter guidance after it settled a very public battle with billionaire activist investor Carl Icahn, paving a strong start to what could be a critical year of execution for the e-commerce giant.
Updated from 4:29 p.m. ET to include second quarter outlook

NEW YORK (TheStreet) - EBay (EBAY) - Get Free Report beat a conservative first-quarter earnings guidance after it settled a very public two-and-a-half-month battle with billionaire activist investor Carl Icahn. However, the company took a $3 billion tax-related charge to earnings that may cloud strong first quarter operational performance at the e-commerce giant in a critical year of execution.
EBay reported a non-GAAP profit of 70 cents a share on revenue of $4.3 billion, beating core earnings forecasts. GAAP earnings were clouded by what eBay said was a "discrete tax charge" of about $3 billion on the repatriation of $6 billion in foreign profits.
On a GAAP basis, the company lost $1.82 a share for the quarter. That charge, a surprise to consensus, may have surprised some investors and analysts. eBay shares were falling more than 3% in after-hours trading.
EBay Earnings: All Quiet on the Russian Front?
Better than expected core earnings mean eBay has set a foundation to continue to post growth across its key Marketplaces, Enterprise and Payments divisions. Enabled commerce volume increased 24% in the first quarter to $24 billion, while mobile ECV increased 70% to $11 billion.

WATCH: More market update videos on TheStreet TV | More videos from Kori Hale
PayPal net payment volumes grew 27%, causing revenue to rise to $1.8 billion. The payment platform also added 5.8 million new users, or a 16% increase. eBay's Marketplaces division reported a 12% uptich in gross merchandise volumes and revenue of $2.2 billion. The company's eBay Enterprise division reported 16% gross merchandise sales growth, with revenue for the quarter rising to $269 million.
"We are executing our growth plans, capitalizing on the synergies in our portfolio and aggressively executing our $5.0 billion share buyback program," eBay CEO John Donahoe said in a statement. On Tuesday, eBay announced it had bought back $1.8 billion in stock for the quarter.
Discrete Charge
EBay said on Tuesday it took a $3 billion charge against its first quarter earnings in order to repatriate $6 billion in net foreign earnings. That move was intended to increase available U.S. cash and enhance the company's financial flexibility, eBay said.
In January, eBay said in January that it expected first-quarter net revenue in the range of $4.15 billion to $4.25 billion. San Jose-based eBay said it expected GAAP earnings in the range of 51 cents to 53 cents a share and non-GAAP earnings in the range of 65 cents to 67 cents a share, including a 1- to 2-cent dilution for the Braintree acquisition, which it completed in December.
Analysts had assumed at the time that the guidance would be easy to beat. According to Thomson Reuters, consensus estimates expect eBay to report earnings of 67 cents a share on revenue of $4.228 billion. Excluding the tax-related repatriation charge, eBay did beat earnings.
Bank of America analysts said eBay was their top stock pick in the e-commerce sector given a tough market for companies as large as Amazon (AMZN) - Get Free Report.
"We think the relative 1Q set-up is favorable due to positive CA data, conservative 1Q EPS guidance, aggressive share repurchase activity in1Q (28mn shares per eBay prelim. proxy), and likely focus on 1Q execution given recent shareholder activism," Bank of America analysts wrote on Monday.
The analysts did acknowledge a tough economic environment for tech sector earnings. "As we look forward, eBay has easier comps as the year progresses, a potentially improving environment in Europe and Korea, and hopefully the tech team has some product improvements planned after a disappointing 2013," the analysts added.
Second Quarter Guidance, Looming Activists
For the second quarter, eBay forecast new revenue in the range of $4.325-to-$4.425 billion and GAAP EPS of between 51 cents-to-53 cents. For the full-year, eBay now forecasts between $18 billion to $18.5 billion in revenue and $2.95-to-$3 in non-GAAP EPS.
Whether or not eBay's earnings results or full-year guidance can move the company beyond tussles with its investors is to be seen. Carl Icahn had no comment on eBay's earnings on Twitter, after quickly providing a positive reaction on Twitter to Apple (AAPL) - Get Free Report and Herbalife's (HLF) - Get Free Report earnings.
EBay has been under pressure from Icahn to split its payments subsidiary PayPal from its wider e-commerce operation and add two independent directors in its board, but eBay consistently fought back saying the company was better off as one. Icahn accused eBay's management of being asleep, he said the board was conflicted, and he tried to make the case that the company's strategy was failing.
Ahead of its shareholder meeting on May 13, eBay and Icahn jointly announced an agreement, where the activist investor withdrew his proposal to separate the PayPal business.
The company agreed to Icahn's suggestion to appoint David Dorman, a former chairman at Motorola, as an independent director to its board, expanding the number of independent directors to 10 on the 12-member board. "As a result of our conversations, it became clear that Carl and I strongly agree on the potential of PayPal and our company," Donahoe said in an April 10 press release announcing the agreement.
While Icahn rescinded his PayPal proposal, he still believes it is better off as a separate company. "I continue to believe that eBay would benefit from the separation of PayPal at some point in the near future and intend to continue to press my case through confidential discussions with the company," Icahn said in the release.
So now it's back to business for eBay, and the pressure will likely be rising to prove that PayPal is better in the eBay family and that management can put Icahn's critique to rest for good.
EBay shares are little changed year-to-date after rising as high as $59.70 a share amid Icahn's activist efforts. Shares have gained 3% in the past 12-months.
-- Written by Antoine Gara, with Laurie Kulikowski in New York.