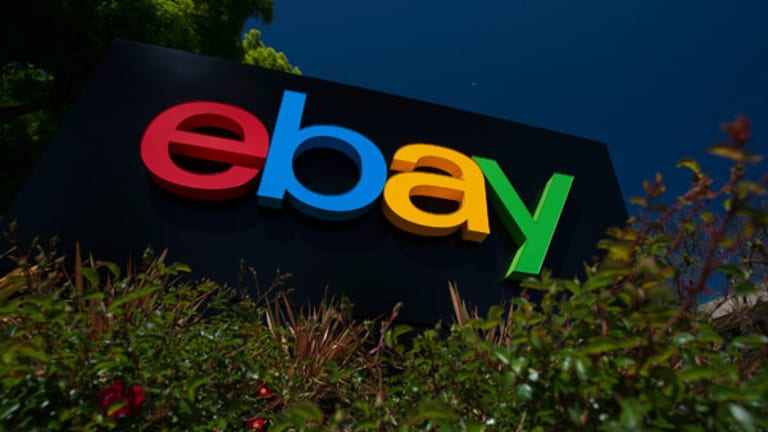 eBay Sees Deeper Hole in Marketplace Business
E-commerce giant eBay said its marketplace business is continuing to dig itself out of a hole, which may prove more a longer and more expensive effort than previously expected.
NEW YORK (TheStreet) - E-commerce giant eBay (EBAY) - Get eBay Inc. Report said its Marketplace business is continuing to dig itself out of a hole, which may prove more a longer and more expensive effort than previously expected. The popular online auction site, however, said performance at its PayPal payments and eBay Enterprise businesses has stabilized.
"Marketplaces has to dig out of a hole...," eBay said in its second quarter earnings press release, which showed that the company earned $4.37 billion in revenue and 69 cents in adjusted earnings per share (EPS).
The popular online auction marketplace said it is "confident" it can work through challenges at its Marketplace division, which earned $2.17 billion in second quarter revenue, a 9% increase from a year-ago. "[I]t will take longer and cost more" to dig Marketplace out of a hole, eBay added.
EBay Repatriation A Storm Cloud For Silicon Valley
EBay Takes Repatriation Charge in First Quarter
The San Jose, Calif.-based company did confirm that performance at PayPal and eBay Enterprise has stabilized. "PayPal has good momentum and eBay Enterprise has stabilized," eBay said.
PayPal saw its revenue grow 20% year-over-year to $1.74 billion, its first quarter of 20% revenue growth in the past 12-months. International payments revenue grew 51% in the quarter.
Sales and marketing expenses rose to 19.9% of revenue, up from 18.8% this time a year ago, as a result of investments the company made to deal with a security breach disclosed earlier in May. "The cyberattack clearly impacted eBay's results," CEO John Donahoe said on an earnings call with analysts.
Donohoe added on the call that the company remains committed to keeping its PayPal, Marketplace and Enterprise businesses together so long as they create long-term value for shareholders.
However, after settling with activist investor Carl Icahn over a PayPal spinoff proposal, Donahoe noted the company will remain open-minded on how to manage its assets to maximize their value to shareholders.
Cuts to Full-Year Guidance
While eBay's second quarter results came in around consensus, the company lowered the high end of its full-year revenue guidance and provided a third quarter guidance that is likely to disappoint Wall Street analysts.
For the third quarter, eBay expects revenue to be between $4.3 billion and $4.4 billion, with non-GAAP EPS coming in at between 65 cents and 67 cents. Analysts surveyed by Thomson Reuters expect the company to earn 70 cents a share on $4.4 billion in sales.
For the full-year, revenue is expected to be between $18 billion and $18.3 billion while non-GAAP EPS is expected to be between $2.95 and $3 a share.
Repurchases, Repatriation, No M&A
The company repurchased 32.4 million shares for $1.7 billion, leaving $2.2 billion remaining in its share buyback authorization. To fund buybacks, eBay utilized $1.2 billion of commercial paper, the company said.
In the first quarter, eBay took an about $3 billion charge against its earnings to repatriate $6 billion in foreign earnings. eBay ended the second quarter with total U.S. cash and cash equivalents of $2.6 billion, indicating that much of the money repatriated has yet to be spent.
CFO Robert Swan reiterated eBay's comments that the repatriation occurred because the company believed its historical election was no longer relevant. Swan also continued to cool expectations of a large acquisition by eBay. "We are not anticipating anything of size," Swan said on a conference call Wednesday. 
Scott Kessler, an Internet analyst with S&P Capital IQ said in a telephone interview prior to earnings that he expects eBay could use its cash stockpile to announce a quarterly dividend in the next 12-months. EBay, like Silicon Valley competitors such as Amazon (AMZN) - Get Amazon.com, Inc. Report, Google (GOOG) - Get Alphabet Inc. Class C Report and Yahoo! (YHOO) , has never made dividend payments in its history.
For more on eBay's performance in the latest quarter watch the video below:

WATCH: More tech videos on TheStreet TV
-- Written by Antoine Gara in New York