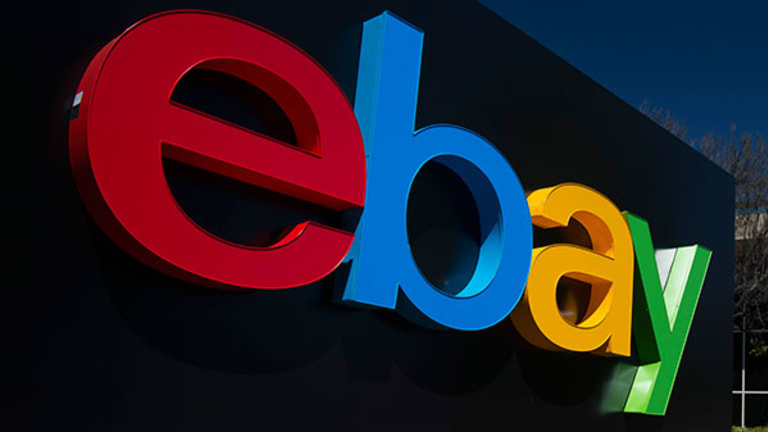 eBay Remains Troubled as Shoppers Depart, Says Cowen Survey
The latest survey from Cowen and Company shows eBay visits dropped 2.4% in February over last year.
NEW YORK (TheStreet) -- eBay (EBAY) - Get eBay Inc. Report has been struggling for a while now, and it seems that its troubles are far from over.
In its most recent earnings call, eBay Chief Financial Officer Robert H. Swan qualified 2014 as "not the worst performance, but a year we're glad to have behind us." Unfortunately for the company, performance is still struggling, according to a recent survey from Cowen and Company.
Every month, Cowen and Company surveys 2,500 U.S. consumers to get a read on the e-commerce sector, and while the industry as a whole dropped in February, eBay was the largest decliner year-over-year, marking the eighth straight month of year-over-year declines in visits to its site.
In February 2015, 44.6% of respondents to the Cowen survey visited eBay's site, down 3.2% from January and 2.4% year-over-year. Amazon (AMZN) - Get Amazon.com, Inc. Report attracted 77.5% of respondents in February, down 4.1% from January and 0.5% over 2014.
"eBay, which has been under pressure since mid 2014, saw its troubles continue in February, as visits declined more than 2% year over year, which reinforces management comments on the fourth-quarter call detailing a deeply challenged Marketplace business unlikely to recover till the second half of 2015," the Cowen analysts wrote.
Actual purchasers on eBay also dropped, decreasing 2% month-over-month, slightly above the industry average, and 0.4% year-over-year, slightly below industry average. It's the only time eBay has outperformed the overall industry average in any metric in the past three quarters.
In February 2015, 22.2% of respondents made a purchase on eBay's site, compared with 56% making a purchase on Amazon.
The numbers add salt to the wounds eBay has been trying to heal through moves such as partnering with Sothebys.
Just a couple of weeks ago, eBay shares dropped more than 2% following a downgrade from Piper Jaffray analyst Gene Munster on March 19. Munster lowered his price target for the company to $49 from $55 and downgraded it to "underweight" from "neutral."
Munster pointed to increasing competition in payments as a main concern with the PayPal spinoff approaching.
"We are downgrading shares to 'underweight' based on a belief that over the next 1 to 3 years, Google Wallet, Apple Pay, Facebook, Samsung, and traditional banks will weigh on PayPal valuation and market share," Munster wrote.