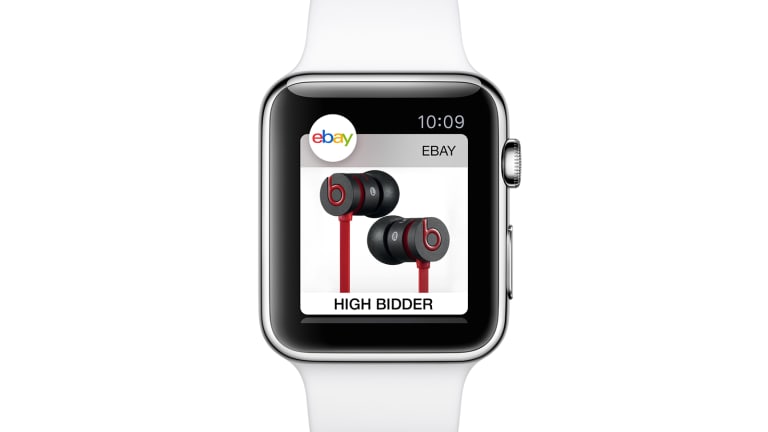 eBay Releases Apple Watch App For 'Glanceable' Interactions
eBay today released an app for the Apple Watch, hoping to engage consumers and cater to 10-15 second actions.
NEW YORK (TheStreet) -- eBay (EBAY) - Get eBay Inc. Report today joins the list of more than 3,500 third party apps on the Apple (AAPL) - Get Apple Inc. (AAPL) Report Watch, betting that the new wearable will provide a new way to interact with consumers, specifically when it comes to auctions.
While eBay has been discussing the app for some time now, it's finally releasing it into the hands of Watch owners. The company first started planning the app in January and was originally listed on a featured apps list on Apple until earlier this month, but eBay wasn't able to obtain an actual Watch until the first day it was sold, so the team wanted to spend some time testing the app on the device before taking it public.
The company's main goal with the Apple Watch app is to increase engagement with consumers, said John Tapley, senior product manager of mobile and wearables at eBay. Tapley and his team aren't necessarily focused on sales numbers but rather looking for repeat visits and retention in the app.
"We see the internet expanding out to all different platforms, so of course as a marketplace we want to best suit the needs of our customers," Tapley said. "A lot of third party [Watch] apps have been struggling with performance. We've seen the metrics running around the news around the dropoff rate for wearables. Especially with this platform we want to keep people using it and giving them good utility so they have a reason to come back."
The goal with the Watch app is to provide 10-15 second-long "glanceable" interactions that allow a consumer to then either move on with their day or follow through on an iPhone or iPad app.
"We want to provide the ability to jump in do what they need and either move on to a platform where it's more appropriate to engage or [else] get on with their day," Tapley. "Our Apple Watch product is very much a companion to a mobile device. It's not intended to stand on its own as an end-to-end consumer experience."
TheStreet was able to check out the Apple Watch app in advance of its release, and as far as smartwatch apps go, it was a great experience.
Developers seem to still be figuring out the best use cases for the Apple Watch, but eBay has found a practical use with its auctions. Since auctions are inherently something consumers check frequently throughout the day, consumers may find value in being able to simply tilt their wrist and see if another buyer outbid them.
Like most apps on the Watch, there is still a learning curve in terms of when it's appropriate to swipe right, swipe left, pull down, or turn the digital crown, but once you've got the mechanics down, the eBay app is fairly intuitive.
When consumers select the eBay app on the Watch, they will be able to select from four categories: Notifications, Watching, Buying, and Selling. These categories translate into 28 possible activities, including the ability to view a previous bid and increase that bid with a tap. The app also lets consumers use voice dictation to respond to messages from other buyers or sellers.
If they want more information than what's shown in the small Apple Watch screen, they can open their iOS app and it will automatically open up to the same auction page as the one open on the Watch. San Jose-based eBay understands that consumers won't use the Apple Watch in the same way that they would an iPhone or a tablet; consumers likely won't use the Watch to scroll through and discover new products. But they may use it for quick updates on-the-go.
Other e-commerce players have launched Apple Watch apps as well, including Zulily (ZU) and Target (TGT) - Get Target Corporation Report, but eBay seems to have found a niche use for the Watch in the form of auctions.