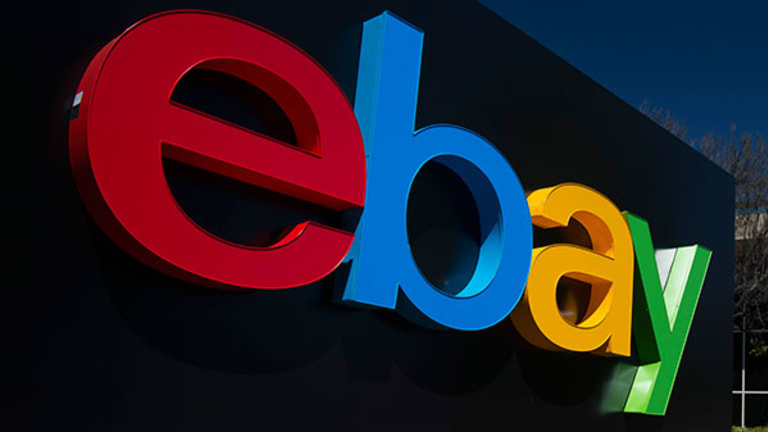 eBay Partners With JD.com on New International Online Marketplace
JD.com today announced a new international e-commerce platform, and eBay will be among the first to join the program.
JD.com today announced a new international e-commerce platform, and eBay will be among the first to join the program.
NEW YORK (TheStreet) -- eBay (EBAY) - Get Report is teaming up with Chinese online retailer JD.com (JD) - Get Report to tackle the enormous e-commerce opportunity in China.
JD.com announced today that it is launching JD Worldwide, a cross-border e-commerce platform where foreign sellers can open shop in China. eBay will be among the first to use it, giving the online auction site entree into an e-commerce market that is set to reach one trillion dollars by 2019, according to Forrester Research. eBay will start with a pilot program called "Best of eBay Deals," which will offer a variety of categories and popular brands from eBay sellers in the U.S. 
"eBay is delighted to be partnering with JD, a leader in China ecommerce," eBay spokesperson Johnna Hoff said in an email. "In recent years eBay has seen increasing demand from Chinese consumers to buy from our sellers' selection of global inventory. The new eBay presence on JD Worldwide offers Chinese shoppers more access to popular brands and products from the U.S., while expanding the global reach of eBay sellers."
eBay already has a multi-billion-dollar export business to China and a small domestic presence, but the partnership with JD will help it connect more directly with more Chinese buyers.
Through JD Worldwide, Chinese consumers will be able to buy imported products from international retailers without those retailers having to clear all the usual hurdles associated with doing business in China. The platform already hosts around 450 shops, with more than 150,000 products from more than 1,200 brands. JD Worldwide is aimed at helping these brands reach Chinese consumers while avoiding the problems associated with international shipping and customs, as well as language barriers.
"JD Worldwide is all about connecting Chinese consumers with the best international brands and authentic products, which is why the pilot program with eBay is very appealing," JD.com senior director of international communications Josh Gartner said in an email. "Companies like eBay are natural partners for this initiative because they bring a large range of guaranteed authentic products and trusted merchants to our platform."
The opportunity for growth in China is enormous for eBay and other U.S. sellers. Amazon (AMZN) - Get Report has already recognized the potential and partnered with Chinese e-commerce leader Alibaba (BABA) - Get Report, opening up a store on T-Mall just last month.
Since the market in China is foreign to both Amazon and eBay, these strategic partnerships give them an easier way to enter the country. It will also likely give the two U.S. retailers a way to generate data and figure out more ways to access the world's largest group of consumers. 
For JD.com, which is in fierce competition with the larger Alibaba, the new marketplace means it can offer its customers more coveted imported goods.
"This new cross-border sales platform marks a major step forward in connecting Chinese consumers with international brands," Richard Liu, JD.com founder and chief executive officer, said in a press release. "By combining the advantages of China's cross-border free trade zones, JD's warehouses and unparalleled last-mile logistics network, and our experience developing winning marketing campaigns for our partners, JD Worldwide gives international sellers and brands the most comprehensive and effective solution available for reaching Chinese consumers."