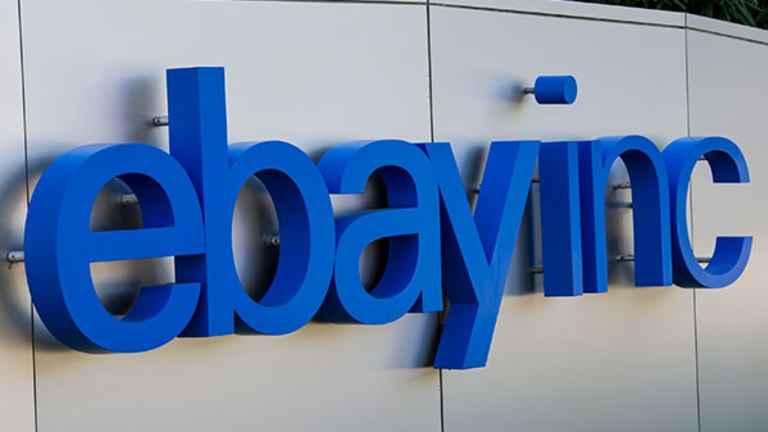 EBay Launches Promoted Listings Ads to Help Sellers Reach Buyers
EBay's new ad product charges sellers only if a purchase is made.
NEW YORK (TheStreet) -- On Tuesday, eBay (EBAY) - Get Free Report announced a new advertising product, promoted listings, that's geared toward helping sellers reach a wider audience.
The promoted listings, which are intended to provide more visibility to listings on eBay, will be available starting in June for sellers with an eBay stores subscription. Select sellers in the U.S., United Kingdom, Germany and Australia will be invited to use promoted listings at first and then the program will be made available to other sellers later in the year.
The new product will be offered under a cost-per-sell model, meaning the sellers will only have to pay for the ad after a purchase is made, as opposed to paying up front. Based upon the sale price, sellers can choose a percentage of the cost of the good (from 1% to 20%) and if they are the highest bidder, their listing will be promoted. Only if the seller sells the item will he or she pay the percentage from the sliding scale. 
"On cost-per-click the seller takes all the risk," said Alex Linde, eBay marketplaces vice president of advertising and monetization. "On a cost-per-sale we're actually taking some skin in the game there as well -- shared risk and shared reward."
"You could argue it's more expensive for us, [but] the reality is because of the unique data we have it gives us end-to-end visibility of the funnel. Launching a cost-per-click model where sellers waste money doesn't help them, doesn't help us."
San Jose, Calif.-based eBay doesn't break out its marketplaces advertising revenue. It is lumped under marketing services and other revenue, which brought in $1.8 billion in 2014 and $397 million in the first quarter of 2015, representing a 7% drop from the first quarter of 2014 and a 19% drop from the fourth quarter of 2014. Thus the company is likely hoping a suite of advertising products that are more seller- and consumer-focused could boost these numbers.
Amazon (AMZN) - Get Free Report has already been offering "sponsored products" since 2012, but its service runs on a cost-per-click model.
According to Linde, promoted listings are just the first step in a company shift toward "commerce advertising," which will focus on making better recommendations to customers and providing a better user experience. A goal of promoted listings has been to make sure it "feels natural" within the users' experience of eBay, Linde said.
Another area his team is exporing is trying to drive traffic, not just direct sales, to sellers, Linde said, but he declined to expand on any future additions to the "commerce advertising" suite. "We think by focusing on commerce advertising, this is something that will continue to grow over coming years and will be a bigger part of eBay moving forward," he said.
"If we help our sellers sell more items, obviously it has revenue implications for us," Linde said.