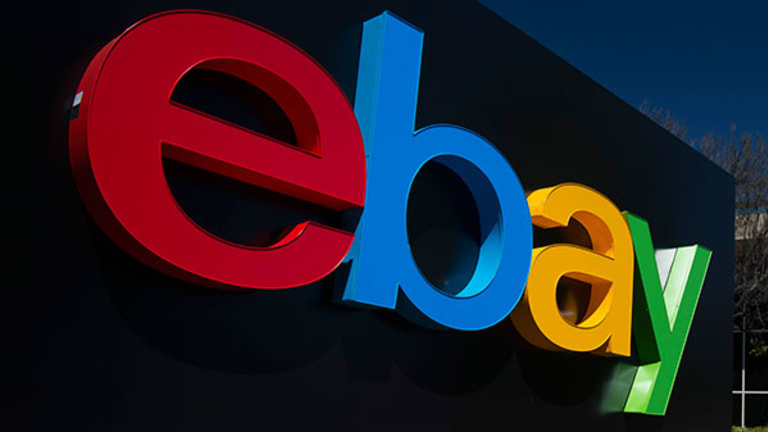 eBay Is Testing Its Own Version of Amazon Prime in Germany
The new eBay program will offer German consumers benefits on shipping and returns. Reportedly called eBay+, the loyalty program looks ready to compete against Amazon.
NEW YORK (TheStreet) -- The German branch of eBay (EBAY) - Get Free Report is getting ready to unveil a loyalty program that closely resembles what Amazon (AMZN) - Get Free Report has in its Prime membership program.
The eBay Germany program, which will offer benefits for shipping and returns, will be rolled out in the second half of 2015. San Jose-based eBay has yet to announce any pricing, though there have been reports that it will cost between €15 and €20 ($16-$22) per year. The company is currently testing the program with a select number of sellers before opening it to the public.
"Through this new program, sellers will have the opportunity to commit existing customers even more strongly to themselves and to gain new customers in addition," eBay Germany director of communications Maike Fuest said in an interview.
In order for sellers to participate in the program, reportedly called eBay+, they will have to maintain a status as a "top-rated seller," ship products quickly, and offer free returns for the month following a purchase. When asked to clarify how quickly products will ship, Fuest simply said that sellers will be responsible to send a package the same day an order occurs but did not clarify if there was a requirement for when the package would arrive. On the program announcement page, it notes that sellers will have to select a delivery method in which packages "usually" arrive the next day.
To curtail some of the extra costs, eBay will offer discounts on selling fees to sellers in the program and bear a part of the costs of returns.
In a U.K. eBay chatroom, community members weren't too optimistic with this vague promise of helping out with costs. "Any guesses who will be paying for expedited and guaranteed speedy shipping and free returns on their purchases? Not eBay, for sure," one member wrote.
Nonetheless, eBay is convinced that the sellers stand to benefit by having their items featured in the program, giving them a channel to reach new customers and retain existing ones.
While Fuest was not able to comment on the likelihood of expanding the program to further markets, it would seem that if the program were a success there would be no reason not to expand -- especially considering the traction Amazon is seeing with Prime.
"Fast shipping has become an important differentiator for Amazon, and so I would expect eBay to continue trying to match Amazon's capabilities," Wedbush analyst Gil Luria said. "eBay often tries new programs in the market where they are most likely to be successful and so Germany may be particularly conducive to two-day shipping with large urban populations and robust logistics infrastructure."
eBay has made some efforts to expedite shipping in the past, most significantly with its stake in Shoprunner, a $79 a year service for unlimited free two-day shipping from a variety of online retailers. That program has yet to really take off, though.
Perhaps eBay is realizing its time to step it up.