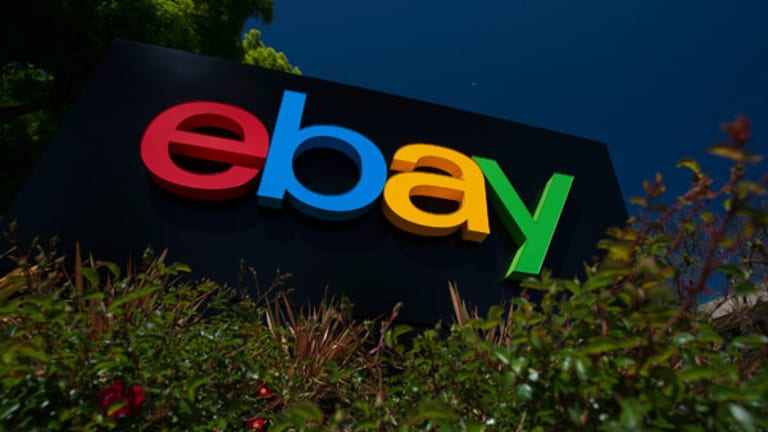 eBay Is Smartly Treating StubHub Like Uber
StubHub may cast a pall over eBay's earnings results in 2014, but it remains a point of strength for the company and CEO John Donahoe.
NEW YORK (TheStreet) -- As eBay (EBAY) - Get eBay Inc. Report struggles with an admitted "hole" in its marketplace business, the e-commerce giant is treating StubHub as if it were a venture investment, focusing on user growth and loyalty over profits as a way to ensure the long-term footing of the business. StubHub may cast a pall over eBay's earnings results in 2014, but it remains a point of strength for the company and CEO John Donahoe.
eBay has received sharp criticism for its inattentiveness to PayPal, a once-dominant payments division that has come under pressure from a new breed of mobile apps, card readers and wallets. StubHub, however, appears to be a part of eBay that is managed with the entrepreneurial spirit of Silicon Valley's most prized businesses such as Uber, Facebook (FB) - Get Meta Platforms Inc. Class A Report, Twitter (TWTR) - Get Twitter, Inc. Report, Amazon (AMZN) - Get Amazon.com, Inc. Report and Airbnb.
Instead of focusing on extracting ever-higher profits and revenue from StubHub, eBay is playing a long game by protecting its market position from new entrants, while also improving user loyalty within the ticket marketplace.
eBay Sees Deeper Hole in Marketplace Business
eBay Repatriation a Storm Cloud for Silicon Valley
In early 2014, eBay changed the way users see ticket prices on StubHub so that listings included all fees and not just the nominal price of a ticket. The move meant that tickets appeared higher in price than the past because fees wouldn't be disclosed later in a users' checkout, but it also added a new level of transparency.
StubHub users now see an "all-in price" that includes fees. But that switch to transparency risked undermining StubHub because competitors might then appear to have lower prices. Were users to gravitate to StubHub's competitors, it would lower overall listing and transaction volumes, harming the quality of the marketplace.
After witnessing a slowdown in activity with the introduction of all-in pricing in the first quarter, eBay decided that it would not go back to its old ways. Instead, the company decided to simply a smaller fee from each ticket sale on StubHub, lowering the overall revenue the business earned.
That created a hit to eBay's overall Marketplace revenue, however, the move may successfully ward-off competitors without scale, ensuring the long-term success of the business.
eBay CEO John Donahoe told that story on a generally underwhelming conference call with analysts on Wednesday.
"[W]e've got a leadership position here, a leadership franchise," Donahoe said of StubHub. "We're going to make sure we compete aggressively. And so it is an outstanding take rate business. We've lowered our take rate. It's still a very good take rate business and we're competing. And we feel comfortable and good about how we're competing and the effectiveness," he added.
That is exactly the entrepreneurial vision driving the growth of new commerce platforms like Uber, Airbnb and GrubHub (GRUB) - Get Grubhub, Inc. Report. Grow scale now, ward off competitors and the profits will come in the future.
Uber, for instance, is willing to currently take a loss on some car rides as a means to grow share from competitors and traditional cab companies. GrubHub, similarly, has kept fees very low as it tries to build a dedicated and growing base of users. Investors don't seem to mind.
But eBay's wider franchise is struggling and the company's management is under attack.
eBay, faced with sharp criticism from activist investor Carl Icahn, has been fighting to prove the company is making the right decisions to grow in e-commerce and new markets such as enabled commerce and mobile payments. After settling with Icahn, the unexpected departure of PayPal head David Marcus, a costly cyber-attack and a surprise $3 billion first quarter repatriation charge have all raised new questions about eBay's direction.
Earnings results on Wednesday did little to allay those concerns.
eBay said performance slip-ups at its PayPal and Enterprise business are now over, however, the company admitted that its Marketplace business "has to dig out of a hole." CFO Robert Swan also characterized expenses tied to a cyber-attack as "a bit of a divot in the second quarter," which could re-appear in the third quarter.
"Hopefully the worst is behind," Deutsche Bank said. "When it rains, it pours," Credit Suisse noted. "Could've been worse," said JPMorgan added, perhaps optimistically.
That, obviously, isn't the reaction a company wants if Carl Icahn owns its stock and is calling for strategic change.
But if eBay has suffered a few shanks or "divots" -- Carl Icahn isn't a fan of golf -- StubHub remains a place where the company has made a savvy long-term bet under CEO John Donahoe. Others include eBay's acquisition of Braintree in late 2013 and the company's acquisition of GSI Commerce.
If StubHub is one of Donahoe's biggest long-term successes, he may do well to provide added financial disclosure of the business. Currently, eBay provides little information on StubHub's revenue, margins or profitability, other than to vaguely quantify its impact on the company's wider Marketplace division.
Were eBay's struggles to continue through year-end and into 2015, Icahn and other shareholders may re-try efforts to spin or sell PayPal. Without tangible areas of success, it may be harder for eBay to ask for further time to fully demonstrate its strategy to investors.
To deflect attention away from PayPal or the company's general malaise, eBay could give further disclosure of StubHub's finances. Others have made similar moves in the past 12-months.
Time Warner (TWX) , for instance, recently decided to break out earnings results of HBO as it began to spin off Time (TIME)  as an independent company. That disclosure has benefited the company and it may now be helpful as Time Warner tries to ward off Rupert Murdoch's Twenty-First Century Fox (FOXA) - Get Fox Corporation Class A Report.
Bottom Line: eBay was supposed to show why its strategy is succeeding in 2014. Instead, recent stumbles may make it more imperative for CEO John Donahoe to explain successes like StubHub.
For more on eBay's performance in the latest quarter watch the video below:

WATCH: More tech videos on TheStreet TV
-- Written by Antoine Gara in New York