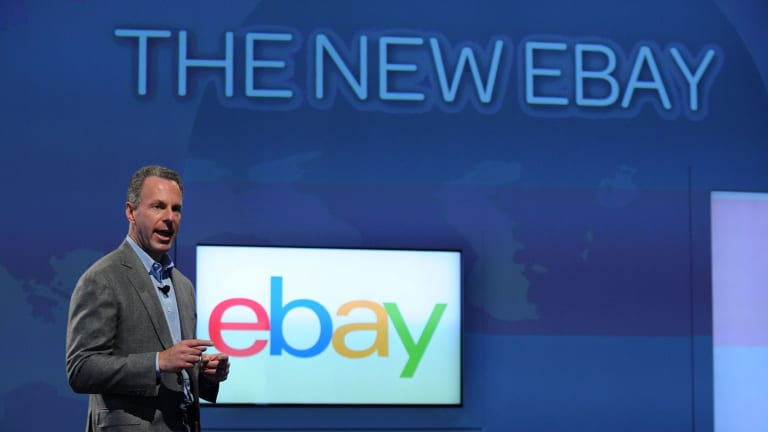 EBay Has a Turnaround Plan, but Will It Succeed?
EBay embarked last summer on a two-year journey to revitalize the company, but results have been slow to appear.
Editors' pick: Originally published March 21.

When eBay (EBAY) spun off PayPal (PYPL) in July, eBay announced a grand plan to revitalize its marketplace and turn its results around. Six months into the journey, analysts are tepid on the company's prospects.
In June, eBay first laid out a strategy for its PayPal-free future, explaining that it wants to focus on its core deal-seeking customer by enhancing the shopping experience, mainly through a structured data initiative.
That initiative entails turning many of the varied listings on eBay into more searchable product pages that contain different listings for the same product. So instead of searching for an iPhone and finding thousands of different listings, a customer would be shown a product page with reviews, details, images, and listings sorted into categories like "Newest" or "Best Value."
"As a consumer-to-consumer marketplace we were born in a sense where [sellers] would write whatever they want, and [buyers] would look through, and it was part of our charm," Amit Menipaz, who is leading this structured data initiative at eBay, told TheStreet. "Fast forward 20 years and it starts to get a little overwhelming. Both in terms of how to list items properly if you're a seller and where to find them if you're a buyer."
That's where structured data comes into play. Once the project is complete, consumers won't recognize the site, said Menipaz.
Of the 800 million listings on eBay in the fourth quarter of 2015, 37% have been structured, up from 28% in the third quarter. The next phase will bring that up to 60% of listings.
eBay has been systematically structuring its listings and has already gone through four countries and 18 categories. The next phase will bring them to seven countries and 26 categories.
"Six months ago, we began a series of platform, inventory and policy changes, which we believe are critical to make our business more competitive over the long term," eBay CEO Devin Wenig said during the fourth-quarter earnings call. "While we're making steady progress on these strategic initiatives, we don't expect to see material benefit from them for some time to come."
But he noted that the structured data initiative has allowed eBay to enable price trending and comparisons, which has already had a positive impact on conversion rates.
As Wenig himself noted, this turnaround story will take time. eBay expects an 18 to 24 month journey from when it first announced the plan in the summer.
"eBay is growing a lot slower than e-commerce [overall]," said Wedbush analyst Gil Luria. The e-commerce sector as a whole is growing around 15% year over year, according to comScore. eBay's growth is in the low single digits, according to ChannelAdvisor.
In February, eBay's same-store sales grew 9.5% year over year, a nice jump from January's 4%, but still well below the industry average, and trailing behind Amazon's (AMZN) 16.6% growth in February and 17.8% growth in January.
"[eBay's] barely growing. And that's going to be hard to reverse," Luria said. "They have a plan to reverse it -- structured data is a big part of that -- but that's going to take a while. That could take several quarters before we see signs of that succeeding."
For one, eBay has to get all of its sellers to provide more data and information so it can properly structure the listings. That will take time.
And then once all of the listings have been structured and the experience has been improved, eBay will have to let consumers know about the changes and convince them to try out the new site.


One of eBay's new structured pages
Baird analyst Colin Sebastian is slightly more optimistic, anticipating "a meaningful lift in growth rates" in the second half of 2016. But he noted that eBay will likely be more aggressive in marketing and customer acquisition once that happens, which could incur more costs.
"We continue to believe that eBay shares represent an attractive longer-term value opportunity in large-cap Internet; however, shares will likely remain range-bound until there are more sustainable signs of accelerating growth," Sebastian wrote in a note earlier this month.
To be fair, eBay isn't betting its entire turnaround plan on structured data.
It has also been investing heavily in mobile and social to generate more traffic. Plus it still has the non-core businesses of StubHub and Classifieds -- worth $2.5 billion and $6 billion, respectively, according to BMO -- which are contributing nicely to the company. But the structured data initiative seems to be the company's main focus right now.
"While fears about share losses to companies like Amazon and Alibaba (BABA) are justified, our bigger concern is the potential pressure they could put on eBay's overall take-rate, which we estimate will continue to decline," BMO analyst Dan Salmon wrote in a note earlier this month. Take-rate refers to the cut eBay gets from every purchase on its site.
"While there remains a lot to be done, we believe management's focus on structured data will slightly accelerate eBay's active buyer growth rate in 2016 and beyond," Salmon continued.
At the Goldman Sachs Technology and Internet Conference in February, eBay's Wenig talked about his turnaround plan and claimed that eBay will be a major player in e-commerce for a long time to come.
"[E-commerce] is a $14 trillion opportunity," he said. "Even though some people say one company is going to win, it's probably not going to be that way." In other words, eBay can continue to exist in a world dominated by Amazon.
Wenig is confident that there are going to be multiple players in e-commerce and that eBay will be one of them.
It just may not be the fastest-growing player, Luria said.
"eBay has turned into a large-cap, slow-growth technology company, [placing it in a group with] IBM (IBM) , Intel (INTC) , Microsoft (MSFT) , Cisco (CSCO) -- large companies that are struggling to generate growth," said Luria. "At some point what their investors are looking for is the cash return -- how many shares are they buying back, introduction of a dividend. Those are going to become large areas of focus."