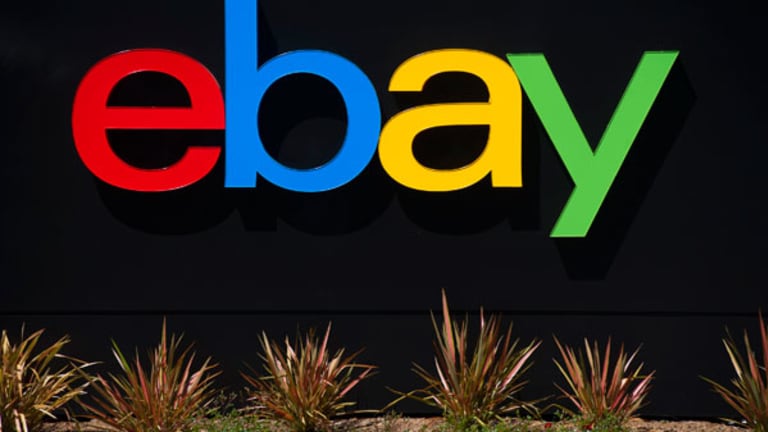 Publish date:
eBay Earnings: All Quiet on the Russian Front?
Investors in eBay should brace for a bleak outlook from the company's fast-growing PayPal payments division.
Investors in eBay should brace for a bleak outlook from the company's fast-growing PayPal payments division.
NEW YORK (TheStreet) - If payments giant Visa (V) - Get Report tumbled after saying economic sanctions against Russia could shave "several pennies" from the company's 2014 earnings, investors in eBay (EBAY) - Get Report should brace for a similarly bleak outlook from the company's fast-growing PayPal payments division.
eBay's Russian Front Underscores PayPal Growth Strategy
With little fanfare, eBay has pinned much of its international growth on a 2014 expansion of PayPal's presence in Russia. That Russian expansion, while initially pitched as evidence of why its eBay's Marketplace division and its PayPal unit work well together, may present a drag on near-term earnings results and guidance.
In March, amid pressure from activist Carl Icahn to split PayPal from eBay's wider e-commerce operation, CFO Robert H. Swan sought to explain the synergy between eBay and PayPal using an ambitious Russian expansion as an example. "When we enter a market, as a company, we lead with eBay and we pull PayPal through," Swan said at a Morgan Stanley technology conference in March.
That strategy means eBay's Marketplace business can build scale in a new market before the company invests heavily in extending PayPal's reach. Once the scale is there, PayPal is then introduced on Marketplace and the payment's platform is then expected to grow outwards, driving a positive feedback loop of activity across eBay's businesses.
After years of an eBay Marketplace presence in Russia and the ability to conduct PayPal transactions in U.S. dollars, the company won a license to introduce ruble-denominated transactions to PayPal in March 2013. Without the ability to conduct ruble-denominated payments, PayPal processed $1 billion in PayPal transactions in 2012.
The ruble debuted on PayPal in September, and expectations are high eBay will see an big boost in activity from Russia in the coming years. An escalating conflict between the U.S. and Russia over foreign policy, however, may hold eBay back. The U.S. Treasury is increasing financial sanctions on the region and it remains to be seen whether relations will only worsen.
Unfortunately for eBay, a headwind from Russia may come at time when its Marketplace, Enterprise and PayPal segments show recovering performance and a strengthening position in e-commerce.
Here's what CFO Swan had to say about eBay's international expansion efforts and its launch of PayPal in Russia's local currency:
"I think first cross-border trade is a huge component of our business overall. On PayPal, roughly 25% of PayPal's volume is merchants reaching consumers in markets outside their domestic market. And a little less than 20% of eBay's volume is that same dynamic.
[W]hen consumers are making an online purchasing decision with a merchant in a different part of the world, they want to know that somebody standing between them and that merchant and if they have a problem, they know that somebody's protecting their data, their financial information in a very safe and secure way. That's what PayPal means to consumers around the world. So, the level of comfort on eBay and with merchant services for cross-border transactions goes up and in turn our share of checkout for merchant services or eBay with PayPal is higher.
I think in all the markets we're in, whether they're developed markets like Germany, whether they're emerging markets like Russia, we try to take PayPal innovations, deploy them on those platforms on eBay to drive a relatively efficient consumer acquisition channel and adoption of the products on eBay that we can expand off of eBay, and you've touched on essentially three really important ones, penetration, PayPal, Bill Me Later, cross-border trade, PayPal's Mobile Express Checkout was built on its innovation that it did within eBay mobile app."
Bottom Line: Expect analysts to ask eBay about how economic sanctions impact the company's Russian business. Like Visa, eBay may also simply provide guidance on its own.
-- Written by Antoine Gara in New York.