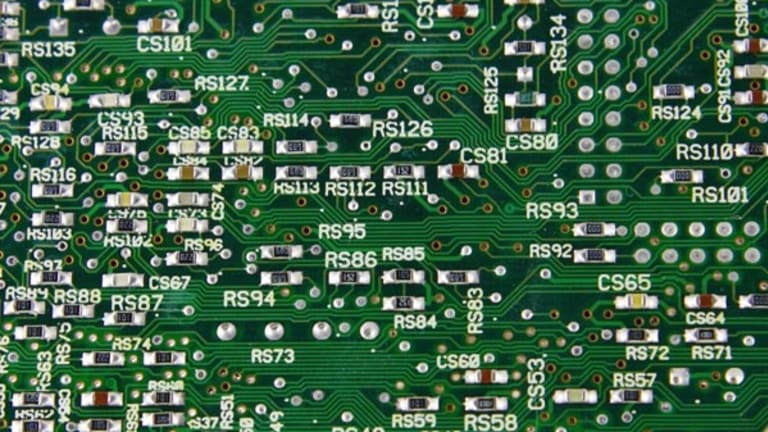 eBay Continues to Benefit from Mobile Growth
eBay continues to soar on strong second-quarter earnings and a positive outlook.
NEW YORK (
) -- Shares of
eBay
(EBAY)
skyrocketed on Thursday as investors welcomed the strong
largely attributed to its booming mobile businesses.
"As we consistently execute against our 3-year growth plans, there is no question that an inflection point is occurring in retail," said CEO John J. Donahoe on the second-quarter earnings call. "Mobile is revolutionizing how people shop and pay, becoming the digital nexus of consumers' lives. They want what they want, when they want it, anywhere, anytime."
The most impressive part of eBay's earnings was the 26% year-over-year revenue growth, or $1.357 billion, generated by
PayPal
. In the second quarter, eBay announced 15 retailers, including
Home Depot
(HD)
,
Abercrombie & Fitch
(ANF)
and
Joseph A. Bank
(JOSB)
, who will be implementing the
PayPal
point-of-sale product. eBay's small business payment product,
PayPal Here
, is also generating strong interest, according to Donahoe. He expects eBay and PayPal Mobile to each handle over $10 billion in volume transacted this year, "a stunning surge in purchases and payments on devices that did not even exist just a few short years ago."
PiperJaffray
analyst Gene Munster wrote, "Our opinion is that the most direct competitor to PayPal is
Google Wallet
, which will be aggressive at integrating offers and promotions, but is currently struggling with carrier adoption. We believe that the natural associations consumers have with brands, and the fact that PayPal has a brand in online payments, give it a leg up." Munster rated eBay "overweight" with a $50 price target.
Munster followed the company's suit by dropping his guidance for PayPal's growth from 30% to 27% for the remainder of the year.
"Enabling commerce, helping consumers shop anytime, anywhere and helping retailers of all sizes compete and win in this new commerce environment" is the company's focus, said Donahoe, who estimates that the $10 billion in payment volume transacted for 2012 is up 150% over last year. eBay announced the acquisition of
, a company that provides mobile payment technology, on Tuesday.
eBay's Marketplaces division had its best quarter in six years, generating $1.81 billion of revenue over the quarter, 9% more than it did in the same quarter last year. eBay had not experienced such strong year-over-year organic gross merchandise volume growth since 2006. "Our multiyear focus to transform and reposition this business for the future is paying off," Donahoe said.
"eBay is revitalized," Donahoe said of Marketplaces' performance. "We're more relevant today than ever to buyers and sellers globally. We've improved trust, enhanced value and selection, built better product experiences and become more customer-focused, and it's working."
Matt Nemer, an analyst at Wells Fargo was positive on Marketplace in a research note. "We are encouraged by Marketplaces innovation, but we see mostly singles and doubles, and third-party frictions complicate the customer experience versus Amazon. Payments has an early lead in key growth markets although this is well appreciated by the Street and we see the potential for competitive disruption," he wrote. Nemer increased his price target range from $36 to $38, to $40 to $42 and maintained his "market perform" rating.
Nemer briefly cited deceleration in e-commerce growth, increased competition from multi-channel retailers and online retailers, and increased sales tax and shipping costs as potential risks for the online retail giant.
Think Equity analyst Ronald Josey raised his price target of eBay from $47 to $48 and reiterating his "Top-Pick" rating, citing strong execution across key growth in eCommerce, Payments, and Mobile.
"We believe the mix-shift to fixed price, an improved user experience, better search, and mobile are driving usage and creating a healthy marketplace for buyers and sellers and we were impressed with the acceleration in GMV ex-vehicles domestically and internationally," Josey wrote in his note.
Primarily because of
PayPal's
exceptional growth and
Marketplaces'
best performance in years, the San Jose, Calif.-based company generated earnings of 56 cents per share on $3.39 billion in revenue during the quarter. Despite the "significant macro headwinds in the second half of the year," eBay maintained its full year guidance. Management expects revenue to be between $13.8 billion and $14.1 billion, representing growth of 18% to 21%, and non-GAAP earnings per share to be between $2.30 and $2.35, representing growth of 13% to 16% by year-end.
The stock rose 8.30% to $43.82 on Wednesday -- outperforming the
NASDAQ
more than three times since the start of the year.
--Written by Nathalie Pierrepont in New York.
>To submit a news tip, send an email to:
.
Check out our new tech blog,
Tech Trends
. Follow TheStreet Tech
.
>Contact by
.
Follow @nrpierrepont