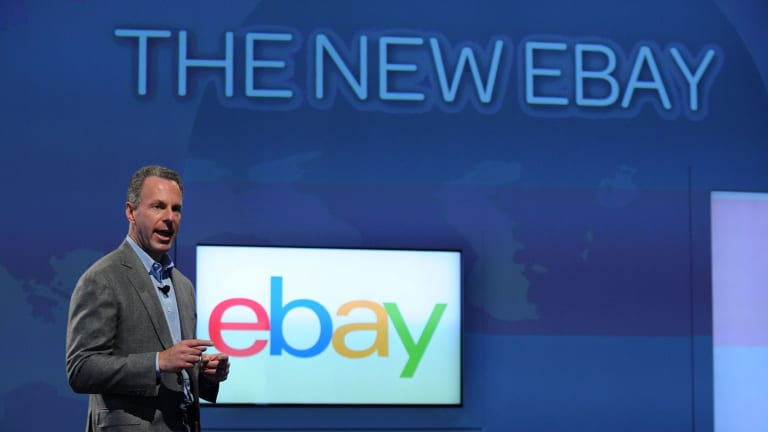 eBay Aims to Make Life Easier for Sellers With New Tools and Data
By focusing on its sellers again, eBay stands to become more competitive against Amazon.
NEW YORK (TheStreet) -- Ever since eBay (EBAY) - Get eBay Inc. Report first announced that it was spinning off PayPal (PYPL) - Get PayPal Holdings, Inc. Report the company has been promising over and over again to revitalize its core marketplace business and breathe some fresh air into the site. On Thursday, eBay announced it's moving one step closer to that reinvention with several new updates for its sellers.
At a 20th anniversary celebration for eBay sellers on Thursday, eBay CEO Devin Wenig will announce several changes that will be taking place over the next year, all of which are geared toward making sellers' lives easier and taking advantage of data to improve the current selling process.
The first update will be a change to how eBay sellers are rated. Until now, sellers ratings were largely impacted by subjective reviews from buyers, but now eBay will shift ratings to be more objective, leveraging hard data to assess a seller's performance. Subjective reviews will be replaced with objective data: A seller's rating will only be negatively impacted if he or she cancels an order after the fact, if a buyer asks eBay to step in to solve an issue that the seller did not solve, or if a seller doesn't ship an item in time.
The second update will help sellers manage returns more easily, providing them with overall return rates so they can better keep track of their business. eBay can alert sellers if their rate is particularly high, for example, and provide recommendations for ways to lower these return rates. Additionally, sellers will be able to process returns through whichever delivery service they choose, be it FedEx, UPS, or any other carrier. In order to qualify as top-rated sellers, merchants will have to offer 30-day returns.
The last update will move the entire selling process into one simplified, centralized location called the Seller Hub Beta. "It's bringing together all the different tools you might use to list an item for sale, to better understand what orders have been coming through and what still needs to be fulfilled--the various day to day tasks. Bring it all under one umbrella," said Heather Friedland, eBay's vice president of seller product experience. The hub will incorporate existing seller tools and some new ones to help sellers better manage their business with helpful data analytics and insights.

"We lost our way a little to make sure the voice of the seller was clearly represented in everything we did," said Jordan Sweetnam, eBay's vice president of seller experience. Today's changes are about bringing that voice back in, he said.

Getting rid of PayPal (and soon its enterprise services business) "has enabled eBay to focus on sellers to be more competitive against Amazon (AMZN) - Get Amazon.com, Inc. Report ," said Gartner analyst Gene Alvarez. "Entrepreneurs looking to grow a business need more technology services. [The services] will help them make the decision on merchandising, pricing, categories they should be in."
These new analytics tools from eBay are a way to help out sellers and take away some of those pain points of growing a business.
This was an area ripe for improvement, according to Alvarez, and now that it's solely a marketplace business it can focus on getting up to speed. "Let the merchant focus on their merchandise, and the marketplace will provide [them] with all the technology [they] need to run a business," Alvarez said. 
All of the new changes were prompted by discussions with eBay sellers; their feedback made eBay realize that the existing system wasn't working for them. eBay understands that when the experience for sellers is better, it will indirectly boost the business by encouraging sellers to spend more time on the site and list more items.
"The drive was looking at things that were costing our sellers time and effort to run but we didn't find necessary," said Ian Crawley, eBay's director of global trust. "By engaging with our seller population we've been able to identify and make these changes."
Most of the new updates stem from eBay's capabilities in data analysis, which were boosted by the company's 2013 acquisition of online shopping research service decide.com. The startup joined eBay's seller performance team in Seattle and can now advise sellers on things like pricing.
For many sellers, these new tools and updates will be a welcome, overdue change.
Once eBay got more into more buy-it-now transactions on top of auctions, there were simply new logistics that needed to be added. "A lot of eBay's experience is still geared towards auction sales," said one seller who was pre-briefed on the updates and wished to remain anonymous. "It is these points/issues that eBay is working very hard to change."
These "long due changes" will remove a lot of the pain points for sellers, he said. "eBay is trying really hard to help us sellers grow GMV [gross merchandise value] on eBay."
It's simple logic. If eBay sellers are more successful on eBay, eBay is more successful. And now that eBay has pared down its business to the core, it can focus solely on its sellers and buyers to make that happen.
It'll take time, as eBay itself is aware, but at least the reboot has been initiated.