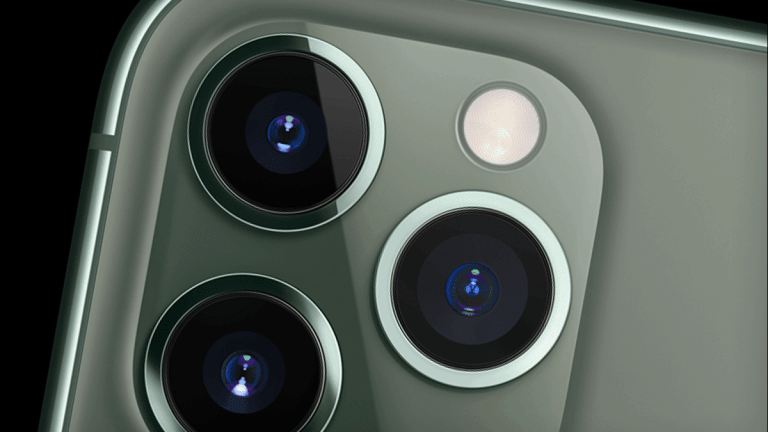 Publish date:
Early iPhone 11 Pro Orders Look Solid, and Battery Life Might Be a Key Factor
Delivery times for many iPhone 11 Pro and Pro Max models have been pushed out to early-to-mid October.
Delivery times for many iPhone 11 Pro and Pro Max models have been pushed out to early-to-mid October.
For now, order activity for Apple's (AAPL) - Get Reportnewest flagship iPhones is looking pretty healthy, and that has led one well-known Apple analyst to hike his estimates.
On Apple's U.S. website, delivery times for many versions of the iPhone 11 Pro and 11 Pro Max, which saw pre-orders start on Friday and will begin reaching consumers' hands this coming Friday, are generally in the range of two to four weeks. A majority of models -- when broken down based on color, carrier and storage capacity -- are promised to be delivered between Oct. 7 and Oct. 14, while a smaller percentage are promised to arrive between Oct. 2 and Oct. 7 or Sep. 30 and Oct. 2.
Delivery times aren't quite as stretched in the U.S. for the iPhone 11. While a number of green and purple iPhone 11 models have an Oct. 7-14 delivery window, most white, black, yellow and red models have a Sep. 30-Oct. 2 delivery window.
Over in China, many iPhone 11 Pro and Pro Max models are promised to deliver within five to seven days, but a decent percentage are also said to deliver in two to three weeks. Meanwhile, many iPhone 11 models have delivery times of five to seven days or seven to ten days. However, the green and purple models often have two to three week delivery times.
In Japan, delivery times for most new iPhone models are either five to seven days or seven to ten days; green and purple iPhone 11 models are once more outliers, with delivery times standing at two to three weeks. In the U.K., a decent number of iPhone 11 Pro and Pro Max models have an Oct. 1-8 delivery window (some are also promised to deliver sooner), while iPhone 11 models generally have a Sep. 24-26 delivery window.
Overall, given that (unlike with some past iPhone launches) there haven't been reports of production constraints for Apple's 2019 iPhones, the push-out of delivery times for many iPhone models to early-to-mid October is moderately encouraging. This particularly holds for the iPhone 11 Pro and Pro Max, given that sales expectations for Apple's latest flagship phones have been pretty subdued.
Notably, citing better-than-expected early demand, Apple analyst Ming-Chi Kuo just raised his forecast for 2019 iPhone 11 and 11 Pro sales by 5 million to a range of 70 million to 75 million. Kuo's new outlook implies this year's sales of 2019 iPhone models will be roughly flat relative to year-ago sales of 2018 iPhone models.
Apple is a holding in Jim Cramer's Action Alerts PLUS member club. Want to be alerted before Jim Cramer buys or sells AAPL? Learn more now.
The Appeal of Better Battery Life
Though they've received less press coverage than the camera and processor improvements delivered by the iPhone 11 Pro and Pro Max, the phones' substantial battery life improvements might have something to do with the initial demand that they're seeing.
Apple claims that the iPhone 11 Pro will deliver up to four hours more battery life than the iPhone XS, and that the 11 Pro Max will deliver up to five hours more battery life than the XS Max (the iPhone 11 is said to provide a more modest one-hour gain relative to the iPhone XR). And a number of surveys have found that there's no smartphone feature that consumers value more than battery life.
In a Nov. 2018 survey of U.S. consumers from research firm Morning Consult, 95% of respondents said that battery life was a somewhat or very important feature when making a smartphone purchasing decision. Ease of use (93%) and storage (90%) were the only other features to reach 90%.
A Feb. 2019 U.S. survey by SurveyMonkey found that 76% of iPhone owners and 77% of Android phone owners cited longer battery life as a feature that would get them excited about purchasing a new phone. This compared with 57% and 52%, respectively, citing a better camera, and just 34% and 31%, respectively, citing a bigger screen.
And an Aug. 2018 SurveyMonkey survey of iPhone owners in particular found that improved battery life was the iPhone feature consumers most commonly wanted. This was followed by a shatter-proof screen (66%) and -- though this is something Apple is unlikely to offer, given its product philosophy -- expandable storage (44%).
Notably, Apple's promotional materials for its newest flagships make a point of highlighting their battery life, along with their cameras and processor. As has been the case for many other gadgets over the years, what's driving consumer interest in the 11 Pro and Pro Max might not be one and the same with what's getting the most media attention.
Keeping an Eye on 5G's Impact
For the time being, the fact that Apple's 2019 iPhones lack 5G radios doesn't seem to be badly hurting their sales. Among the reasons for this: 5G network coverage is still very limited in the U.S. and many other large markets; many of the high-end phones launched this year by rivals also lack 5G support (and those that have it are often pretty expensive); and while 5G networks often deliver much higher transmission speeds and network capacities than their 4G counterparts, just about any smartphone app or service relying on a 5G network will also work on a 4G network.
But as 2020 unfolds, 5G could have a larger impact. As 5G network coverage improves and more 5G phones featuring sub-$1,000 prices arrive on the scene, consumer awareness of and interest in the technology is bound to grow. And as Apple's own 5G phone launches (widely expected to happen a year from now) draw closer, more consumers might decide that they'd prefer to wait until 5G iPhones arrive before upgrading, so that their devices are future-proofed as 5G becomes more ubiquitous.
However, it's worth keeping in mind that near-term iPhone sales expectations have been pretty low: On average, analysts polled by FactSet expect Apple's iPhone revenue to be down 3% annually in the seasonally big December quarter, even though it fell 15% in the year-ago quarter. And for now, the hardware improvements that Apple did pack within its latest iPhones appear to be resulting in somewhat better-than-expected ordering activity.