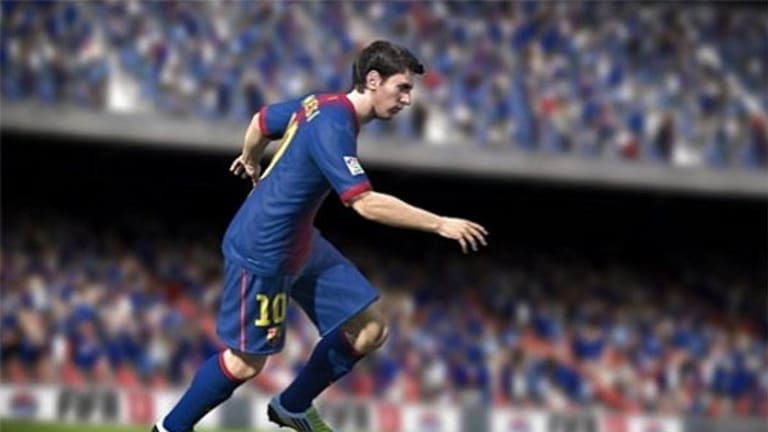 EA Aims to Win Over Soccer Fans to Sustain High-Flying Stock Price
With the fall gaming season fast approaching, EA sports is on track to deliver some of its best product in years.
NEW YORK (TheStreet) -- With the fall video-gaming season fast approaching, Electronic Arts (EA) - Get Electronic Arts Inc. Report is poised to deliver some of its most compelling sports-related product in years.
With shares up 57% this year, handily outpacing the S&P 500 SPX at 6.5%, the Redwood City, CA.-based game developer is betting that enthusiasm borne of the World cup, which concludes on Sunday, can help the company sustain a profit margin that surged to 33% in the first quarter of 2014.
Electronic Arts' profit jump came as the company's revenue fell for eight consecutive quarters on a year-over-year comparison.
Driving EA's growth has been its affiliation with FIFA, world soccer's governing body, which has authorized the use of players and teams that are among the biggest popular draw in all of entertainment. It's latest soccer game, FIFA 15, will lead EA's fall lineup. Using human-recognition technology and cinema photography, the title is likely to compete for EA's best selling game in 2015.
Completely stripped down and reconstructed, FIFA 15 was created using some of the best gaming and sports technology to be see in a new gaming title. Producer Santiago Jaramillo, in an interview in New York this week, said that the rebuild, "became a priority mainly because of feedback, not just from us playing the game, but from press and from fans." 
Starting with the players, each body is leaner, creating a more soccer superstar like physique. "For the players, we knew that the upper torso just didn't look quite right so we redid the entire skeleton," Jaramillio added. With each unique body type, player jerseys, hair and facial structure move with the player, creating near human like reactions to game play.
EA enlisted players from the MLS Vancouver White Caps to capture authentic player movement. But technology only goes so far. 
"Every time we do [motion capture] we have to give [the players] a scenario and build them up because they take it a little bit lighter and they don't have that level of intensity and that transfers to the animations, " Jaramillio said. "You can see that in a game, he would have done that differently but because he was just in the studio wearing that wetsuit, he just doesn't quite do the same. So it's a little bit like acting and you really have to direct them to do that."
EA is taking the experience of FIFA 15 one step further by giving gamers over 60 real life stadiums, complete with authentic crowd chants and reactions. Even further, EA partnered with team sponsors and have included actual video boards, surrounding the circumference of the field. Noted Jaramillo, "It's the deals that each team has in real life. We'll have some generic ones for the teams that don't have it and we're still going to have the video ad board, but for the teams that have those that use that technology to drive their own sponsors then we'll do the exact same thing."  
Jaramillo and his team of 250 developers are finishing the game, but not before they tweak one of the most essential parts: dribbling.
"We went back to using the locomotion dribbling to drive a lot more of the dribbling turns and we spent a lot of time making them more responsive," he added. "So, just basically sitting down with the animators and engineers to spend some time tuning those turns to be more snappy, to be more realistic, to be more responsive and that is an example of the exact same scenario, doing the exact same input with the left stick and giving you a very different result."
Could this be the most technological sports came ever made? 
Jaramillo certainly hints that it could be: "I think the combination of having the living pitch, having the degradation, the texture of the grass being better than ever, the new player models, and the crowd animations. I think those things combine to really make that experience of being in a match of FIFA be so close to what its like being in a match in real life.
Although every year seems to produce EA's "best looking FIFA," this year's FIFA should also be EA's best-selling FIFA as the world watches the final game of the World Cup this Sunday as Germany takes on Argentina. Even though the U.S. did not make it past their 2-1 loss to the Belgians, there were more Americans in Rio than from any other country, besides Brazil. [http://www.fifa.com/worldcup/news/y=2014/m=4/news=million-tickets-already-allocated-fans-2312651.html]
EA will report earnings for the second quarter on July 22nd. Revenue for its fiscal year 2014 were split between consoles at 65%, personal computers at 21%, and mobile at 13%. All told, 57% of revenue in the quarter ended March 30 were from international sales, largely in Europe and Asia.
The upgrades in both the FIFA and Madden series', two of EA's most popular games, are at the forefront of the company's effort to reverse its year-over-year revenue decline.
EA released 2014 FIFA World Cup Brazil this April in anticipation of the World Cup. According to Jaramillo, 30% of the North Americans who bought previous iterations of EA's World Cup game for the first time, become long term players of both EA World Cup and FIFA titles.  EA has a growing base of repeat customers. Customer base should take off as the recent World Cup and the totally revamped technology create a perfect storm for FIFA 15 sales.
Written by Adam Leverone and Whalen MacHale