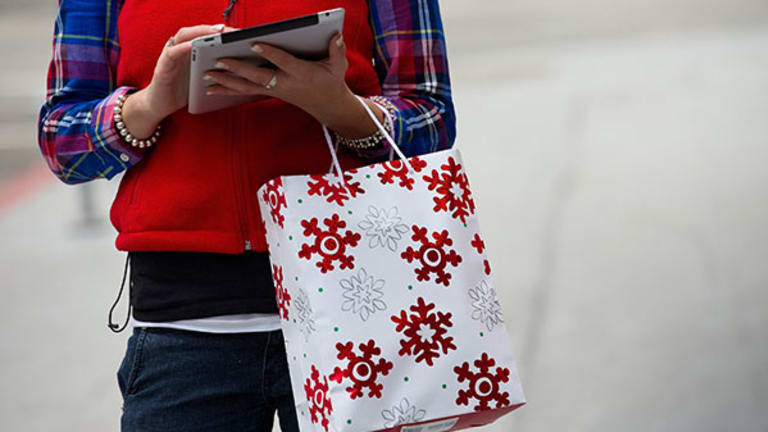 E-Commerce Sales Are Set to Hit New Records on Cyber Monday and Black Friday
Online spending -- and mobile shopping in particular -- continues to capture a bigger and bigger slice of holiday sales.
Updated to include new figures from the U.S. Census Bureau and IBM.
The holidays are coming, which can only mean one thing -- time to shop. And this year, more than ever before, consumers will turn to their laptops, smartphones, and tablets to buy their gifts, which should be good news for the likes of Amazon (AMZN) - Get Amazon.com, Inc. Report and eBay (EBAY) - Get eBay Inc. Report .
Total U.S. holiday spending is expected to increase under 4% from 2014's results, according to the National Retail Federation, but per Forrester, online spending is expected to jump 11% over last year. Forrester anticipates that U.S. online holidays sales will exceed $95 billion this year.
E-commerce typically makes up only about 10% of the retail sector, but during the holidays, it tends to increase to 15% of overall sales, according to Forrester.
The latest figures from the Census Bureau show that e-commerce sales jumped 15.1% in the third quarter compared to the same time period in 2014, and made up 7.4% of total retail sales, up from 7.2% in the second quarter. 
"Mobile shopping is particularly popular during key holiday dates like Thanksgiving and Black Friday because phones allow shoppers to access time-constrained offers at any time wherever they may be," Forrester analyst Sucharita Mulpuru-Kodali said. "Consumers continue to look to the web channel for convenience, selection, and value over physical stores."
For the first time ever, Cyber Monday is on track to hit $3 billion in sales, according to Adobe, representing 12% year-over-year growth.
The holiday weekend is also expected to break records in terms of mobile's share of the online pie.
On Thanksgiving Day, mobile is expected to drive the majority of shopping traffic (51%) for the first time ever, according to Adobe. Mobile sales will likely lag a bit, however, with 29% of overall sales. IBM has even higher expectations for the full 5-day holiday period, predicting mobile will make up 56.9% of all online shopping traffic and 36.1% of online sales.
IBM also expects that smartphones will drive more than 42 percent all online traffic over that shopping period, nearly three times that of tablets.
Mulpuru-Kodali pointed to mobile as one of the biggest trends this year, but she also warned that the growth in mobile results more from device shifting and a tradeoff for shopping on laptop computers, versus an increase in overall online spending.
ChannelAdviser Executive Chairman Scot Wingo similarly pointed to mobile as one of the bigger trends to watch for during the holiday season.
"We've seen [mobile] traffic get over 50%," he said. "It'll be interesting to see if transactions do." As far as Adobe can tell though, the latter is unlikely.
While it remains to be seen how big of a role mobile will play in the coming weeks, online players are certain to be happy either way.
"This is going to be an Amazon holiday season," TheStreet's Jim Cramer said last week. Cramer said he favors Amazon over the traditional retailers because of their solid business model.
But Wingo has been a bit surprised by Amazon's holiday promotions thus far. "Amazon is not nearly as promotional this year as they were last year," he said. Last year, Amazon launched a month of Black Friday deals on November 1 with big fanfare, but this year the company quietly released this microsite with some deals.
eBay, meanwhile, has ramped up its holiday promotions, with Hal Lawton having joined as head of North America from Home Depot and emphasizing a more aggressive holiday strategy.
"Consumers are driving an extended holiday shopping calendar, and demanding earlier access to bigger deals, brands and selection," said Hal Lawton, senior vice president of eBay North America. "Understanding these shifts allows eBay to celebrate the traditional shopping milestones with our customers, and to also establish new ones."