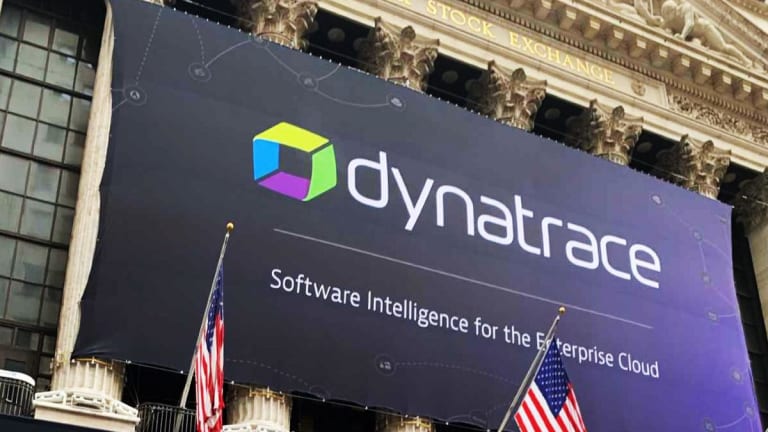 Dynatrace's CEO Talks About His Firm's Growth Following Hot IPO
During a talk with TheStreet, Dynatrace CEO John Van Siclen argued a slew of enterprise software technology trends work in his company's favor.
Dynatrace (DT)  joined the list of enterprise software firms to have delivered a strong 2019 IPO, rising 49% in Thursday trading after pricing its offering a dollar above a $13-to-$15 price range.
Dynatrace, like New Relic  (NEWR) and Cisco Systems' (CSCO) AppDynamics unit, is a leading provider of application performance monitoring (APM) software, which is used to both track how applications are running and detect/diagnose potential issues. The company was founded in Austria in 2005, but is now headquartered in Massachusetts.
Though its revenue growth has been pressured in recent years by a shift in its sales mix (similar to that of many other software firms) from up-front/perpetual license purchases to subscriptions, Dynatrace's revenue rose 8% in its fiscal 2019 (it ended in March) to $431 million. And for its June quarter, with the impact of this shift easing, the company has guided in its IPO filing for revenue of $120.5 million to $121.5 million, which at its midpoint is up 23% annually. Customers are believed to have more than doubled annually to a range of 1,560 to 1,570.
Dynatrace reported a net loss of $116.2 million for fiscal 2019. But like many subscription software (SaaS) providers, its free cash flow (FCF) is much stronger than its net income. FCF in fiscal 2019 was roughly $136 million.
One other thing Dynatrace has in common with many other SaaS firms: Wall Street has given it a pretty rich valuation. After accounting for outstanding stock grants, Dynatrace closed on Thursday with a valuation of about $6.8 billion, or more than 12 times fiscal 2019 billings of $550 million.
Shortly after Dynatrace went public, I talked with John Van Siclen, who has been Dynatrace's CEO since 2008. Here's a recap of some notable things that were shared.
What's Driving Demand
Van Siclen argued that a slew of technology trends are driving greater enterprise demand for Dynatrace's software. Among these trends: The deployment of hybrid clouds that feature both public cloud and local data center (on-premise) resources; the creation of apps that are broken up into microservices that can be quickly deployed or taken down; and the adoption of web-scale architectures in which an app could be deployed across a large cluster of servers.
Thanks to these trends, Van Siclen added, traditional app monitoring approaches that rely on manually placing and configuring software agents aren't effective. Instead, a solution such as Dyantrace's, which can automatically discover and track software changes, is needed.
Multiple Deployment Options
The fact that Dynatrace offers its software not only through a fully hosted solution, but also through a solution that (although still sold via subscriptions) can be installed on a company's own servers, was also cited by Van Siclen as an important selling point. Enterprises with sensitive data, such as financial services and healthcare firms, are often reluctant to see their app data moved off of their own infrastructures. As a result, they prefer a solution that can be locally installed, even as it's still managed and constantly updated by Dynatrace.
Container Adoption
Van Siclen indicated the adoption of app containers -- lightweight alternatives to server virtualization software that can allow apps to be both quickly deployed and quickly moved from one server to another -- will be a growth driver for Dynatrace over the next few years, albeit while adding it's still "early days" for container adoption.
A very high percentage of customers are planning to deploy containers or have just begun to, but only a small percentage have reached "mature" adoption levels, Van Siclen noted.
Dynatrace and Cisco
Cisco bought Dynatrace rival AppDynamics for $3.7 billion in 2017. And since then, the networking giant has often talked up its efforts to integrate AppDynamics' APM software with Cisco software that's used to manage a company's networking infrastructure and/or other IT hardware.
Van Siclen suggested Dynatrace isn't interested in working on something similar via partnerships with Cisco rivals. "Our focus is on the new [software] stack" rather than traditional data centers, he said, while noting companies are often deploying Dynatrace's software to manage hybrid cloud environments that cover more than just their own data centers.
"So in that sense, to try to connect in with the physical network guys doesn't make a lot of sense," Van Siclen asserted. "[Companies] really want to solve the problem of, 'How do I get visibility of this full stack in the cloud?'...Give me a better view of that."
Dynatrace and New Relic
Like Dynatrace, New Relic is seeing strong top-line growth; the company's revenue rose 34% during its May quarter to $132.1 million. And two months ago, New Relic unveiled a revamped version of its APM platform that's declared to be much better at handling complex software environments.
When asked about New Relic, Van Siclen noted that Dynatrace's business skews more towards large enterprises, while New Relic's customer base skews towards smaller enterprises and mid-market firms. Whereas New Relic has reported average annualized recurring revenue (ARR) of more than $140,000 for its 2,300-plus enterprise paid accounts, Dynatrace estimates it had an average ARR of $430,000 to $435,000 as of June 30 for its 1,560 to 1,570 customers.
"New Relic talks about enterprise being a $250 million or larger customer. That's pretty small," Van Siclen said, while adding Dynatrace views enterprises as companies with $750 million to $1 billion in revenue or more. He also argued the analytics capabilities of Dynatrace's software remain a "core differentiator." Whereas rival offerings can be more focused on simply providing metrics that companies can track, Dynatrace has paid more attention to uncovering answers and insights from the data its software turns up, he insisted.
Dynatrace and the Cloud Giants
On one level, the rapid growth of public cloud services providers such as Amazon Web Services (AWS), Microsoft Azure and the Google Cloud Platform (GCP) has been a clear positive for Dynatrace, as companies often use its software to monitor apps and app components that are deployed on public clouds. But as Dynatrace noted in its IPO filings, these companies are also rivals, since they provide clients with tools they can use to monitor apps deployed on their clouds.
Van Siclen argued that the positives provided by public cloud growth outweigh the negatives for Dynatrace, given the extent to which companies are both deploying hybrid clouds and relying on multiple public cloud providers. "We see...heterogeneity as something that's not just a fad. It's a movement that's not going to reverse," he said.
And -- though it's worth noting here that the cloud giants are often able to use their many proprietary services to lock customers in -- Van Siclen also observed that companies are increasingly using the popular Kubernetes container orchestration software to move workloads between clouds.
The Davis AI Engine
In 2017, Dynatrace rolled out an AI/machine learning engine known as Davis that attempts to give companies answers when an app has a problem. Van Siclen admitted that customers might initially view Davis as "sort of a gimmick," but added that they have a change of heart after seeing it in action.
Davis doesn't merely detect problems, but can figure out a problem's exact root cause and determine whether or not to alert a worker based on how large a particular problem is. "If Davis tells them there's a problem, they know it's a problem that affects users of the business, and they have a recipe as to what to go do about it," Van Siclen said. He also pointed out that some advanced clients have even written software scripts that are automatically executed in response to what Davis shares, since they're highly confident that Davis' findings are accurate.
When asked about how Dynatrace wants to evolve Davis going forward, Van Siclen said his company wants Davis to be capable of analyzing business metrics in addition to app performance data. If (for example) a customer has a revenue anomaly in a particular region or business segment, Dynatrace wants Davis to be capable of spotting the anomaly and alerting business teams.
Revenue Growth
Though not providing any formal revenue growth targets beyond the June quarter, Van Siclen suggested Dynatrace's revenue growth is likely to continue accelerating in the near-term, as the declines seen in its license revenue have less of an impact on its top line. With license revenue expected to go to 0 in the next 3 or 4 quarters, Dynatrace's revenue growth should eventually track its subscription and services revenue growth, which was around 35% last quarter.
Spending Plans
Just as Zoom Video Communications'  (ZM) reliance on Chinese programmers helps keep its R&D costs down, Dynatrace's reliance on European programmers is a big reason why its R&D spend equaled just 18% of its fiscal 2019 revenue on a GAAP basis, and about 15% of revenue excluding stock compensation expenses. About 450 of Dynatrace's 600 R&D workers are based in Austria, Van Siclen observed, and the company also has R&D facilities in Poland and Spain.
At the same time, he signaled Dynatrace remains committed to investing more in both R&D and sales and marketing. Regarding sales and marketing, which was 42% of fiscal 2019 revenue on a GAAP basis and 36% of revenue excluding stock comp, Van Siclen indicated Dynatrace is comfortable keeping spending as a percentage of revenue (excluding stock comp) around current levels to drive additional growth.
Cisco Systems is a holding in Jim Cramer's Action Alerts PLUS member club. Want to be alerted before Jim Cramer buys or sells CSCO? Learn more now.