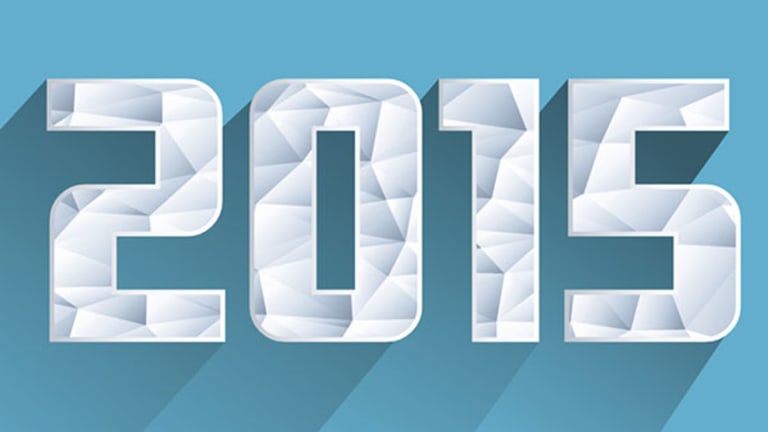 Drones Are Coming, Facebook Makes Changes: 5 More Tech Predictions for 2015
Facebook, Amazon, Uber and others are among the companies that are likely to make big changes in 2015. Here's a few predictions for next year, including those companies and more.
NEW YORK (TheStreet) -- Earlier this week, I took a look at some tech predictions that I think are likely to come true in 2015. Considering that the world of technology creeps into or dominates much of our lives (nearly every company these days thinks they're a tech company), there's a need for a few more predictions going into the end of the year.
Here's my outlook for 2015, including a few possible major moves in the enterprise space, some news about drones (yay drones!!) and a potential IPO for the company everyone loves to hate. Without further introduction, here's the next five predictions for 2015, starting with one I'm pretty sure about.
Facebook Launches Facebook For Work
It seems like every company is going after the enterprise -- Apple teamed up with IBM (IBM) - Get International Business Machines (IBM) Report , Microsoft is making a renewed push to making Office available everywhere while Google (GOOG) - Get Alphabet Inc. Class C Report is attacking Microsoft, pushing its Google Apps suite even harder.
Enter Facebook (FB) - Get Facebook, Inc. Class A Report in 2015.
Facebook is likely to launch its own enterprise campaign, with Facebook For Work sometime early in the new year. The rumor of Facebook moving into the enterprise is not new, but I'm pretty sure that CEO Mark Zuckerberg and COO Sheryl Sandberg are likely to make this a big priority next year as the world's largest social network continues to grow and becomes not only a formidable advertising platform, but a productivity giant as well. It already offers many of the same features you would need in an e-mail suite, including the ability to instant message, communicate with former colleagues and encroach upon LinkedIn's (LNKD) territory.
I suspect that in addition to communication tools, Facebook For Work will also have the ability to share documents with co-workers in the cloud, much as Google does with its Apps and Microsoft does with Office 365.
I'm not entirely sure what Facebook would add to this so that it's not seen as a "me too" kind of product, but after having made fools of the media (and investors), after buying Instagram (and perhaps with WhatsApp and Oculus Rift), I'm not counting Zuck and the rest of his team out.
Amazon Drones Come In 2015
At the end of 2013, the tech world was all aghast at the prospect of Amazon's (AMZN) - Get Amazon.com, Inc. Report delivery drones. Then, a whole lot of nothing happened.
A few weeks ago, Amazon CEO Jeff Bezos made a huge to-do about the U.S. missing out on drone delivery, suggesting that the world's largest economy is falling behind the rest of the world.
"The ratio of lawyers to engineers at Prime Air is probably the highest at Amazon," Bezos said at a conference. "It's highly likely that other countries get drone delivery before the U.S. Maybe I'm being too skeptical, but it's certainly possible."
The Federal Aviation Administration has approved around a dozen companies so far in 2014 for drone use, but not Amazon. With Bezos' comments now public about the U.S. falling behind other countries, and pressures from some members of Congress making similar arguments, I'm pretty certain we get some kind of movement on that front next year. Amazon Prime Air will become a reality towards the end of 2015 in select markets -- and not just a joke on Twitter.
Uber Files IPO Docs
San Francisco-based Uber has exploded the past couple of years to not only change the way we hail taxis, but by becoming a verb. Companies that become verbs, like Google or Facebook or Xerox back in the day, tend to do pretty well when they hit the public markets, and I suspect that Uber will likely file its S-1 sometime in 2015, even if it doesn't go public until the year after.
Uber just raised $1.2 billion, valuing the company at $40 billion, surpassing the private market value of all technology companies except for Facebook, which ultimately went public at a $104 billion valuation in May 2012. While Uber still has a ways to go towards hitting the $100 billion valuation mark, it may get there next year. Reports have surfaced that San Francisco-based Uber will generate $10 billion in gross revenue in 2015, a near three-fold from the projected revenue for 2014. Uber keeps 20% of that, so 2015 revenue is expected to be roughly $2 billion.
Uber, Airbnb and others play a part in what's known as the "sharing economy," something that social networks such as Facebook and Twitter have helped facilitate over the years. With Facebook's user count having surpassed 1.3 billion in the third quarter and Twitter edging past 250 million, that's a cumulative sum of 1.5 billion or more than 15% of the world's total population sharing ideas, photos, happenings and memories across the Internet using just two platforms.
Uber, and its competitor Lyft, are traditionally thought of as on-demand taxis, but Uber has worked to provide various other services, including Christmas tree delivery, medicine delivery, ice cream delivery and kittens, dipping its toes into the logistics market, valued at $176.2 billion in North America for 2013.
As Uber becomes more prevalent in changing lives and the economy, its investors are likely to want to cash out, but probably not until it's valued at around $100 billion.
Dish Gets Acquired
A lot of people every year think that DISH Network (DISH) - Get DISH Network Corporation Class A Report will get acquired, but I'm of the mindset that after the recent spectrum auction, it's now or never for the Charlie Ergen-led company.
Shares of DISH have gained more than 20% year to date, reaching a high of nearly $80 a share, as the recent spectrum auction run by the Federal Communications Commission saw greater-than-expected demand. Spectrum (which telecom and cable companies use to transmit things like data and voice calls) is becoming increasingly valuable, as the world is awash in data. The Ergen-led DISH has been busy acquiring spectrum, but hasn't done anything with it, as of yet.
I'd bet that after the spectrum auction, telecom companies like Verizon (VZ) - Get Verizon Communications Inc. Report will realize that spectrum ISN'T getting cheaper, and will need to do something to continue building out their networks, and make a play for DISH.
Zigbee Gets Acquired
The Internet of Things (IoT) is still in the early stages of driving product evolution, with almost everything you could think of (refrigerators, ovens, microwaves, light switches, alarm systems, you get the point) becoming connected to the Internet. But those days may be sooner than you think.
Given that Nest and Dropcam were purchased in 2014, I'd expect acquisitions in the IoT space to continue in 2015, with ZigBee a potential target. ZigBee is akin to Apple's HomeKit, in that it allows you to control all your IoT devices with one standard device. It's possible that ZigBee gets acquired by one of the larger hardware companies looking to compete with Apple and HomeKit.
Even if ZigBee doesn't get purchased next year, I'd bet dollars to donuts we see a major acquisition in the IoT space as the trend is for more devices become connected, not less.
--Written by Chris Ciaccia in New York
>Contact by Email.