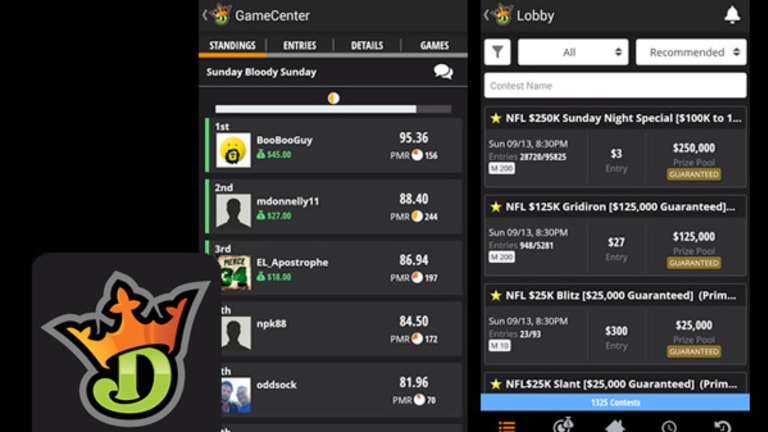 Publish date:
DraftKings, FanDuel Ad Campaign Gives TV Networks Double Win
Viewers have been inundated by TV ads from fantasy sports sites which are spending millions of dollars in advertising from networks that happen to be investors.
Viewers have been inundated by TV ads from fantasy sports sites which are spending millions of dollars in advertising from networks that happen to be investors.
DraftKings and FanDuel are spending millions on television commercials to secure brand loyalty among new adherents to the popular football fantasy web sites.
But while users compete for cash prizes based on their ability to forecast player performances, the undisputed winner each and every week are the TV networks that double as major investors. The networks win by immediately capturing some of their investment through ad spending, and then a second time as the value of their stake grows with each new subscriber.
FoxSports, which is part of 21st Century Fox (FOX) - Get Report , led a $300 million investment round in Boston-based DraftKings, and come January, an exclusive marketing agreement between the fantasy sports site and Disney's (DIS) - Get Report ESPN, the world's largest sports network, will also kick in. Not to be outdone, New York-based FanDuel counts Comcast (CMCSA) - Get Report  Ventures, the cable-TV and Internet provider's investment arm, and its own NBC Sports as leading investors.
Both DraftKings and FanDuel are privately-held though neither management has ruled out the possibility of eventually going public.
For both companies, the relationship between the fantasy football sites and a network with an NFL or major college football contract, is one of reciprocity. Investments are tied in part to promises to advertise. DraftKings is expected to spend allocate $250 million advertising on FoxSports over the next three years, according to the web site Re/code.
ESPN will also help DraftKings create advertising that "resonates" with fans across its platform, said a spokeswoman, Amy Phillips, in an e-mail. In return, the daily fantasy site will provide data for "editorial coverage" of daily fantasy sports.
FanDuel and DraftKings were among the top 10 advertisers listed by iSpot.Tv, a site that tracks and measures television advertising, in the period from August 1 to September 15. DraftKings bested FanDuel by spending $80 million to the latter's $20 million during this period.
"This is the peak time for Draft King sites to raise awareness (about their site and products)," Adam Krejcik, a partner at Eilers Research Consulting, a boutique research and consulting firm, said. The pace and number of ads will "slow down mid- to late October or the beginning of November," he said. Television advertising constitutes 50% of the total costs to acquire a new customer for the sites, Krejcik added. The remainder is distributed between other media and formats, including print newspapers, online advertising, and social media.  
But, advertising is just the beginning of a mutually beneficial relationship between daily fantasy sports sites and television.
Television networks are part of a virtuous circle consisting of multiple mediums and formats, such as print, television, social networks, and fantasy sites, that offer an instant gratification of rewards and entertainment. As an example, Krejcik contrasted the low entry fee costs ($20) with potential payouts (over a million dollars) offered by the sites to their users.
"People are playing fantasy football because they find it to be fun, not just to win money," he said.
"The more people play, the more they watch our product on TV," Fox Sports president and CEO Eric Shanks said in an interview with Re/code. At the same time, Jason Robins, chief executive officer at DraftKings, told the same website that his long term vision was to make "DraftKings and the sports themselves attached at the hip."