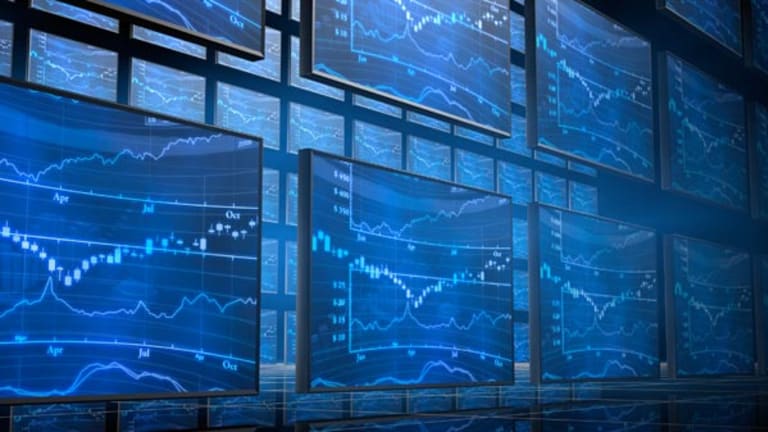 Don't Count Out Applied or Chip Market
Despite Applied Materials' tempered growth expectations, The Information Network anticipates positive growth in the chip sector in the next four to six months.
The following commentary comes from an independent investor or market observer as part of TheStreet's guest contributor program, which is separate from the company's news coverage.
NEW YORK (
) --
Applied Materials
(AMT) - Get Free Report
's fiscal second-quarter earnings jumped 85%, but the company warned that near-term economic conditions are causing "tempered" growth expectations.
While revenues could be impacted by near-term economic conditions, we can address how Applied Materials is doing in and all their competitors by looking at trends over the past 20 years.
Applied Materials led the world in equipment sales beginning in the early 1990s, and has essentially continued to outperform the industry average. The chart on the next page shows how Applied has positioned itself in the market in 1979, 1989, 1999, and 2010.
From this chart it looks as if Applied Materials has been stagnant over the past 11 years when we compare revenues in 1999 and 2010 for all competitors.
Applied competes in the semiconductor equipment market in nearly 20 sectors, significantly more than any other supplier. As a result, there is little overlap in individual sectors between Applied and the other top 10 market leaders.
For example, there is no competition with ASML whereas Applied competes with Tokyo Electron in the plasma etch, deposition, and clean sectors. It competes with
KLA-Tencor
(KLAC) - Get Free Report
in the metrology/inspection sectors, and
Lam Research
(LRCX) - Get Free Report
in the plasma etch sectors.
If we hone in on the sectors, we can better understand how Applied is faring and whether July was a rapid ramp in overall equipment sales or share gains.
In 2001, Applied Materials held a 42% share of the overall equipment market, holding greater than a 50% share in 7 of the 17 sectors. 2001 is an important year to look at because the overall semiconductor equipment market nosedived after a record breaking 2000, dropping 45% year-on-year.
2008 started out to be a good year until the market collapse in the fourth quarter, and ended down 29%. Applied's overall market share eroded to 39% of the overall equipment market, although it maintained a market share greater than 50% in seven of the 16 sectors it competes in (we have not included share date for the company's gate or clean sectors).
2010 was an outstanding year for the semiconductor equipment industry as it grew nearly 150% over 2009 revenues. Applied's overall market share increased to 43%. More importantly, Applied gained market share in 10 sectors and lost market share in only 4 sectors. The recent acquisition of ion implant leader Varian Semiconductor will fill in the blank "Conductive Implant" sector in the above chart with market leadership in 2011. Applied exited the sector in 2008.
I mentioned in the title of this article that we shouldn't count out the overall semiconductor equipment market for 2011. Our proprietary leading indicators, which we at The Information Network have honing over the past 15 years to correlate with the semiconductor equipment and semiconductor markets, show continued growth over the next four to six months, which at this point in time will be close to the end of 2011. Thus, we anticipate positive growth in semiconductor equipment.