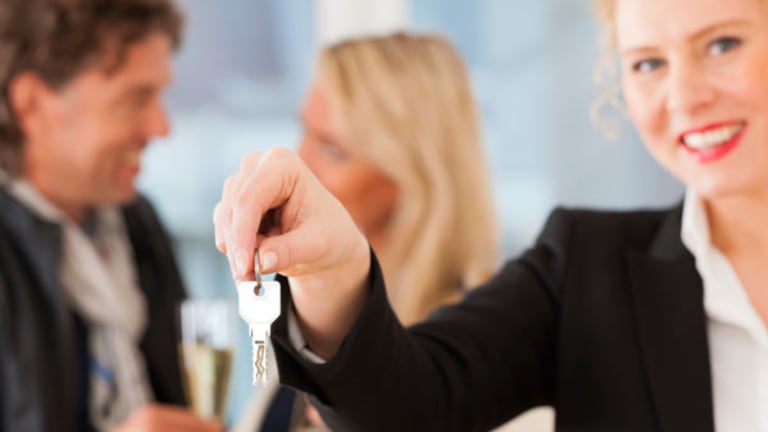 Don't Buy a New Smartphone Unless It's Really (Bluetooth) Smart
Now, even Android owners can do such cool things as use their smartphones to unlock their doors.
NEW YORK (TheStreet) -- When those nifty smartphone key finders like Hone sprung up last year, the bummer for many of us was they didn't work with our Android smartphones. That's because only the Apple (AAPL) - Get Apple Inc. Report iPhone had the necessary Bluetooth 4.0 technology, which is marketed as "Bluetooth Smart," and the majority of smartphone users don't have an iPhone.
Google
(GOOG) - Get Alphabet Inc. Report
finally caught up and over the summer it added Bluetooth Smart support to the new Android 4.3 operating system. Now, even Android owners can do such cool things as use their smartphones to unlock their doors, control a garden's sprinklers, wear a smart watch that says what's on the smartphone and, of course, quickly find misplaced keys.
Well, almost. You've got to be careful. If you want this new feature, an Android smartphone needs two things: Android 4.3 and Bluetooth Smart.
Those devices are slowly trickling out now. Some have had the hardware but are still waiting on service providers to roll out the Android update.
AT&T
subscribers with the HTC One started getting the update this month with more phones on the way.
Verizon Wireless
(VZ) - Get Verizon Communications Inc. Report
started rolling it out this week.
Sprint
(S) - Get SentinelOne Inc. Class A Report
is reportedly next.
"Carriers don't always push out the new OS," warned Errett Kroeter, director of global industry and brand marketing for the Bluetooth SIG organization. "Look for devices that are shipping with Android 4.3 on them. If you are buying a new phone, it would be highly unlikely that the hardware component" wouldn't be included.
Bluetooth Smart's appeal offers three major features. Smart refers to low-energy consumption, fast 3-milli-second connections and an architecture for developers to build apps.
The most touted feature is its low-energy use, which has a greater impact on the devices that connect to smartphones rather than smartphones themselves. Kroeter said a good example of power savings is in watch-sized batteries. Instead of devices lasting a month on AA batteries, they can last a year by switching to a smaller, slimmer battery with Bluetooth Smart.
Some of the Android phones with the new Bluetooth hardware went on sale earlier this year, well before Google added Bluetooth Smart support. (Windows 8 and BlackBerry 10 operating systems also support Bluetooth Smart.) Those manufacturers had to come up with their own Bluetooth fix but since it wasn't standardized, app developers waited for a more universal Android to add it.
It's also up to developers to make an Android-compatible app. Hone, which sells a Bluetooth Smart key fob that wirelessly links to an iPhone via Bluetooth Smart, plans to roll out an Android version soon.
"We are planning to add Android support, and in fact my partner went to Google I/O this summer to go to their talks," Geoff Litwack, Hone's founder, said in an email response.
"We are somewhat concerned," he said, "about customer confusion around which Android phones would be compatible with Hone, as you say. But the potential upsides going forward, as virtually all Android phones shipping in the U.S. run 4.3, make it worth it. Sure to be a huge market."
Already ABI Research, a market researcher, projects that half of all Bluetooth devices shipped this year will be Smart or Smart ready. That's going from zero in 2010 to 1 billion shipments this year.
If you need a new phone now, we've done the work for you. Here is a list of smartphones that are Bluetooth Smart ready or have Bluetooth 4.0 and are waiting for the Android update. With the necessary hardware in your phone, the rest is just time and a software update.
Smartphones that are Bluetooth Smart ready
Apple iPhone 4s, 5, 5c and 5s
Motorola Droid RAZR
Samsung Galaxy series
Sony Xperia
BlackBerry Q10
BlackBerry Z10
Phones with Bluetooth 4.0 that need the Android update
Samsung Galaxy S III
Samsung Galaxy S4
LG ENACT (VS890)
LG OPTIMUS F7
LG OPTIMUS F3
LG OPTIMUS G PRO
LG Optimus G
LG G2
LG OPTIMUS F6
HTC One
This article was written by an independent contributor, separate from TheStreet's regular news coverage.
Tamara Chuang is an outside contributor to TheStreet. Her opinions are her own.