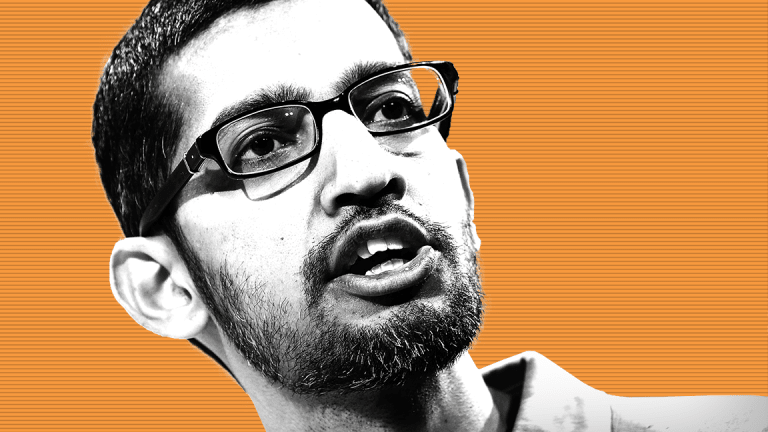 Don't Like How Vague Google and Other Tech Giants Can Be? Better Get Used to It
Alphabet is often criticized as a black box, revealing as little as possible about its plans and confusing investors in the process. Opacity isn't unique to Alphabet, but it can pose a problem for investors in high-growth tech stocks.
Feeling a bit in the dark these days? You're not alone.
Lots of tech investors are feeling that way.
First, there was Apple (AAPL) pulling the plug on reporting iPhone unit sales. Then came Facebook (FB)  which raved about Instagram while leaving out its share of overall revenue. Meanwhile, Amazon (AMZN) , caught between slowing sales growth and continued cloud dominance, left investors searching for clues on how to evaluate the multi-faceted giant going forward. And on Thursday, Twitter (TWTR) announced that while it was sharing daily active user numbers for the first time, it would soon stop sharing statistics for monthly active users.   
It's only natural to wonder: What exactly is lurking in that information vacuum? And is it something to be feared? 
According to Meghan Shue, investment strategist at Wilmington Trust, it may be an especially pertinent issue for investors in tech stocks. In its fourth quarter earnings, Alphabet (GOOGL) revealed a significant increase in capital expenditures -- nearly doubling between 2017 and 2018 -- and rising losses in its 'Other Bets' segment, which includes Waymo, Google Fiber, Loon and other projects, which seemed to rattle investors at least initially. True to their nature, Alphabet executives didn't disclose much about the spending increases -- or about lots of other things, for that matter.   
"We do believe we're in the midst of a tech arms race," she said. "I think investors have to decide what it is they're looking for. They can't have their cake and eat it too."
A company like Alphabet may have competitive reasons for disclosing little about their spending, Shue added, and investors must decide how much opacity they can tolerate in a market that's evolving rapidly.
"We're going to have to get used to getting different information, perhaps less information, and wrestling with all of that," she added.
Even among its FAANG peers, Alphabet has never been known for being especially forthcoming with its plans: It doesn't provide quarterly guidance, for instance, and can be annoyingly vague while in the hot seat. And that can befuddle investors in turn, as noted by Deustche Bank's Lloyd Walmsley in a note on Tuesday.
"While the company made some comments around the timing of new monetization experiences in search advertising intended to provide color, the company made no effort to contextualize this comment as either positive or negative, likely adding to confusion among investors," he wrote. After an initial dip after reporting its earnings, shares of Alphabet were up 1.6% by Tuesday close.
Alphabet's lack of context around new search monetization was just one of many examples of its preference towards opacity on a Monday call with investors: In another instance, Alphabet CFO Ruth Porat ignored a question about whether Alphabet is thinking of disclosing revenue for YouTube.
For investors, getting a good read on Alphabet -- or any high-growth tech stock -- comes down to knowing management's track record, said Brian Sterz of Miracle Mile Investors.
"Thinking about these companies as capital allocators is key," he said. "Far and away, Google has proven the ability to invest in some of the most innovative technology we've seen, and the ability to pivot the business and put it to very good uses."
Alphabet, Amazon, Facebook and Apple are holdings in Jim Cramer's Action Alerts PLUS member club. Want to be alerted before Jim Cramer buys or sells these stocks? Learn more now.