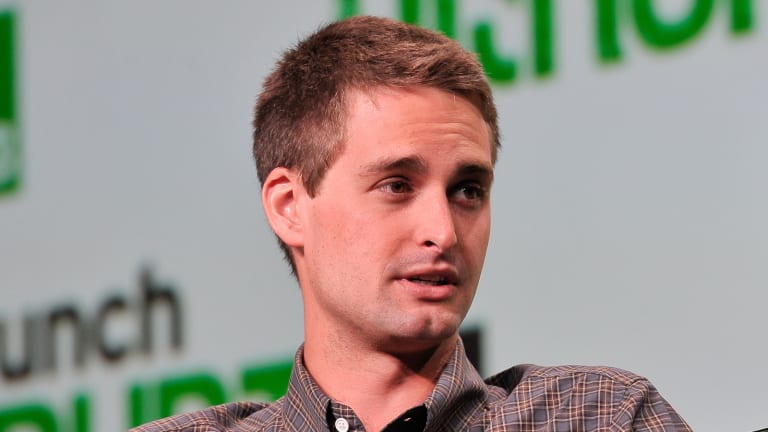 Does Snapchat Have the Solution to Social Commerce?
Recent moves suggest the popular messaging app is betting on e-commerce as a key monetization strategy, but its success is far from guaranteed.
Social commerce is all the rage these days, with Facebook (FB) - Get Meta Platforms Inc. Report , Twitter (TWTR) - Get Twitter Inc. Report , Instagram, and Pinterest all trying to figure out how to get consumers to purchase products on their sites. Now it looks like Snapchat may want a part of that game as well, but it may not be that easy for the social media app to transform into an e-commerce powerhouse.
At Re/code's media conference last week, the editor-in-chief of Cosmopolitan, Joanna Coles, said that the publication is working on adding e-commerce functionality to its channel on Snapchat Discover called Sweet.
"Sweet is a channel on Snapchat that Hearst and Snapchat have done together, and the tagline is 'Love something new every day,'" Coles, who is also on the board of Snapchat, told Re/code's Kara Swisher. "But at some point that will morph into an e-commerce platform so you will be able to buy from it."
Both Snapchat and Cosmopolitan declined to comment on Coles' remarks, and Snapchat has yet to publicly discuss any e-commerce strategy, but based on the Re/code interview and other moves at Snapchat it seems likely that an e-commerce feature could be imminent.
For one, Women's Wear Dailyreported back in July that Hearst was working on an undisclosed e-commerce feature in Snapchat. Snapchat has also hired a head of commerce, Krish Jayaram, who used to work at Braintree, a company owned by PayPal (PYPL) - Get PayPal Holdings Inc. Report . Plus Snapchat does already sell digital products like filters and replays. And Snapchat recently invested in the shopping app Spring.
All of these pieces hint at a larger e-commerce strategy on the horizon.
"Snapchat will get into e-commerce," said Mike Rowland, director in West Monroe Partners' Customer Experience practice. "They will need a way to fully monetize their offering." Right now Snapchat makes money through advertising and selling digital products, but e-commerce could be a way to monetize even further. 
And it's not surprising that Snapchat would want to dip its toes into social commerce. The platform's main demographic of teens and millennials is incredibly attractive to brands.
"The appeal to reach a younger demographic will be high, especially among lifestyle brands that want to engage and sell to digital natives," Rowland said. "There is a logical opportunity in Snapchat's Discover channel where users can 'discover' new products. The addition of a buy button here is natural."
Snapchat also has a leg up in social commerce coming from a mobile-first perspective. Mobile commerce is on the rise, Rowland explained, and Snapchat has a better chance of getting it right thanks to its "mobile DNA."
On top of that, a lot of the content already on Snapchat Discover naturally lends itself to commerce, as eMarketer's social media analyst Debra Aho Williamson pointed out.
Cosmopolitan, for example, recently put a list of five comfortable boots on its Snapchat channel, but if users wanted to actually buy one of these boots, they would have to leave the app and search for them online; there currently is no way to click through and make a purchase. But in content like this, a buy button would make total sense.
"Snapchat users are young millennials who have spending money who are just now forming their brand preferences," Aho Williamson said. "Having the ability to purchase through Snapchat makes a lot of sense."
Unfortunately it might not be that simple for Snapchat to win in e-commerce.
For one, not every piece of content on Snapchat is a list of buyable products; most of it revolves around selfies and videos. Plus most Snapchat users aren't in a shopping mindset when they open the app. That strongly contrasts with the general understanding of Pinterest users, who tend to be actively looking for inspiration before making a purchase.
"In general, the social networks have struggled to monetize commerce," said Forrester analyst Sucharita Mulpuru-Kodali. "There's a lot of excitement to see if any social network will release a solution that could be game-changing for commerce, but I think everyone involved likely realizes that they have an uphill struggle given that there haven't been any blockbuster, home run solutions yet. That's not to say something won't be built. But it's fair to say we haven't seen such a solution yet."
Facebook, Twitter and Paypal are all holdings in Jim Cramer's Action Alerts PLUS Charitable Trust Portfolio.
Exclusive Look Inside:
You see Jim Cramer on TV. Now, see where he invests his money and why Facebook, Twitter and Paypal is a core holding of his multi-million dollar portfolio.
Want to be alerted before Jim Cramer buys or sells FB, TWTR, or PYPL?Learn more now.