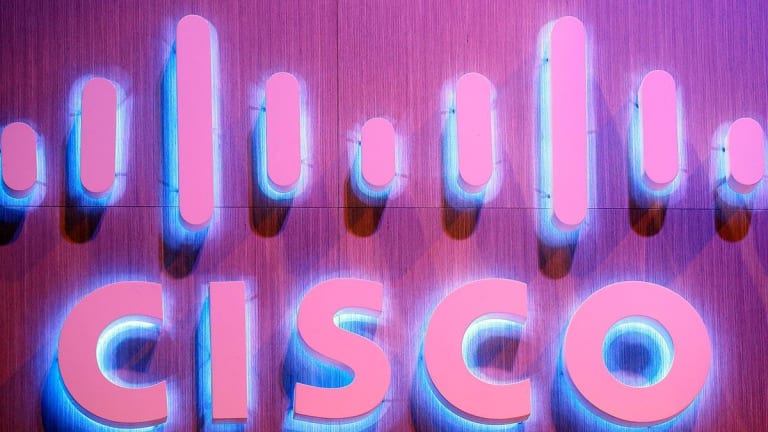 Does Cisco Need to Catch Its Breath After Its Big Run-Up?
This may be the most favorable business environment for Cisco since the bursting of the dot com bubble. But owning the stock at higher valuation multiples does not come without substantial risks.
What an impressive run it's been for Cisco Systems (CSCO) - Get Cisco Systems Inc. Report .
The network vendor's stock is up a whopping 21% since the end of the fourth quarter correction last year. Valuation is back on the rise, with Cisco now trading at a forward P/E of 16.7x, compared to 13.5x only two months ago.
Given such strong performance, it's reasonable to ask, does Cisco need a break? And is it time for the stock to pull back from the current, post-dot com high of $51/share?
Cisco is a holding in Jim Cramer'sAction Alerts PLUS Charitable Trust Portfolio. Want to be alerted before Cramer buys or sells CSCO? Learn more now.
Hard to Bet Against Cisco
To help answer these questions, let's first turn to business fundamentals. In five years covering Cisco, coincidentally or not since around the time that Chuck Robbins took over as CEO, I do not recall seeing the San Jose, Calif.-based company ever being better positioned to grow in the network solutions space than it is now.
At the heart of Cisco's successful transformation is the secular transition to a cloud-based and recurring revenue model. Over the past decade, service provider and enterprise networks have begun to shift from an equipment-heavy architecture to one that is more agile, software-centric, intent-based and secure. For a moment, around early 2014, Cisco appeared to have been caught flat-footed by the change, preoccupied with defending its market leadership position but not nimble enough to keep up with the new trends. Revenue contraction reached a low of -8% year-over-year by fiscal 2Q14.
Now, the management team seems to have fine-tuned the company's product portfolio around SaaS-like offerings, network security solutions and services -- just in time for the next leg up in global internet traffic growth. The effects can be seen on Cisco's P&L in the form of increased top-line growth rates and slowly improving margins, two trends that I expect to continue going forward. In the most recent quarter, product orders were up across all geographic segments by at least 6%. In addition, aside from the slow-to-react service provider vertical, Cisco's key customer segments also seem to be firing on all cylinders.
But Material Risks Exist 
Despite the company's recent momentum, I believe that investing in Cisco today is not without substantial risks. First, there is the issue of richer valuations mentioned previously, which might suggest that most of the positives may have already been priced into the stock. In addition, I have a few concerns regarding the company's balance sheet and cash distribution to shareholders -- two key features that have traditionally made the stock attractive to value investors.
Since the 2017 tax reform, Cisco has been putting its once vast cash resources to use, primarily by accelerating share repurchases and debt retirement. In fiscal 2Q18, roughly one year ago, Cisco held a $34.3 billion net cash position (26% of total assets) that has since dwindled to only $14.8 billion (14% of total assets). As a result, it does not surprise me that Cisco's recently announced 6% increase in its quarterly dividend payments is the lowest since the company started issuing them, in 2011. Unless or until the stock takes a step back, today's yield of 2.7% will continue to make shares look less enticing to dividend-seeking investors than they have been in the past.
The Verdict
Since the bursting of the internet bubble in the early 2000s, I don't believe Cisco has faced a more favorable business environment than it does now. Yet, I would warn potential Cisco investors to set return expectations more conservatively if they're buying shares at current levels.
Cisco might continue to head higher in the longer term, given the solid business prospects and the company's competent management team. On the other hand, the stock could be overdue for a healthy pullback in the shorter term, primarily on the heels of profit taking and yield chasing.
A Special Invitation:Do you want to learn more about planning for and living retirement from the nation's top experts, including Ed Slott and Robert Powell, the editor of TheStreet's Retirement Daily? Want to learn how to create tax-efficient income in retirement and how to manage and mitigate all the risks you'll face in retirement? Then sign up to attend TheStreet's Retirement Strategies Symposium on April 6 in New York City. For a limited time, you can attend this extraordinary symposium for $149 - a cost savings of $50 off the general admission price of $199.
You can see the full day's agenda, learn about the guest speakers and sign up HERE for this special event.
The author has no positions in any stocks mentioned in this article.