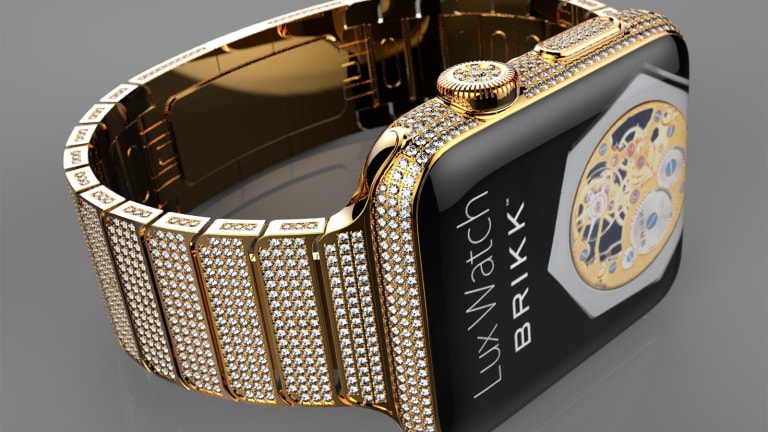 Does Apple Have a Watch Problem?
Depending upon whom you ask, Apple may have a Watch issue. Sales aren't as strong as first estimated. But Jim Cramer says not to jump to conclusions.
NEW YORK (TheStreet) -- Depending upon whom you ask, Apple (AAPL) - Get Apple Inc. Report may have a Watch issue.
In a research note primarily discussing the iPhone, Pacific Crest Securities analyst Andy Hargreaves noted that sales of the Apple Watch aren't as strong as initially estimated, with demand appearing to slow quickly.
"In contrast to iPhone, anecdotal evidence suggests Apple Watch demand is slowing quickly," Hargreaves wrote in a note. "This dovetails with recent supply checks, which suggested a reduction in component order volume. As a result, we are slightly reducing our F2015 Apple Watch unit estimate to 10.5 million from 11.0 million and reducing our F2016 Apple Watch estimate to 21 million from 24 million."
If Watch sales are less than expected, it will not impact Apple greatly from a financial perspective, given the company's annual revenue. At $500 per Apple Watch, 10.5 million units in fiscal 2015 would generate $5.25 billion in revenue. By comparison, Apple is expected to generate $232.1 billion in revenue in fiscal 2015 and $245.3 billion in fiscal 2016.
This backs up recent data from other third-party sources, which have noted that Apple Watch
by
Fitbit
(FIT) - Get Fitbit, Inc. Class A Report
devices in May, according to an analysis of 2.5 million receipts.
According to research from Slice Intelligence, Fitbit outsold the Apple Watch in May, selling 850,000 devices, compared to 777,000 Apple Watches sold. There are multiple Fitbit devices -- seven in total -- compared to just one Apple Watch (albeit in three versions).
In April, research firm KGI estimated that 2.3 million Apple Watches were pre-ordered in the first weekend it was available.
Apple could not be immediately reached for comment.
TheStreet's Jim Cramer noted it's premature to talk about the significance of the Apple Watch. "The Apple watch will not be important to Apple until we see all of the programs be written for it," Cramer said. "The idea that an analyst can say that demand is slowing when it's just now rolling out is the type of thing we are used to from analysts who love to make any kind of call on Apple, premature, wrong or not. It's not even in the numbers and won't be, I believe, until 2016 -- next year when we see what's written for this marvelous vessel that I wear every day."
Exclusive Look Inside:
You see Jim Cramer on TV. Now, see where he invests his money and whyAppleis a core holding of his multi-million dollar portfolio.
Want to be alerted before Jim Cramer buys or sells AAPL? Learn more now.
An RBC Capital Markets analyst recently initiated coverage on Fitbit with an outperform rating and a $45 price target, and also noted that Fitbit devices are seeing more interest than the Apple Watch.
"Our proprietary survey indicates a growing interest in Fitbit products (Surge, Charge, Charge HR) vs. Apple Watch as well as other activity/fitness trackers such as Jawbone, Garmin (GRMN) - Get Garmin Ltd. Report and others," Mark Sue wrote in a note.
The Apple Watch first went on sale in April, and was initially only available on the company's Web site. In June, the company announced it was making the Watch available to buy in stores with a reservation. Last week, Apple announced the Watch would be available in Italy, Mexico, Singapore, South Korea, Spain, Switzerland and Taiwan as of June 26. The Netherlands, Sweden and Thailand will follow on July 17.
Initial wait times for the Watch were as much as four months, with some versions pushed out to August. A look at Apple's Web site shows that wait times have come down drastically. The Apple Watch and Apple Watch Sport are available to ship in one business day, but the higher-end Apple Watch Edition still has a shipping time of two to three weeks. One such version is the $17,000 18-karat rose gold case with rose gray modern buckle.
Apple has refused to publicly disclose exactly how sales are going, making a judgment of the Watch's success more complicated.
In October 2014, Apple noted on its fiscal fourth-quarter earnings call it would group Apple Watch revenue in along with the "Other" category. Included in this line are iPod sales as well as "Beats headphones and speakers, Apple TV and peripherals and accessories for iPhone, iPad, Mac and iPod."
CEO Timothy D. Cook said on the call that he did not want to give away information that would be useful for the competition. "And also to be straight, I am not very anxious in reporting a lot of numbers on Apple Watch and giving a lot of detail on it because our competitors are looking for it and so aggregating it is helpful from that point of view as well," Cook said in response to a question from Barclays analyst Ben Reitzes.
Apple's head of operations Jeff Williams recently noted at a conference that sales were "fantastic," with high demand. "The only number I will give you is that demand divided by supply is greater than one," Williams said at the Code conference in May.
The Cupertino, Calif.-based Apple recently addressed some of the initial complaints from Apple Watch app developers. Apple now allows developers to build native apps with a native software development kit to let them take advantage of more of the capabilities of the Apple Watch. This is part of the new version of the operating system that runs the Apple Watch, WatchOS, which was unveiled at Apple's developer conference in June.
Apple reports fiscal third-quarter earnings July 21.