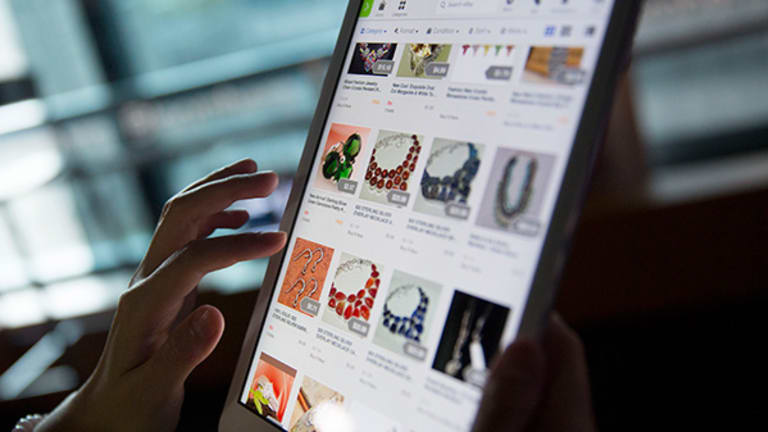 Dillard's Seeks Positive Growth From A Heavy E-Commerce Push
Dillard's has been finding success in e-commerce and will need to continue prioritizing its online presence to stay relevant.
NEW YORK (TheStreet) -- As one of the few remaining family-owned department stores in America, Dillard's (DDS) finds itself with a multitude of competitors in the retail space--Nordstrom (JWN) , Saks (SKS) , Macy's (M) , JCPenney (JCP) , not to mention Wal-Mart (WMT) and Target (TGT) . And then with traffic to malls dying down on top of that, Dillard's is forced to look online to fight for a share of retail spend and keep up growth.
If it wants to keep up the positive growth, it will likely need to maintain if not strengthen its e-commerce efforts.
"Dillards.com is in a constant state of evolution," Julie Bull, Director of Investor Relations at Dillard's, told TheStreet in an email. "We are testing new ideas on a daily basis to optimize sales and conversion while constantly focusing on improving the customer experience. We are continually improving the appeal of dillards.com from the look and feel of the site to the efficiency of ordering and fulfillment."
Dillard's reported a revenue of $1.46 billion for the financial quarter ending in October 2014, down from $1.469 billion during the same quarter of 2013. A Dillard's spokesman said the company does not disclose revenue from its e-commerce initiatives.
According to Thomson Reuters, the company is expected to report a revenue of $2.08 billion for the fourth quarter, and $6.65 billion in revenue for the financial year.
On Dec. 30 research firm Zacks gave Dillard's a neutral rating, commending the company on its growth. "We applaud Dillard's continuous efforts to capitalize on growth opportunities in its brick and mortar stores and e-Commerce business that help it retain existing customers as well as attract new ones," the note read.
With regards to e-commerce Zacks pointed to enhanced merchandise assortments and effective inventory management as specific strengths. The research firm saw Dillard's omnichannel efforts--meaning across all channels, including desktop, mobile, and brick and mortar--as a positive sign for the company's future.
That e-commerce exposure helps Dillards itself even more than it does individual designers, and investors have taken notice.
During the past year Dillard's shares have steadily climbed up from around $90, having hit a high of $126.22 during the day of Dec. 31 (it closed that day at $125.22), but have since come down a bit in-line with overall market volatility, recently changing hands around $114.
One of the more obvious uses Dillard's sees in its online presence is reaching consumers who live in states without physical Dillard's stores. Bull also views Dillards.com as a platform where consumers can do research before visiting a brick and mortar store.
"Dillard's.com is a vital part of our overall customer service strategy," Bull said. "What started out several years ago as a means to educate and inspire our customers about our store offerings has grown into our largest and fastest growing store by far. It is also highly profitable. Naturally, our commitment to dillards.com and the further enhancement of every aspect of it is extremely strong."
As Dillard's faces off against competitors like Nordstrom, Macy's, Amazon and eBay, it will need to continue prioritizing e-commerce and its online presence.
Dillard's is constantly adding new designers and brands to its online offering -- some of the recent additions include Trina Turk activewear, Kate Spade swimwear and fragrance, Sam Edelman apparel and Carmen Marc Valvo footwear.
One designer who recently began selling his clothing on Dillards.com sang the company's praises. "It's not just a great point of sales but also a great venue to be exposed to," Miami-based designer Julian Chang told TheStreet. "The exposure is unlimited, it's the exposure aspect of being with a big retailer."
"Like all major department store retailers, Dillard's will need to embrace omnichannel technology, enabling customers to purchase items irrespective of the type of day and the device/channel," ABI Research analyst Patrick Connolly told TheStreet in an email.
Connolly also believes that Dillard's will need to increasingly blend the worlds of e-commerce and brick and mortar. Having recently attended the National Retail Federation Big Show, Connolly noticed a huge focus on improving customer analytics and using technology like beacons, which can send messages to nearby shoppers' phones. Retailers are also using technology to help reduce checkout lines by arming staff with tablets and letting them check out customers throughout a store. They are also using interactive digital displays and mobile payments--the options for digital opportunities in-store are endless.
"The big trend now is towards mobile and related in-store technologies that combine to improve customer experience, streamline staff and inventory as well as increasing advertising potential and ultimately basket size," he said. "All of these technologies are using a customer's mobile to improve the shopping experience, while also extending the capability to purchase items at any time, with click and collect facilities.
"Competitors like Macy's are leading the way on this, utilizing a plethora of in-store technologies, such as Wi-Fi indoor location, RFiD, Apple Pay, staff tablets, its own branded application as well as third parties like Shopkick," he explained. "We are seeing a host of major retail chains like Walmart, Kohl's and Target establishing innovation labs to understand how best to deploy these new technologies."
Dillard's on the other hand, has yet to dip its toes into these kinds of in-store innovation, preferring a "highly relational level of service" instead.
"We rely on our sales associates to guide our customers in our stores," Bull said. "We believe our customers prefer premium service on a relational, one-on-one level."
If it wants to stay relevant in the industry, Dillard's will need to keep up with this in-store technology as well as e-commerce capabilities. These days, having a seamless experience across all channels, including desktop and mobile, is tablestakes.
As Boston Retail Partners' founder Ken Morris explains, Dillard's needs to maintain what he calls "unified commerce," a holistic approach where consumers can seamlessly order online and pick-up in a physical store without any difficulty.
"I think in the past Dillard's has sold to my mother and they didn't really address the new shopper," Morris told TheStreet. "She's wired, she's online, she wants to interact with the brand whenever she wants to however she wants to. She may shop traditionally through catalog and store, but she does research on her iPad. The reality is these retailers have to wake up to the new customer, the newly affluent customer with much bigger spend. She wants to interact seamlessly, she wants to be able to shop on her phone if she wants to and she wants to be treated the same way across all her channels."
--Written by Rebecca Borison in New York
>Contact by Email.