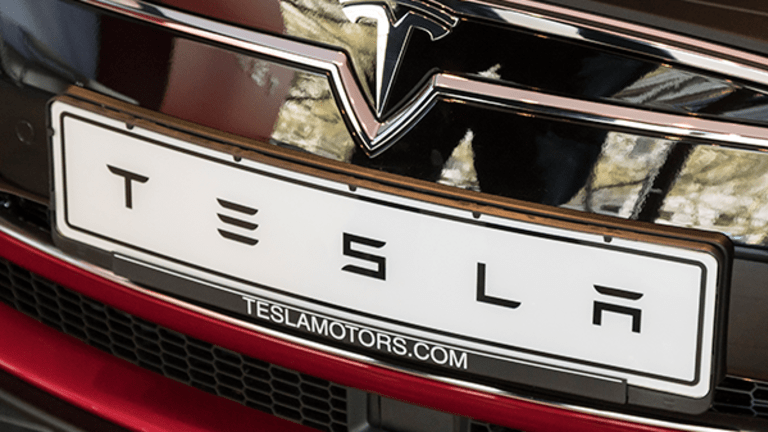 Did Tesla's Autopilot Predict a Crash? -- Tech Roundup
Tesla's Autopilot is a lot safer than you think.
Shares of Tesla (TSLA) - Get Report have been trading well lately, up more than 5% over the past three trading sessions and 12% over the past month. Still, the stock remains a hotly-debated topic as to whether it will thrive or fail in the long run.
Well, some recent news surrounding the company's self-driving feature, Autopilot, may re-inspire bullish investors as to why they are betting on this stock for the long term.
Footage from a customer driving a Tesla while using Autopilot captured the dramatic scene below:
A few seconds into the clip, viewers can clearly hear the beeping associated with the car's automatic braking. Roughly 2 to 3 seconds later, the crash happens.
So is Tesla's Autopilot able to "predict" car accidents? Perhaps predict is a bit of a reach, but there's no doubt the car can "see" further than a lot of people realize and react faster than humans even when they are paying attention.
For those wondering, no one was seriously injured in the crash. But it goes to show what this futuristic technology has in store for us down the road. Had more vehicles been equipped with this type of technology, this accident, and many others could likely be avoided.
Shares of Tesla closed at $219.74 Wednesday, up 0.1%.

How easy (or difficult) is it to create a new shopping holiday? We've seen the proliferation of Cyber Monday, which wasn't necessarily made up, but it's grown so quickly over the years it may seem that way.
However, take for instance Alibaba's (BABA) - Get Report Singles' Day in China, which has ballooned into a massive spending day as Chinese consumers look to gift themselves a present. Basically, a gigantic spending holiday made up from nothing.
Then there's Amazon's (AMZN) - Get Report Prime Day, which is simply a shopping holiday for Prime members. The company adds thousands of deals to its site for one day for all members to take advantage of, basically driving revenues higher on nothing other than a big sale.
But Amazon's not done. Now the company's holding "Digital Day," a 24-hour event scheduled for December 30.
From the looks of it, customers (both Prime and non-Prime) will be able to shop a number of discounts on apps, games, movies, books and other digitally-themed products.
While we don't know a ton about this event yet, it's safe to say Amazon is looking to tap into the millions of customers who just received new Kindles, Echo devices and Amazon gift cards over the holidays.
The timing couldn't be better. At least, for Amazon.
Shares of Amazon closed at $772.13 Wednesday, up 0.1%.
Along with self-driving technology, virtual reality is one of several budding technological revolutions sweeping through the world. However, it's still a technology that has yet to catch on with the mainstream consumer.
There's a number of reasons why, including the generally high prices associated with the devices, along with the powerful systems needed to run such headsets.
That said, there are cheaper, easier systems out there that consumers can buy. But until the high-quality VR headsets come down in price and system requirements, widespread adoption will likely have to wait.
Although that may sound negative, it's just the facts. When breaking out game-changing technology, sometimes it takes a while to get some traction. Look at the iPhone for instance. Apple (AAPL) - Get Report didn't see sales explode in its first year. Or second. Only down the line did we see its popularity explode from a volume perspective.
But enough about that and back to VR. With its $2 billion acquisition of Oculus, Facebook (FB) - Get Report planted its flag in the VR arena a few years ago, with the goal of leading in one of the world's next big things.
In its mission to be the best, it is acquiring Copenhagen-based The Eye Tribe, an eye-tracking company, for an undisclosed sum.
Apparently, the company wanted the eye-tracking component for its use with social expression and interaction. VR has a lot of uses that go beyond gaming and social is just one of those branches.
Given that Facebook is the world's most popular social platform, it should come as little surprise that the company's trying to tie VR into its foundation.
Shares of Facebook closed at $116.92 Wednesday, down 0.9%.
This article is commentary by an independent contributor. At the time of publication, the author held no positions in the stocks mentioned.