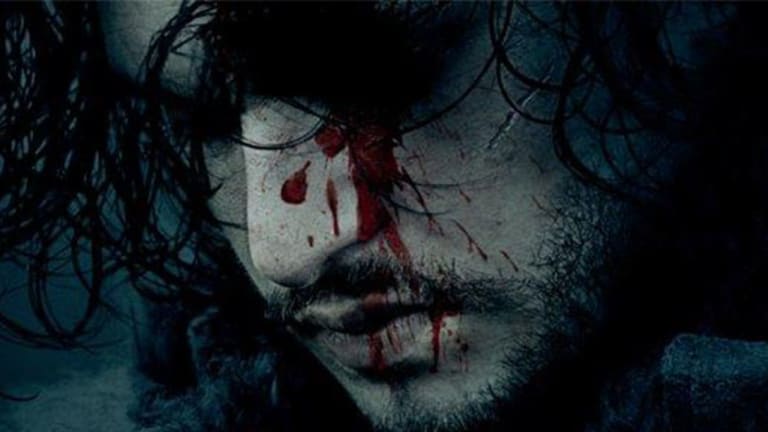 Did HBO Just Tease That Jon Snow Is Alive in This Awesome 'Game of Thrones' Promotion?
Is Jon Snow dead? HBO just released a clue on Twitter as to the fate of the beloved Game of Thrones character.
Is Jon Snow dead? Maybe. But maybe not.
Time Warner's (TWX) HBO just teased on Twitter the first promotion for Season 6 of its hit series, Game of Thrones, and by the looks of the eery -- and bloody -- image of the beloved character, we could be seeing more of Jon Snow in the forthcoming season, premiering in April 2016.
GoT left off in the Season 5 finale that Snow had been killed by his brothers of the Night's Watch who rebelled against him as the commander of the group. Avid fans across the world cried and took to social media in outrage.
But since the season finale last June, fans have tossed around lots of theories on whether Jon Snow is actually dead. A prominent theory -- at least in the TV series - is that Snow's eyes change color just before the camera cuts off in the episode's last scene. Could it mean that while Jon Snow may be dead, he will emerge as a new person, ahem, Jon Targaryen? Or was the eye color change just a trick of the camera?
As well, Game of Thrones blogs and various media articles have noted that Kit Harington, the actor who plays Snow, was seen on the show's set while filming earlier this year for Season 6.
Still HBO hasn't confirmed that the character will be returning. And following the season finale in June, HBO insists that Jon Snow is indeed -- dead.
Game of Thrones is arguably HBO's biggest win in terms of its massive library of original content. Based on George R.R. Martin's fantasy novel series "A Song of Ice and Fire," the series has been nominated for 85 Emmy Awards and won 26 of them, since its first season in 2011.
The show is now HBO's most popular program, surpassing The Sopranos. Last year's season finale averaged more than 8 million viewers (in real time), second only to AMC's The Walking Dead. Around the world, GoT is also the most pirated show.
HBO is one of the most profitable divisions of the Time Warner conglomerate, thanks to shows like Game of Thrones, which has boosted subscribership for HBO and HBO Now, its standalone streaming service.
So is Jon Snow dead or alive? Five months seems like a long time to wait to find out.