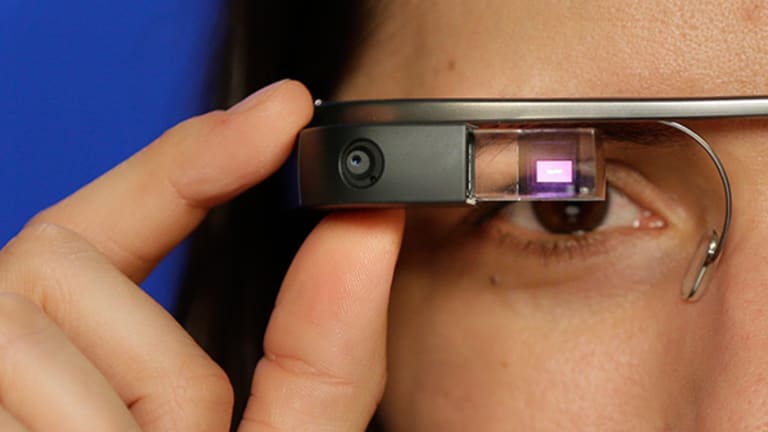 Diane von Furstenburg Creates New Google Glass Designer Frames
Google Glass wearable computers will be getting a large dose of designer chic from Diane von Furstenburg.
NEW YORK (TheStreet) -- In case you've been sitting on the fence about buying a pair of Google (GOOG) - Get Alphabet Inc. Class C Report Glass you might now have one less excuse. Diane von Furstenburg thinks she's come up with a way to make the wearable computers somewhat less "geeky" looking.
Google announced its new DVF Made for Glass collection of frames, which is described as "a collaboration that brings chic eyewear designs by iconic American fashion designer Diane von Furstenburg to the Glass Explorer Program."
Beginning June 23, you'll be able to purchase the any of the five new von Furstenburg designer frames and eight new shades from Net-A-Porter and the Google Glass Website.
Google shares were lower in pre-market trading, off 0.35% to $552.01.
This is not the first collaboration between Google Glass and von Furstenberg. Two years ago, Google used Glass wearers in the audience of von Furstenburg's Spring 2012 runway show to give the general public an insider's view of the presentation.
Google Glass is a wearable, augmented-reality computer built-into a pair of eyeglass frames. The device, manufactured for Google by Foxconn, uses a tiny but very noticeable computer display directly in front of the wearer's right eye. The computer is controlled by speaking commands, starting with "Okay, Glass" in a natural voice - similar to what Google Now can accomplish on an Android smartphone.
Although officially still in beta, the Google Glass explorer became available to the general public last month. Prices start at $1,500 for any of the four current titanium models. Additional cases, stereo earbuds, premium chargers and other accessories are available at extra cost. Google is currently partnering with eyewear giant Luxottica (LUX) to provide Ray-Ban sunglass "shades" for its existing frames.
Glass applications run the gamut from computing mathematical questions with voice commands, keeping track of your fitness, finding your favorite songs and now even making hotel reservations.
Starwood Hotels (HOT) has just released its SPG (Starwood Preferred Group) app for Google Glass which allows you to research and book your stay, as well as getting turn-by-turn instructions inside and outside the hotel grounds and nearby attractions.
While the device has gained fans in the medical field, Google is facing safety and privacy concerns over using Glass in certain of situations. Some states have banned the use of Glass while driving. A similar ban is being considered in the United Kingdom, while a number of Eastern European countries have expressed security fears of Glass use. Several Las Vegas casinos have banned the use on Glass on the gaming floor claiming Nevada state laws prohibit recording equipment.
-- Written by Gary Krakow in New York.
To submit a news tip, send an email to tips@thestreet.com.
Gary Krakow is TheStreet's Senior Technology Correspondent.