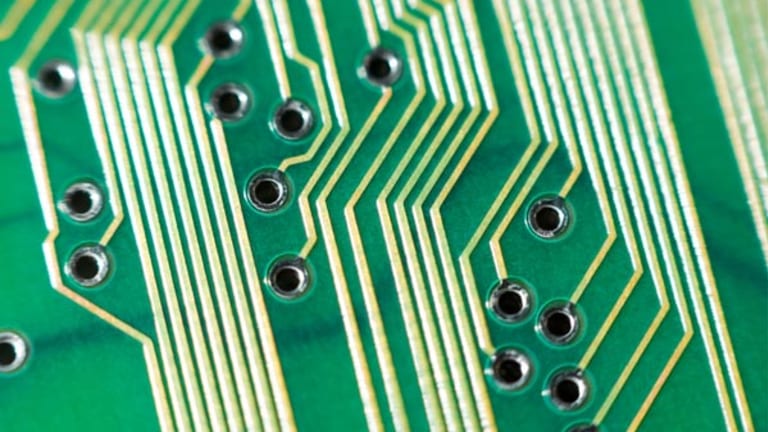 Despite Android Growth, Google's China Problems Remain
While Android has enjoyed spectacular growth in China, it's not likely to boost Google's presence in the country.
NEW YORK (
) --
Google's
(GOOG) - Get Free Report
Android operating system has taken the Chinese mobile market by storm, helping to dramatically lift the number of smartphones purchased in the region while grabbing share from competitors like
Nokia
(NOK) - Get Free Report
.
But even as Android adoption continues to climb exponentially, the future of what this growth means for Google remains unclear as the company encounters endless obstacles at the hands of the Chinese government.
Smartphones in China have exploded, representing around 17% of all global handset sales in 2010, up from 8% of shipments two years prior, according to market research firm IDC. Android phones, in turn, account for 20% of these shipments, from less than 1% a year ago.
"It's like Android is the savior
of China," said Teck-Zhung Wong, a Beijing based analyst with IDC. "People in China were starved for smartphones before."
Android's sharp rise has come at the expense of Nokia's Symbian platform which saw its smartphone market share in China fall 10% over last year to 65%.
The platform also has an edge over
Apple's
(AAPL) - Get Free Report
iPhone and
Research In Motion's
(RIMM)
BlackBerry phone which haven't gained as much traction in China because of their high price -- around $700.
Android phones, meanwhile, can be purchased for less than less than $150, well within the sweet spot for Chinese consumers, said Michael Clendenin, managing director at RedTech Advisors, a Shanghai-based consumer technology research firm.
"China has 200 million migrant workers which may complain about spending 20 cents on noodles but they'll spend a month of wages to buy a decent low-end smartphone
like Android because that's their conduit to the world while they're traveling," he said. "There's a very vibrant use of smartphones here."
Investors are bullish on Android growth in China, too.
Former president of Google's China operations Kai-Fu Lee launched a start-up incubator two years ago focused heavily on Android mobile development.
And venture firm Doll Capital Management, announced in April the launch of a $100 million "A-Fund" to support early-stage Android entrepreneurs, particularly in Asia.
DCM general partner David Chao estimates that Android will grab about 50% of the Chinese smartphone market over the next three years, comparing the potential impact of the platform to that of MS-DOS,
Microsoft's
(MSFT) - Get Free Report
operating system which became the standard platform for personal computers.
But the question remains: Will Android's popularity mean a victory for Google in China, a country where the search giant has seen its political problems surge even as its presence in the lucrative search market has dwindled?
Unlikely, say analysts.
"
Facebook
isn't the biggest risk for Google," said Paul Meeks, an analyst with CapStone Investments. "It's China."
After launching in China in 2006, Google struggled with censorship issues and unexplained outages. Following a sophisticated cyber-attack from inside the company in late 2009, the company decided to discontinue its practice of censoring search results and several months later began to redirect Chinese traffic to its Hong Kong-based site.
Google clashed with the Chinese government again in March when its G-mail service was blocked.
As a result of Google's confrontation, the company has been losing search engine market share to Beijing-based rival
Baidu
(BIDU) - Get Free Report
. Google's share of the Chinese search market dove to 19.6% during the last quarter of 2010, from 35.9% a year before, according to Asian technology market research firm Analysys International.
Baidu, meanwhile, increased its search market share to 75.5% last year from 58.8% during the same period a year earlier.
Rapid adoption of the Android platform in China isn't likely to change much for Google in the mobile search space. In fact, it's Android open nature that has presented a Catch-22 for the company -- while the platform has gained popularity quickly, it's also allowed Baidu to pre-install its own search bar on Google powered devices.
Baidu is also reportedly looking at building its own mobile operating system on top of the Android platform.
Google's challenges in China underscore the struggles that other U.S.-based companies from
Yahoo!
(YHOO)
to
eBay
(EBAY) - Get Free Report
have faced in the world's fastest growing Internet market, which counts over 450 million users.
"The Internet in China has moved on and Google is irrelevant now," said Bill Bishop, an independent research analyst in Beijing. "It's like they blew their feet out but they're still sitting here and trying to be in China even though they destroyed their prospects."
Even as Android becomes the universal operating system in China and begins to shape the country's mobile landscape, it's unclear Google will have any control over the platform's future.
"The brand name 'Android' isn't directly related to Google in people's minds here," said Si Shen, CEO of Bejing-based
Papaya Mobile
, an open mobile social network for Android.
Google, for one, said it isn't concerned.
"We're pleased to see more Android-powered devices coming to China," a Google spokesperson said. "As the world's most successful open mobile platform, we believe Android will help spur greater innovation, which will benefit mobile users everywhere, especially in China where many do not own or have access to a PC."
But despite a commitment to openness, Google has a financial responsibility to capitalize on the exponential growth of Android in China, say analysts.
"Google has this 'do no evil' credo but has to find a way to balance that with fiduciary duty," said RedTech Advisors' Clendenin. "I can't imagine that Google would leave a market that's projected to have 650 million Internet users by 2015 ... they have to do some soul searching there."
--Written by Olivia Oran in New York
.
Readers Also Like:
>> 
>>