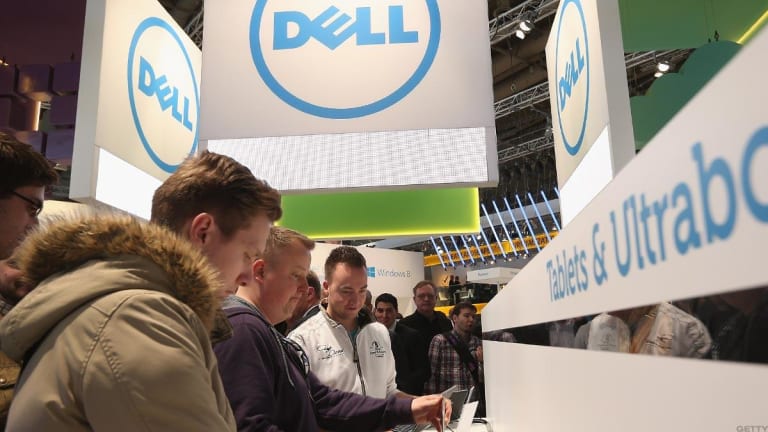 Dell Shareholders Win as Company Reopens on NYSE
The stock is up more than 3 percent following its IPO during a volatile December
Dell Technologies returned to the New York Stock Exchange Friday after being taken private in 2013.
American multinational computer technology company completed a "negotiated conversion" of its DVMT tracking stock to return to public markets.
Dell Technologies Class V common stock (DVMT) stopped trading prior to the market open. Dell Technologies Class C common stock (DELL) - Get Free Report begins trading today on a regular basis on the New York Stock Exchange.
Shares of DELL were trading up 1.23%  at $45.15 as of 12 p.m. ET. The stock is up more than 3% since its IPO price of $31.30.
Dell had announced in a statement shares of DVMT would be converted into the right to receive a fixed number of shares of DELL at an exchange ratio of 1.3665 shares of DELL for every share of DVMT.
DVMT traded down sharply on Christmas Eve after a window passed for shareholders to cash out, MarketWatch reported. DVMT closed at $80.50 Monday, down 22% from Friday. If applying the exchange ratio announced by the company, the implied value of the new Dell shares would be $44.56, compared with Friday's implied price of $43.38, says the Wall Street Journal.
Shareholders that opted to keep DVMT stock that were trading at a slight premium to its implied price appeared to have had a hunch that DELL stock may be worth more than a value Dell has assigned to them. They were right.
Dell is the world's third-largest PC maker, behind HP Inc. and Lenovo. Research firm IDC estimates Dell had an 18.1% PC unit share in calendar Q2, up from 17% a year earlier, according to TheStreet.
However, while some markets Dell competes in are expected to see healthy growth in the future, others could struggle to see growth.
Dell recently surpassed HP Enterprise (HPE) - Get Free Report as the world's largest server maker in terms of revenue, but its storage business struggled for much of 2017.
In fiscal 2018 that ended Feb. 2, Dell posted revenue of $78.66 billion and non-GAAP net income from continuing operations of $3.66 billion. Officially, revenue rose 28%. 
For fiscal second quarter that ended Aug. 2, Dell's revenue rose 18% annually to $19.52 billion, and its non-GAAP net income rose 15% to $1.11 billion.