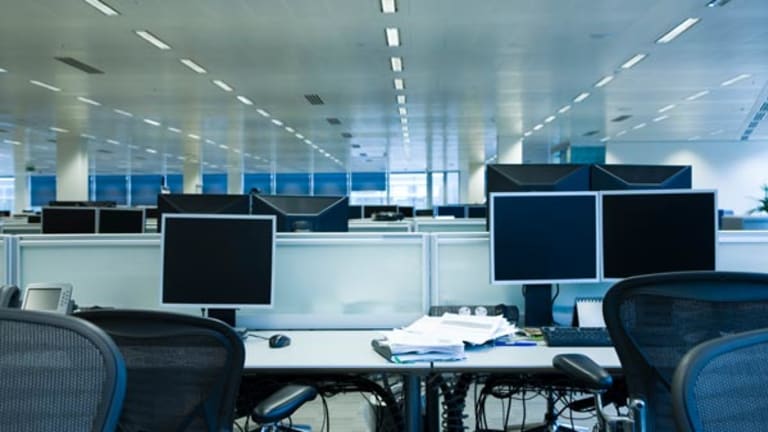 Updated from 1:02 p.m. EDT
Dell
(DELL) - Get Dell Technologies Inc Class C Report
is looking for
in services, storage and virtualization as the tech bellwether revamps its enterprise computing story.
The computer maker has felt the strain of the spending slowdown, which has hammered sales to consumers and businesses. During its recent first quarter, Dell
sequential and year-over-year sales declines in all areas, most notably in desktop PCs and network storage equipment.
By pushing enterprise technologies such as virtualization and consulting services, Dell is looking to reduce its
exposure
to the vagaries of consumer spending. The company's share price has also fallen more than 50% in almost 10 months, and CEO Michael Dell will be hoping that investors warm to his latest products and services.
The Round Rock, Texas-based firm launched a slew of products early Wednesday, including services to help customers deploy virtualization software, as well as new storage devices and PowerEdge servers.
Unlike IT hardware, which is typically a one-off purchase, services offer a recurring revenue stream, hence their attractiveness to Dell.
Dell's virtualization consulting services encompass disaster recovery, data center planning, and could be a shrewd move to harness a fast-growing technology. Despite its booming popularity, some IT managers have wrestled with the complexity of virtualization software, and its impact on their existing IT infrastructures.
Virtualization has nonetheless emerged as one of the hottest technologies in recent years, letting users make virtual versions of their hardware and operating systems. The technology, for example, can be used to run multiple operating systems on one piece of hardware, as opposed to just a single OS. Server virtualization creates multiple 'virtual servers' running in one device, all performing different functions, with the goal of ensuring that no server resources are wasted.
Dell is also adding support for
VMware
(VMW) - Get VMware, Inc. Class A Report
's new vSphere 4 technology across all 37 of its PowerEdge servers. vSphere 4 is the latest version of the virtualization trailblazer's
, and is aimed at companies looking to exploit
infrastructures.
Storage virtualization, which creates a pool of storage from multiple storage devices, is high on Dell's agenda too, with vSphere 4 now supported on the firm's EqualLogic storage arrays.
Goldman Sachs analyst David Bailey warned that Dell needs to "aggressively" change its strategy, in a note released prior to Wednesday's launches, and urged the firm to boost its effort around software and services, which can deliver higher margins that hardware.
Dell is also ramping up its efforts around High Performance Computing, where it faces stiff competition from
IBM
(IBM) - Get International Business Machines (IBM) Report
,
Hewlett-Packard
(HPQ) - Get HP Inc. (HPQ) Report
,
Silicon Graphics
(SGI)
and
Cray
. In this space, the company is pushing its new PowerEdge R410 server, which it claims is 80% more powerful than its predecessor, the PowerEdge T605.
Despite its flurry of announcements, M&A talk continues to swirl around Dell with
The Wall Street Journal
recently reporting that the firm was planning a
acquisition. Storage and services are two areas mentioned as possibilities and smartphone giant Palm has even been touted as a potential
target
for Dell.
Dell's product blitz did little for the company's share price, however. After retreating with the rest of the tech sector for most of the day Wednesday, the PC maker's shares added 1 cent, or 0.1%, to $12.78, as the Nasdaq rose 0.8%.