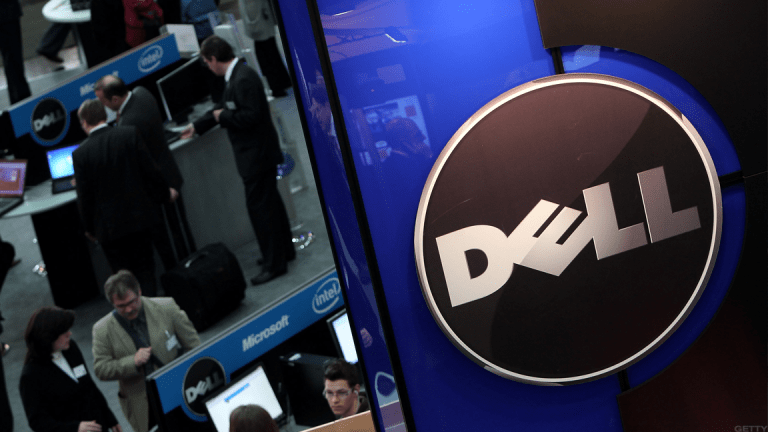 Dell Prepares to Go Public Again: Here's What Investors Should Know
Some parts of Dell's empire are well-positioned to grow. But others face major challenges.
As Dell gets ready to become a public company again, the story it's presenting to investors is a very complicated one.
Some of the large markets in which Dell competes are set to see healthy growth in the coming years, while others could struggle to see positive growth. Dell has been steadily gaining share in certain business, while losing share in others.
Here's a bird's-eye view of how Dell is looking to go public, and what its finances and core businesses look like.
Dell's Original Plans to Go Public
In July, Dell, which was taken private in 2013 and acquired storage giant EMC in 2016, announced it's carrying out a "negotiated conversion" of its (DVMT) tracking stock. For the moment, DVMT's shares collectively represent a 53% economic interest in virtualization software giant VMware (VMW) - Get Free Report , which EMC owns a roughly 80% stake in.
Provided DVMT shareholders approve the deal, the deal calls for DVMT's stock to be converted into Dell's Class C stock (privately owned for now). Dell is giving DVMT holders the option to either fully convert their shares into Class C shares, or to sell their stock at $109.00 apiece, up to a limit of $9 billion.
At the time of the announcement, Dell said the DVMT deal will give it an equity value between $61.1 billion and $70.1 billion, depending on how much cash is paid out. However, public investors would ultimately decide just what Dell's shares are worth.
A Potential IPO?
On Sunday,
and
reported that Dell is thinking about going public through a traditional IPO, after getting push-back from Carl Icahn, activist Elliott Management and other DVMT investors over the terms of the DVMT deal. Sources state Dell plans to talk with banks about potentially underwriting the IPO, and that a roadshow meant to sell DVMT investors on the deal has been "postponed by about a week."
Dell's recent financial performance is said to have emboldened the company to consider an IPO. As of mid-day on Monday, DVMT shares were down 1.1% to $95.19.

Dell's Financials
In fiscal 2018 (it ended on Feb. 2), Dell posted revenue of $78.66 billion and non-GAAP net income from continuing operations of $3.66 billion. Officially, revenue rose 28%, but this has a lot to do with the fact that the EMC acquisition closed during the middle of Dell's prior fiscal year.
During its fiscal second quarter (it ended on Aug. 2), Dell's revenue rose 18% annually to $19.52 billion, and its non-GAAP net income rose 15% to $1.11 billion. A healthy data center hardware spending environment (aided by an Intel (INTC) - Get Free Report  server CPU upgrade cycle) helped, as did a pickup in business PC demand.
Ahead of its planned DVMT payout, Dell ended its second quarter with $21.5 billion in cash and $50.3 billion in debt.

Dell's businesses at a glance. Source: Dell.
PCs
Dell is the world's third-largest PC maker, trailing only HP Inc. and Lenovo. All three firms have steadily gained share relative to smaller Windows PC OEMs. Research firm IDC estimates Dell had an 18.1% PC unit share in calendar Q2, up from 17% a year earlier.
In fiscal 2018, Dell's Client Solutions Group (CSG), whose sales are dominated by PCs, saw its revenue rise 7% to $39.5 billion. Less than a third of those sales involves consumer PCs. In the fiscal second quarter, CSG's revenue rose 13% to $11.1 billion.
The PC market has declined over much of this decade, but has been showing signs of stabilizing over the past two years, particularly on the high-end. In its recent Investor Day presentation, Dell noted IDC expects global PC revenue to grow at a modest 2% compound annual rate from 2016 to 2021.
Servers
Dell recently surpassed HP Enterprise (HPE) - Get Free Report  as the world's largest server maker in terms of revenue. IDC assigns the company an 18.8% calendar Q2 server share, up from 17.7% a year earlier. In the market for x86 (Intel and AMD-powered (AMD) - Get Free Report ) server CPUs, IDC estimates Dell had a market-leading 20.8% share.
Dell's "servers and networking" revenue rose 20% in fiscal 2018 to $12.8 billion, and 34% last quarter to $5.1 billion. Strong enterprise IT hardware spending has recently provided a boost, but so has (in contrast to HPE and IBM (IBM) - Get Free Report ) Dell's healthy exposure to heavy-spending cloud giants (the proverbial hyperscalers).
Long-term, enterprise server spending is set to be pressured by cloud infrastructure adoption. Dell's exposure to hyperscalers should help offset this. But as HPE would be quick to note, it's worth keeping in mind that -- because the hyperscalers rely heavily on their own hardware designs, as well as their own software -- selling servers to cloud giants is considered a relatively low-margin margin business, one for which Asian contract manufacturers can provide stiff competition.
Storage
Dell's storage business, which operates under the Dell EMC brand, struggled for much of 2017. Among traditional enterprises, Dell lost storage share to both age-old rivals such as NetApp (NTAP) - Get Free Report  as well as upstarts such as Pure Storage (PSTG) - Get Free Report . And unlike Dell's server business, the storage business has limited exposure to hyperscalers. During the last quarter of fiscal 2018, Dell's storage revenue fell 11% to $4.2 billion.
Things look a little better now: Storage revenue grew 13% in Dell's second quarter to $4.2 billion. A better hardware spending environment is clearly helping, but Dell insists other moves, such as efforts to integrate Dell and EMC's sales teams, refresh EMC's flash storage offerings and invest in the fast-growing hyperconverged infrastructure (HCI) market, are also paying off. Regardless, keeping this business growing over the long haul as cloud storage adoption keeps growing could prove challenging.
VMware
VMware has seen a decent turnaround over the past couple of years. While its mainstay vSphere server virtualization business remains pressured by tough competition, app container growth and the adoption of cloud infrastructure services relying on non-VMware virtual machines, it has seen strong growth for platforms such as vSAN (storage virtualization), NSX (networking virtualization) and Workspace ONE (business app delivery and management for PCs and mobile devices).
And while vSphere's long-term pressures remain, it has seen growth improve lately with the help of rising sales to telcos and cloud partners . VMware's revenue rose 13% during its July quarter to $2.2 billion, and is expected on average by analysts to grow 8% in fiscal 2019 (it ends in Jan. 2019) to $8.8 billion. Net income is expected to grow 19% to $2.5 billion.
This column originally appeared on Real Money, our premium site for active traders. Click here to get more great columns like this.