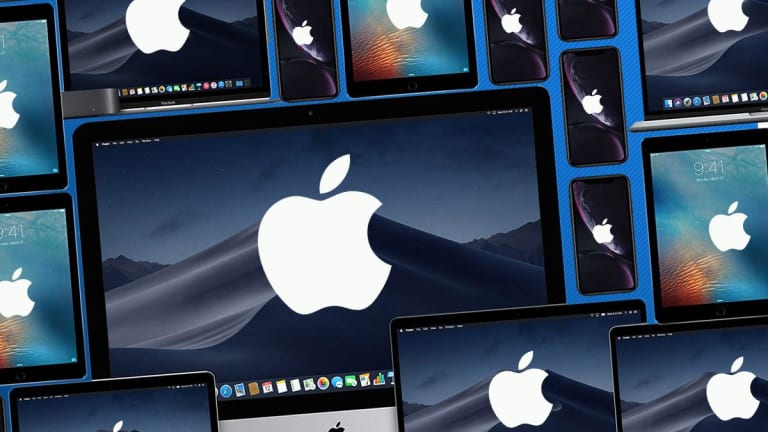 Why the 'Dark Clouds' Over Apple's Stock Might Stay Awhile, Despite Trade Truce
Trump's trade truce may have been positive news for Apple, but negative sentiment around iPhone demand could drag down Apple's stock well into the future.
Investors are pretty down on Apple (AAPL) - Get Report these days.
Apple's stock has sagged almost 24% since hitting a high on Oct. 3, after an otherwise high-flying year for Apple investors that temporarily pushed its valuation past the $1 trillion mark this summer. Late last week, Microsoft (MSFT) - Get Report  even briefly surpassed Apple as the most valuable public company in the world, though Apple has since edged back into the top spot.
Despite Apple's best efforts to shift attention to its services business, iPhone sales are still central to Apple's story -- and a subject of intense focus by investors. On Tuesday, Apple's stock slumped again following reports that it's considering promotional tactics -- such as discounts and trade-in options -- to boost holiday sales of models such as the new iPhone XR and iPhone XS, which were launched in September.
That report followed several weeks of reports and analysis signaling weaker-than-expected iPhone unit sales, a metric that Apple will stop reporting as of its next earnings report scheduled for January 2019.
Apple shares got a modest boost on the news -- however tentative -- that the White House is pressing pause on raising tariffs on Chinese goods for 90 days. Trump's trade tiff with China had been a big question mark for Apple investors, with the President saying in a recent interview that "people could stand" a tariff of 10% on Apple iPhones, iPads and MacBooks, the majority of which are manufactured in China.
The trade war moratorium, which the White House announced after the G-20 summit in Argentina, is a "positive step forward" for Apple, wrote Wedbush's Dan Ives in a Monday note.
"While it's an initial reprieve, we would view this news out of the G-20 as a near-term positive catalyst for tech stocks going into year-end given the fear around the 25% tariff hitting on Jan. 1 is now removed (for now), with Apple in the spotlight," he said.
But the temporary removal of a tariff threat may not be enough to shake what Ives called the "dark clouds" over Apple's stock heading into 2019. 
"I think the degree [of decelerating iPhone unit demand] caught the industry by surprise, and combined with the lack of transparency around unit sales, that's been the one-two punch that's dragging the stock down," Ives added.
Apple's decision to stop reporting iPhone unit sales sparked something of a backlash among Apple observers, with investors digging for signals of how Apple's new phones are selling, such as reports from suppliers and others. The Wall Street Journal reported last month that Apple has reduced orders for all three phones released in September, including a 33% decrease from the 70 million units it had originally anticipated through the holiday season.
Rising average selling prices and growing services revenue are two of the bright spots for Apple bulls. In its Nov. 2 earnings report, Apple reported a higher-than-expected average selling price at $793 versus the $750 expected by analysts.
Still, Apple's new reporting regime will take some getting used to -- and a negative sentiment around the change could take awhile to shake.   
"It will persist for awhile; it's something where they're pulling unit metrics right at the time when they're seeing a deceleration," Ives noted. "Investors wont be as focused on it when they feel there's an inflection point and the degree of deceleration isn't as worrisome."
Apple and Microsoft are holdings in Jim Cramer's Action Alerts PLUS member club. Want to be alerted before Jim Cramer buys or sells the stock? Learn more now.