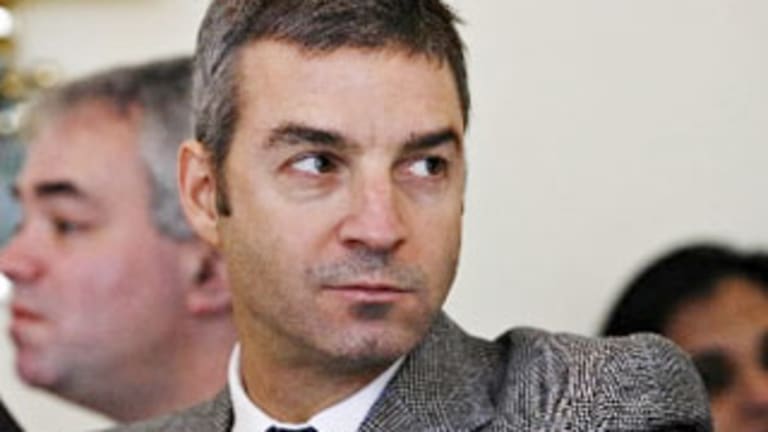 Dan Loeb's Activism May Stall at Sony (Update 1)
Third Point's Dan Loeb is back on the activist front, this time attacking Sony. The Japanese giant may be resistant to change, though.
Third Point's Dan Loeb is back on the activist front, this time attacking Sony. The Japanese giant may be resistant to change, though.
Updated from 9:01 a.m. to reflect the fact Mr. Loeb met with Kazuo Hirai on Tuesday, May 13.
NEW YORK (
) --
Sony
(SNE) - Get Report
makes everything from TVs to PlayStation 3, to movies and medical equipment. Now, it's going to have to "make nice," as it's under attack by top hedge fund honcho Dan Loeb, who wants break up the Japanese conglomerate. Loeb's battle may fall short, though.
Japanese companies have typically been resistant to change, particularly from outsiders, and previous attempts to target Sony have been unsuccessful.
In an emailed statement, Sony shot down the idea of a spin-out of its entertainment business. "Sony welcomes investment in the company. We are focused on creating shareholder value by executing on our plan to revitalize and grow the electronics business, while further strengthening the stable business foundations of the entertainment and financial service businesses," wrote a Sony spokesperson. "As President and CEO Kazuo Hirai has said repeatedly, the entertainment businesses are important contributors to Sony's growth and are not for sale. We look forward to continuing constructive dialogue with our shareholders as we pursue our strategy."
Loeb, who has fought battles in the past, including a high-profile tussle over
Yahoo!
(YHOO)
, wants Sony to restructure and realign itself. This would involve focusing on high-growth areas and spinning out Sony Entertainment. Loeb wants Sony to spin out 15% to 20% of the entertainment division in an IPO, which he would then backstop with $1.5 billion to $2 billion of Third Point's money. "We believe existing Sony shareholders should be given priority to participate in the direct ownership of Sony Entertainment," Loeb wrote in his letter to Sony CEO Hirai. "Therefore, we recommend that rather than conducting a standard public offering, spin-off, or dividend, the Company offer subscription rights to current shareholders."
A spin-out of
Sony Entertainment
would provide Sony with liquidity to turn around its electronics business, which Loeb believes has tremendous value. Sony Entertainment has some valuable movie properties, including the rights to the
James Bond
movie franchise and the
Spiderman
series, a key
Marvel
property not owned by
Walt Disney
(DIS) - Get Report
.
Sony Music Entertainment
is also one of the largest labels in the world, housing artists such as Michael Jackson, Britney Spears, Daft Punk, Justin Timberlake and others.
Loeb wants Sony to streamline its business lines and focus on high-growth areas, such as the aforementioned medical devices, and Sony Image Sensor. He believes structural reforms in Sony Electronics could mean as much as 25% upside in shares, and if the Entertainment division is unlocked, shares could see as much as 60% upside from current levels.
Loeb's
Third Point
owns approximately 64 million shares, valued at over 115 billion yen ($1.1 billion) made up of stock and cash-settled swaps, representing a 6.5% stake in the company. Third Point is now one of the largest shareholders of the Japanese giant, whose ADRs have gained 68.66% year-to-date, aided in part by Japanese economic reform and a weakening yen.
Shares of Sony were higher in early trading, up 9.48% to $20.68.
It's clear that change is needed at Sony, which has spent four of the past five years in the red. In the fiscal year ended March 2012, Sony lost 457 billion yen ($5.7 billion), its worst loss in the company's history. Fiscal 2013 rebounded to show a profit of 43 billion yen ($434 million), led in large part by the decline in the Japanese yen.
It's unclear whether Loeb, who met with Hirai yesterday, will be the man to bring change at Sony and unlock the value that's been seen by so many others before. Shareholders will want to wish him "Kōun" (good luck), and if he does indeed get his way, they'll be saying "Domo arigato" (thank you).
--
Written by Chris Ciaccia in New York
>Contact by
.