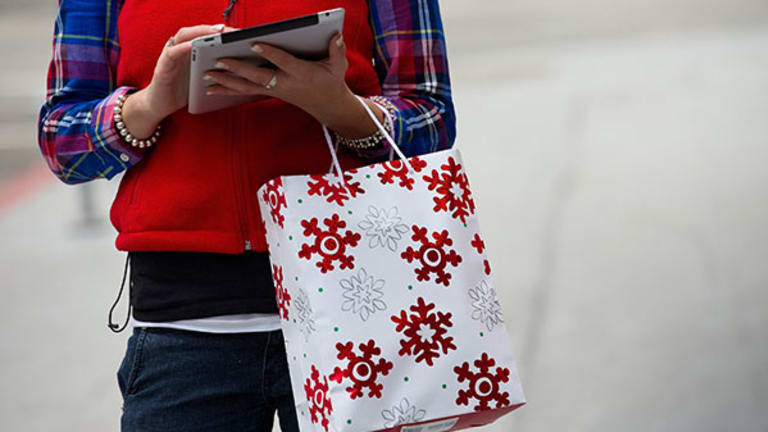 Cyber Monday Was The Biggest Online Shopping Day Ever
Consumers spent more than $3 billion online on Monday, according to Adobe, with Amazon leading the way.
Consumers spent more than $3 billion online on Monday, according to Adobe, with Amazon leading the way.
Updated to include more recent numbers from ChannelAdvisor and Adobe.
Monday, November 30, marked the largest online sales day in history, according to early estimates from Adobe.
Adobe estimated that consumers spent $3.07 billion during Cyber Monday, more than any other day in history, based on its tracking of 80 percent of all online transactions from the top 100 U.S. retailers. The total represents an increase of 16% from last year.
ChannelAdvisor, which tracks third-party sales on online marketplaces such as Amazon (AMZN) - Get Report and eBay (EBAY) - Get Report , estimated that Cyber Monday sales were up 18% from last year.
The entire holiday weekend (Thanksgiving through Monday) brought in a total of $11 billion in online sales, up 15% from last year, according to Adobe. That total makes up 28% of all online sales for the month of November ($39.5 billion).
Not surprisingly, a lot of the Cyber Monday action happened on mobile devices, although the majority of actual sales still took place on desktop. Mobile accounted for 49% of shopping visits during the day, but only 26% of sales.
Consumers spent 93% more during Cyber Monday than they do on a normal Monday, according to Dashlane, a password manager that tracked the purchases made through its digital wallet. Dashlane also found that consumers spent the most money on Amazon, followed in order by Target (TGT) - Get Report , Costco (COST) - Get Report , Best Buy (BBY) - Get Report and eBay. 
Target managed to score high on that list despite having some site issues during the day, causing some shoppers to have to wait to access the website.
Amazon, in particular had a strong Cyber Monday, with third-party sales up 21.1% over last year, according to ChannelAdvisor. eBay, for comparison was up 7% over 2014.
While Amazon had a big day, brick-and-mortar retailers actually saw some good online action, too, with growth of 18% in online sales on Cyber Monday, according to Adobe -- more than the online-only retailers.
And of course, Cyber Monday wasn't the only big day for online shopping. Black Friday, typically the day for in-store shopping, saw more online shoppers than brick-and-mortar shoppers, according to the National Retail Foundation, with more than 103 million people saying they shopped online versus nearly 102 million who said they shopped in physical stores.
"We recognize the experience is much different than it used to be as just as many people want that unique, exclusive online deal as they do that in-store promotion," said NRF President and CEO Matthew Shay. "It is clear that the age-old holiday tradition of heading out to stores with family and friends is now equally matched in the new tradition of looking online for holiday savings opportunities."